We have a new Mizuno Staff Player on board!

Bill Mitchell has signed on to Mizuno Golf's Player Advisory Staff! Bill will be playing an entire bag of Mizuno gear to include the JPX900 driver, fairway woods, hybrids, and forged irons along with the new T7 wedges. Being as addicted as I am to equipment, I look forward to hearing how these are working for him and hearing his thoughts in the coming weeks.


I also wanted you to get a quick glimpse of Wilson Staff's newest player offering, the FG Tour V6 iron. These are, in almost every sense, a player's iron; geared towards a 10 handicap and below. These are directly replacing one of Wilson's most widely played iron on the PGA and European Tours, the FG Tour V4 iron.


| | | |
| --- | --- | --- |
| | | |

One of the biggest changes in these irons is the placement of the tungsten weighting. In the long irons, the weighting is in the heel and toe to make them more forgiving and higher launching. In the mid irons, tungsten weighting is low more towards the center of the iron to make them similarly more forgiving and higher launching. As more information becomes available before the January 9, 2017, release date, I will certainly let you know. But until then, above are a couple of pictures of their newest offering.

Felix has more information about his favorite clubs, Yonex. Thus far, we've had a great response from you about the Yonex line. Inquiries have been coming in about them. Here is something from them that that should appeal to the distance hounds.

In 2016, Yonex launched the sequel to their EZONE XP line, the EZONE XPG. XPG stands for "Xtra Power is Good" or something similar, because this line is all about power and distance. Heck, the tag line is "You're Going to Need More Balls", which is what you'll be telling your friends after they see you hit anything from the line!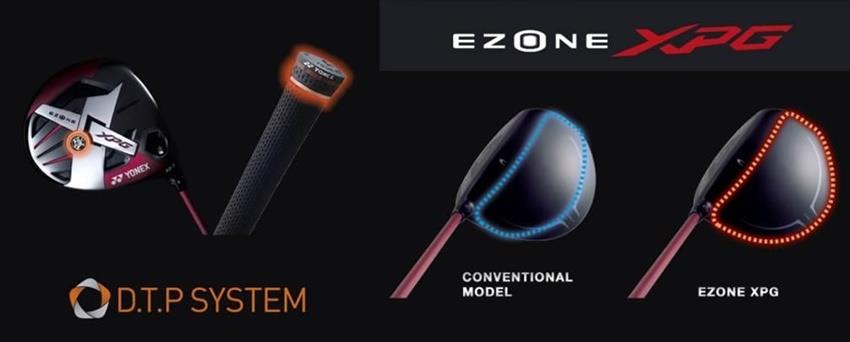 The XPG Type HD (High Draw) driver is 460cc's of pure power and a higher launching, more draw-biased version of the previous XPG driver. The HD features more weight towards the heel and lower and deeper in the clubhead, which results in promoting a higher draw-biased trajectory. The head has a composite graphite crown fused to a titanium face and body. And it's going to sound SO good when it's released this October 14th! In fact, there are people within Yonex Golf who think this might be their best sounding driver in years.

And if you need a rocket launcher to go with your cannon, look no further than the XPG fairway wood. I've had a chance to hit the FW and it's a thing of beauty the way it addresses the golf ball. There are some graphics on the crown, but I think they're very subtle and help to frame the ball very well. The XPG FW also features a graphite composite crown, but uses stainless steel for the face and body. This combination of materials allowed Yonex to make the face 10% thinner than its predecessor, the EZONE XP. A thinner face and an expanded crown allowed Yonex to produce their lowest and deepest ever CG, so now you get lower spin with improved forgiveness. And it made the Golf Digest Hot List for 2016, which speaks to the impressive club Yonex has created.





Yonex XPG Hybrid

The XPG line of woods incorporates a couple of technologies, one of which is the Dual Tungsten Power (DTP) system. DTP provides maximum power and longer distance through the use of a heavier head (205g in the driver and 216g in the FWs) and 20g of tungsten powder in the grip. This counterbalance allows Yonex to move weight around and improve that energy transfer off the clubface as you send your ball screaming down the fairway at Mach 2.

Both clubs also feature an expanded composite graphite crown that covers more area, which allows for Yonex's wizards to play around with the weight distribution in the sole even more. All of this technology pairs excellently with Yonex's proprietary EX310 shaft, which is engineered to generate higher swing speeds for added power. And since the Golf Station is an authorized Yonex customer fitter, we'll be able to dial that weight in just right since we have 2g, 4g, 6g, 8g, 10g, and 12g tungsten weights ready to get the performance just right for you.

With the power of the EZONE XPG woods, it's only logical a hybrid is in the lineup to complement the rest of this arsenal. The construction is the same as the XPG fairway woods with a graphite composite crown and stainless steel face and body. The hybrids also have the adjustable weight in the sole, heavy head (242g), and tungsten powder in the end of the grip. The face is also 10% thinner than the EZONE XP hybrid so you're getting a low, deep CG, faster ball speed and increased distance. Bomb. Er. That simple. But, wait, there's more!



The EZONE XPG irons feature an ultra-hot ultra-thin, chromoly steel in the long irons (5-7) for faster ball speeds, greater repulsion power and longer distance. In addition, these bad boys went on a diet because the face is 17% thinner than its predecessor. In layman's terms, these things are designed to go very far, but at the same time, offer forgiveness so you'll be in the fairways or on the greens. A different stainless steel is featured in the mid- and short irons' body and face. The DTP system is used here as well to make sure you're getting the maximum energy transfer possible. And the 360-degree undercut cavity (see the middle picture in the graphic above) further increases that face flex and forgiveness for that same unparalleled distance. If you look at the graphic above, you'll notice this iron is shorter at the toe than other irons and with less offset, so it's designed to appeal to a greater range of players versus the bulkier look of a traditional super game-improvement club. So if you're looking for a decent stick, but want a little extra forgiveness, definitely give these a try.

XPG is distance; there's just no other way to say it. If you want to hit the long ball and keep it on the golf course, look no further than the EZONE XPG line of clubs. #getgolfstationfit

Click here or call 817.595.4653 to get more information on Yonex, Mizuno or anything else we provide. You nice folks in the Metroplex have lots of golf season left. Ours here in the Northeast is starting to wind down. Where Felix is, it's always golf season. Lucky guy!



The golf world was shaken with the announcement of the death of Arnold Palmer this past weekend. It unexpectedly hit me somewhat hard. This is a man I never met, but found myself choking up watching Golf Channel coverage.

People were overcome with emotion. Grown men were choking back tears, sitting with heads down and wearing sunglasses to try to hide their obvious pain and sorrow. Even the stoic Tiger Woods, spoke at length about what Mr. Palmer meant to him personally during an interview and at the end, his eyes moistened and his voice began to crack a bit.

When I picked up the game, I didn't know a lot about golf history, but I knew some of the players. Other than the obvious modern players, one person I knew about (other than Nicklaus and Trevino) was Arnold Palmer. I knew the name and trusted it.

As a kid, I had seen the commercials from cars, motor oil and of course, golf. I even used Pennzoil motor oil when I did my own oil changes. I read the magazines he was in, tried all his tips and for one round tried to duplicate his swing… without much success. I must have watched the three-part special on him a dozen times.

My first sets of clubs were the clubs he was sponsoring up until his death. Yes, I know it was marketing and golf clubs are just equipment, and it even sounds a bit silly. But it was more than that to me. That was my way of wanting to be like Mr. Palmer. I mean, if he used them, why not me? It was my way of supporting a good and solid man, even though he had no idea who I was. He was a classy and honest man and golfers around the world mourn his loss. My son said last night, "At least we still have Jack."

I wish I had asked for that autographed picture a few years ago and told him what I thought of him. I regret that. I'm sure he would have sent it and a hearty thank you.

Thank you Mr. Palmer, and rest well. Much to the chagrin of Tim, I will continue having Arnold Palmer's with sweet tea everywhere I go, in your honor.

Oh, and good luck to both teams for this weekend's Ryder Cup. But a bit more luck to Team USA!