We want wish women for women's day next Wed, 9th August!



It is all about the putting, and Durbanville's Adrian Ford did just that. Ford putted his way to victory at the Premier Amateur Tour – Strand Open held on Sunday.

At the halfway mark, Adrian was lying in sixth position on two-under-par 70, with the joint leaders, Stellenbosch's MJ Steyn and Bellville's Gerlou Roux on four-under-par 68.

However, Ford had clearly figured out the greens in the morning round, and holed out for eight birdies in the afternoon to finish two shots clear 70-65 (135) from MJ Steyn.

This is the second time Ford has signed for an afternoon round of 65. Both Ford and Elmo Barnard carded 65s at the PAT – Parow Open held in May.

With two consistent rounds of 68-69 (137) MJ Steyn could only manage to finish is second position.
Gerlou Roux got off to a flyer in his second round with three birdies in four holes, but lost ground after a triple bogey on the 6th and a further three double drops to finish with 68-78 (144).

Strand's, Deon Germishuys was third on four-under-par 69-71 (140) - the current WP Junior Strokeplay & Matchplay champion, Francois Cilliers finished T16 on four-over-par total148 (78-70).

View the Strand Open results here.

Meet the Health Pro



Barry is a qualified Sport Scientist and Golf Fitness Specialist

. He has 10 years' experience which includes performance training for golfers working with the amateur to pro level golfer, strength and conditioning coach for Ajax Cape Town Football Club and Corporate Wellness.

Barry currently works full time as a Wellness Specialist and as a Golf Fitness Specialist at Pure Motion Golf Academy based at Durbanville Golf Club.



Want to book a session with Barry? Contact the Pure Motion Golf Academy



"We at Pure Motion Golf Academy strive to deliver excellent service by keeping abreast with the latest information and technology in coaching." - Lana Orgovanyi

Contact us today to sign up.

Par 3... 4th Hole at DGC

Every hole-in-one, on a competition day, the player/s get a free bottle of Bell's Special Reserve.



Special deal for Members!
The Cape Town Festival of Golf makes a stop at Durbanville GC on the 22nd of August. Members are more than welcome to play at the event. A green fee of R200 per player (No green fee for pre-paid members) plus a R200 competition fee gets you in for the Durbanville leg of the event.

Should you like to play in one or more of the other legs of the festival, you will pay a R200 green fee and R200 competition fee for those various events.

To book your spot in any of the 4 days the festival has to offer, be sure to talk to the guys in the Pro Shop.


| | | |
| --- | --- | --- |
| SUPERDRAW | | |
| | | |
| --- | --- | --- |
| | | There will also be live music by Danny V! |

Fixtures… A full line-up of Forthcoming Club Competitions & Events:

Friday, 4th August - Superdraw & Build a Burger

Saturday, 5th August - 4BBB Bogey Plus

Wednesday, 9th August… Individual Stableford

Saturday, 12th August… 4BBB Stableford


100 Reserve


100 Reserve Brandy have branded a Titleist Golf Bag, together with an umbrella and club towel to be given away as a prize to one lucky customer!

All you have to do to enter is to buy a double 100 Reserve and 200ml mix for R35, or TWO double 100 Reserve's and 330ml mix for R55, fill your name in on the card and drop in the box in the main bar!

The prize will be drawn on the 30th of September 2017 at Members Prize Giving.

Good luck to all!

Alfie Schneeberger
Food and Beverage Manager
Click on a poster to enlarge.
Blues Meets Rock is 'Back in Black & Blues' at the Durbanville Golf Club


Boulevard Blues and the absolutely Rocking 'Back in Black AC / DC Tribute Band ' will be setting your good times on fire.

'Back in Black' the AC/DC Tribute Band spent 6 months in a rehearsal room fastidiously studying the finest nuances of AC/DC's live performances and emerged victorious after their stellar closing performance at the 2016 Tribute Festival.
For one night only!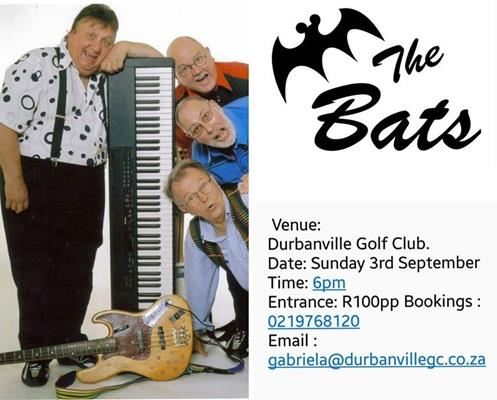 And the winner of the Senior Men's Medal is.....



Stephen Hall on 39 stableford points!
Congratulations!

Image on left: Stephen with Andre Wainwright – DGC Club Captain

August Miscellany

Afterthoughts on Spieth's penalty drop at The Open

Most readers will already have polarised opinions on how Jordan Spieth handled his unplayable lie on the 13th hole of his final round of The Open, at Royal Birkdale. I have received several emails asking me for my opinion, so here are some miscellaneous afterthoughts. Read more here.


Please take a look at Chris Kitson's latest Course Report – for July'17…
Interesting reading as always.

Read the full report here.


BASSETT Burglar Alarms is uniquely located to provide solutions to your security needs and requirements

.

Please consider the following:

- BASSETT is a prominent role player within the area providing security solutions for 40 years.

- Is a full corporate member of SAIDSA for Monitoring, Armed Reaction, Alarm installations and CCTV systems.

- Offering the following services under one roof;



• Armed Response to Alarm and Panic activations
• Neighbourhood Watch patrols and removal of trespassers
• Access control systems
• CCTV installations and Off-Site monitoring
• Alarm installation and maintenance
• Monitoring security systems
• Electric fence installations
• Gate automation and Intercom systems
• North Guarding (on site security staff)
• CID and Complex security

Premier Amateur Tour – Erinvale Open - Sunday 6 August 2017


Entries are open for the Erinvale Open to be played on Sunday, 6 August 2017. Enter on Wester Province Golf's website by clicking here.

They have recently revamped their website, and we have a new online entry process.

Click on Men's tab - Click on Tournaments & Results
Click on Category - Click on Premier Amateur Tour – Click Search
Select the 'E' button – Click and follow the entry process from there.

Entries close: Sunday, 30 July 2017 at 23h59. The entry fee for this event is R490.00

(included – green fee, shared cart, halfway meal & meal at prize-giving)

Nomads WP Foursomes Championships - 13 August
Here is the entry form and details for the Nomads WP Foursomes Championships

Please note there is NO online entry for this event, and that all entries are to be completed and sent to Lindy@wpgu.co.za

Entry fee: R750 includes shared cart Entries close: at noon on Monday, 7 August 2017

Premier Amateur Tour – Milnerton Open on Sunday, 20 August 2017.

2017 Mid-Amateur-Series - Strand Golf Club (22 August 2017)

2017 Senior Amateur Series - Westlake Golf Club (21 August 2017)



Click on a poster to enlarge.





May we wish a very Happy Birthday to all those members who celebrate their birthday this week. They are:



Kelly Erasmus, Shawn Van Niekerk, Suzette Wepener, David White, Marc Doornbos, Dorette Jonker, Sharon Smith, JJ Wilson, Daneil Wolmarans, Peter Oudejans, Hennie Van Zyl, Stjohn Gardner, Bernie Latimer, Louis Marx, Colin Montgomery, Quinton Weber, Handri Burger, Johannes Loubser, Jason Salo, John Bold, Chris Mugno, Robyn Newby, Hermanus Botes, Michael Raad, Lorraine Rogers, Karen Wentzel, Garry Wilford, Yvette Chemaly, Lize Du Plessis, Ina Koegelenberg, Jacomina Koegelenberg, Tamsyn Lentz, Jaylene Muller, Erika Napthnagel, Erika Nothnagel, Reinrdt Swart



Have a wonderful day!



Who's been taking down the competition at the club?

Click here to find out.



Most Advice

Barbara Nicklaus discovered that is not easy being the wife of The Golden Bear, during the Tour Wife's Championship.

At the end of the 9-hole event, her ears were ringing.

She didn't win anything but her overly helpful husband/caddy won the "Most Advice" award.

He told her 165 things in those nine holes.


Please Remember To Fill YOUR Divots & Repair YOUR Pitch Marks!