Wishing Ayden Senger every success for the 11th Italian International Under 16 Championships, to be held at the Biella Golf Club, Italy from 5th to 7th September '17. Play well! Representing S.A.
Two errant shots resulting in bogeys ultimately cost Somerset West's Jason Hale the opportunity to win his second Premier Amateur Tour Event (PAT).

Sitting at four-under-par on his 12th hole, Jason couldn't hold on to his three-shot lead and had to settle for second place 70-72 (142), behind winner Elton James at the Erinvale Open held on Sunday.

For once the weather wasn't the topic of conversation at Sunday's Erinvale PAT Open.

With the greens running fast, and not much wind Westlake's Elton James holed out for a birdie on the par 4, 18th to win the Erinvale Open by one shot – 72-69 (141).

Trailing Jason Hale by three shots on the 16th, a well-timed eagle meant Elton James was back in the running – he was now only one shot behind with two holes to play.

A bogey at the par 4, 17th was cancelled out when James found the 18th green with his 9-iron second shot to within 3 metres – the one putt secured the win.

Strand's Gideon van der Vyver 75-70 and Deon Germishuys 71-74, with De Zalze's Johann Oosthuizen 70-75, finished tied third on 145.

This was ideal preparation for James as he heads up the WP team to participate in the Premier Inter-Provincial to be played at Bryanston Country Club, Johannesburg on
18-22 September 2017.
View the full results here.


Join us on Wednesday, 16 August to demo our new KING F7 Drivers integrated with Cobra Connect technology that allows you to track your distance and analyze your driver stats from all your rounds.

You don't want to miss out! Contact us here to book your spot.



Meet the Health Pro



Barry is a qualified Sport Scientist and Golf Fitness Specialist

. He has 10 years experience which includes performance training for golfers working with the amateur to pro level golfer, strength and conditioning coach for Ajax Cape Town Football Club and Corporate Wellness.

Barry currently works full time as a Wellness Specialist and as a Golf Fitness Specialist at Pure Motion Golf Academy based at Durbanville Golf Club.



Want to book a session with Barry? Contact the Pure Motion Golf Academy



"We at Pure Motion Golf Academy strive to deliver excellent service by keeping abreast with the latest information and technology in coaching." - Lana Orgovanyi

Contact us today to sign up.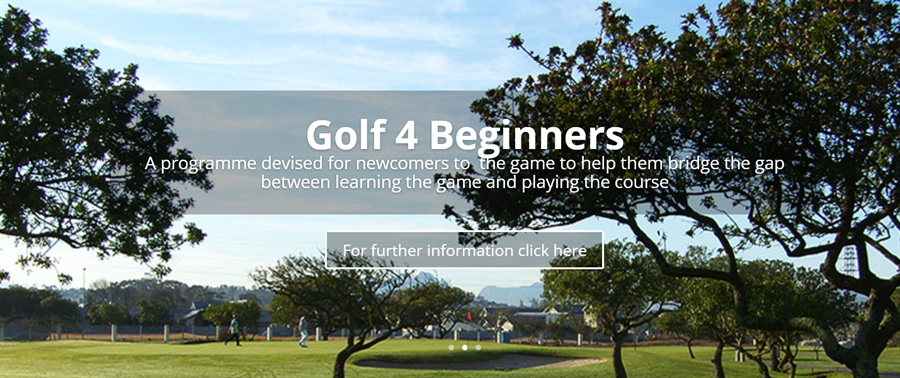 Congratulations to Hideki Matsuyama on his victory in the World Golf Championship. Just 61 shots with his Srixon Z-STAR in his final round. What a way to win.

If you watched this on TV you'd have noticed the huge driving distances. McIlroy hit every tee shot beyond 280 metres. He was often beyond 350 metres but couldn't control the spin on his (very short) approach shots. On the Par 5 16th Bruce Koepka drove it 360 metres off the tee. Charlie Hoffman was through the back of the 550 metres+ 16th in 2. Matsuyama hits it a long way, but the difference was his ability to hit the green, often close, and sink the putts.


Someone else with more control of the ball on the short shots, In-Kyung Kim, won the Women's British Open. Kim isn't long off the tee, but she's deadly with the wedge. This was also a nice story of resilience. Five years ago, she missed a 14-inch putt for the Kraft Nabisco and her first Major. She missed, and then lost the play-off. Now she can call herself a Major winner.

Let us help you drive for show and putt for dough. Get in touch.



Par 3... 4th Hole at DGC

Every hole-in-one, on a competition day, the player/s get a free bottle of Bell's Special Reserve.



Special deal for Members!
The Cape Town Festival of Golf makes a stop at Durbanville GC on the 22nd of August. Members are more than welcome to play at the event:

Pre-paid members - R100 p. player
Non pre-paid players - R200 p. player
Visitors - R250 p. player

The cost includes dinner as well as prizegiving. R20 000's worth of prices will be up for grabs.

Call the pro shop on 021 976 8120 to book your spot.



| | | |
| --- | --- | --- |
| SUPERDRAW! | | |
Friday, 11 August 2017


Join us from 6pm onwards for our members!
1st Draw is R15,000.00 & the 2nd Draw R2,000.00
You have to be there to win it! R500 Lucky Draw for all.

Main Course: Build a Burger R65 pp
Dessert: Ice Cream and Chocolate sauce R25 pp
Kids Menu: Ham &Mushroom Pizza R25 pp
Live music - Just Adrian

Fixtures… A full line-up of Forthcoming Club Competitions & Events:


Saturday, 12th August… 4BBB Stableford
Wednesday, 16th August… Alternate Combined Stableford
Saturday, 19th August… Individual Stableford
Sunday, 20th August… Mixed Open


100 Reserve


100 Reserve Brandy have branded a Titleist Golf Bag, together with an umbrella and club towel to be given away as a prize to one lucky customer!

All you have to do to enter is to buy a double 100 Reserve and 200ml mix for R35, or TWO double 100 Reserves and 330ml mix for R55, fill your name in on the card and drop in the box in the main bar!

The prize will be drawn on the 30th of September 2017 at Members Prize Giving.

Good luck to all!

Alfie Schneeberger
Food and Beverage Manager
Click on posters to enlarge...

Blues Meets Rock is 'Back in Black & Blues' at the Durbanville Golf Club Boulevard Blues and the absolutely Rocking 'Back in Black AC / DC Tribute Band ' will be setting your good times on fire. 'Back in Black' the AC/DC Tribute Band spent 6 months in a rehearsal room fastidiously studying the finest nuances of AC/DC's live performances and emerged victorious after their stellar closing performance at the 2016 Tribute Festival.

Find out more about Backsberg Wines here.
For one night only!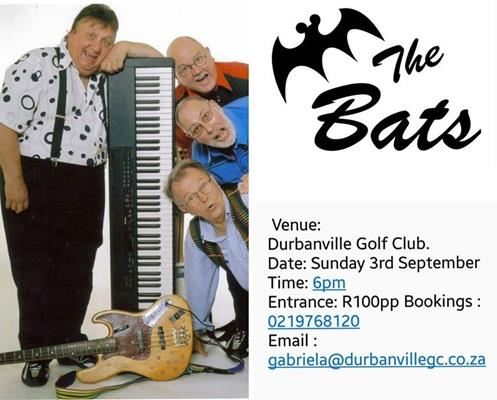 Thank you to Tom Ohlms from Vapor Man for sponsoring the cleaning our carpets.


5th & 6th holes
• Add a new bunker behind the existing right hand bunker at around 240m. This will create more risk and reward if one wants to try and cut the corner.
• Improve the visibility of both bunkers with support mounding that extends into the rough on the right to prevent balls rolling down the hard rough towards the green.
• Plant more trees down the right to accentuate the new fairway line.
• Close the existing left-hand bunker.
• Add a new bunker down the left to catch the inaccurate big hitters at around 255m off the middle of the 5th tee.
• Ensure good visibility of this bunker off the tee with support mounding.
• Plant additional trees around this area to create more definition.
• Move and shape the fairway left around 15m after the new fairway bunker.
• Move and shape the fairway down the right, left by around 15m.
• Grow the grass around the approach bunker to make it fall within the rough to narrow the approach to the green a bit.

We feel the changes would completely transform these two holes and make them far more interesting to play, no matter what the wind direction.

14th fairway - The proposed new bunker
• Join the seniors and ladies tee into one big tee that is lower to improve fairway bunker visibility.
• Plant more trees down the left of the fairway before the fairway bunkers to encourage shots away from fairtrees.
• Move the fairway line right before the fairway bunkers.
• Make the existing fairway bunkers as visible as possible and perhaps more intimidating.
• Grow the rough down the left mounds as long as possible.
• Do some tree trimming down the right of the fairway to widen the fairway where possible and encourage shots down the right.
• The two existing trees in the fairway should be surrounded by long grasses that split the fairway in two with an option to go left or right.
• Create a bigger wetland area out of the existing sluit that separates the 6th green from the fairway.
• This wetland should be enlarged up the left of the fairway and up to the left of the green.
• The wetland should have a fairly flat base to allow for slow water movement and good plant retention.
• Pockets of low lying areas can be created that hold water all year round.
• This sluit is fed by a flush valve that could be opened once or twice a week.
• A new cart path will need to be constructed down the left of this wetland to allow access to the 7th tee cart path.

If you have any feedback for us, get in touch.



Click to enlarge the images.




| | |
| --- | --- |
| 5th & 6th holes | 14th fairway |


Premier Amateur Tour – Milnerton Open on Sunday, 20 August 2017.
2017 Mid-Amateur-Series - Strand Golf Club (22 August 2017)

2017 Senior Amateur Series - Westlake Golf Club (21 August 2017)
Click on a poster to enlarge.

Who's been taking down the competition at the club?

Click here

to view the results.


May we wish a very happy birthday to all those members who celebrate their birthday this week. They are:


Yvette Chemaly, Lize Du Plessis, Ina Koegelenberg, Jacomina Koegelenberg, Tamsyn Lentz, Jaylene Muller, Erika Nothnagel, Reinrdt Swart, Charlene Connor, Brenna Coupland, Bronwyn George, Llewellyn Stenekamp, Tracey-Lee Wall, Hennie Basson, Dolf van der Merwe, Ashley van Heerden, David White, Morne Williams, Tertius Baard, Fanie Badenhorst, Hermein Nel, Clint Ruiters, Phumza Cekiso, Curtis Fourie, Jan Hagen, Cedric Keown, Marilize van Zyl, Coenrad Birkenstock, Jason Fourie, Alistair McQuillan, Ilse Zwiegers, Andre Barlow, Riaan De Lange, Hosung Kwag, Jade Le Roux, Tobile Mafa, Katelin Muller and Hendri Nigrini.

Have a wonderful day!


One beautiful spring day Angus Campbell headed out for an afternoon of golf. Standing on the green the Scott asked the boy standing beside him, "Are ye my caddie for today?" "Aye," answered the boy. "Are ye good in finding lost balls?" "Oh yes sir, I find every lost ball!" "Okay, boy, then run and search for one, then we can start!"


20 powerful secrets of persuasion and influence
Your ability to persuade and influence people, to get them to understand, accept and act upon your ideas — is crucial to your success. People who speak persuasively have greater personal power, get more things done and achieve their goals faster.

By learning how to persuade and influence people it will help you to be more successful in every area of life — your home, your work and in your community.

Click here

to ready more.




James Hurford
The Confidence Doctor
074 254 5881
james@theconfidencedoctor.co.za
www.theconfidencedoctor.co.za

Please Remember To Fill YOUR Divots & Repair YOUR Pitch Marks!