Great Golf Day @ DGC... Day 2, Tuesday 22nd Aug '17 of The Cape Town Golf Festival
Fantastic prizes and a special honour to have the Executive Madam Mayor and Alderman Patricia de Lille present and assisting with the prizegiving. Paul Hart-Davies, Ex President and Captain, handed her our club's history book, together with a lovely magnum of red wine from Diemersdal - As this is DGC's 50th Jubilee year. Thank you!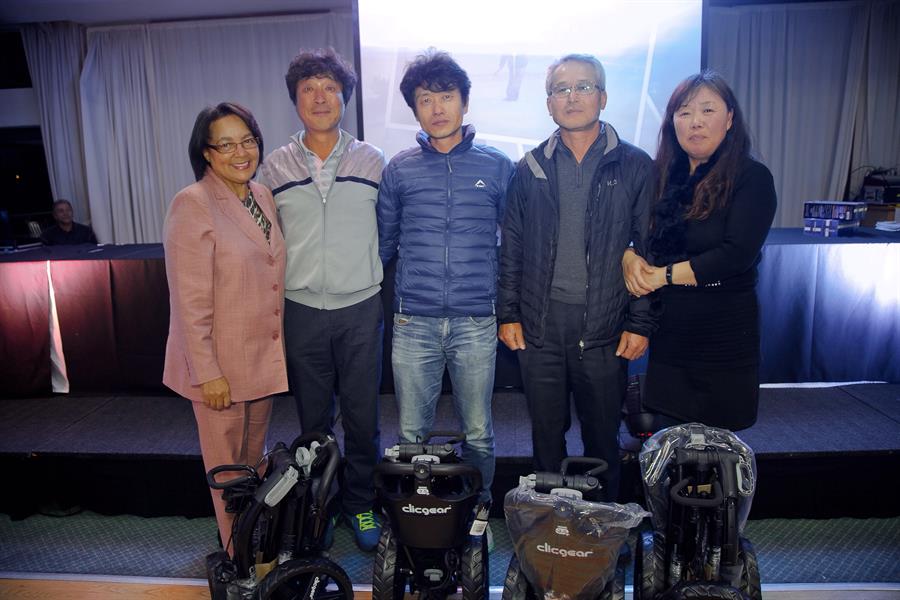 Congratulations to our winners: Yongshin Kwag, Hanna Kwag,
Won Bae Ro and Seong Kook Kang
Special thanks to Reg Ferreira for bringing this prestigious event to the Jewel of the North.

Click here
to view more photos from the event. A full list of the results are available here.





It is with a heavy heart that I must share the sad news of the passing of a Nancy Grabham's sister, Gwladys. She has been a special part of the DGC Ladies Society, with a generous heart, sponsoring their club championships and other tournaments for more than 11 years.

Someone so special will not be forgotten, wonderful memories will live on forever.

Nancy, while there is no way we can feel your pain, we do feel your loss as Gwladys has been close in our hearts for many years. Peace and love to you and your family during this sorrowful time.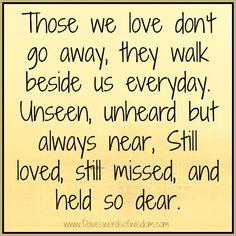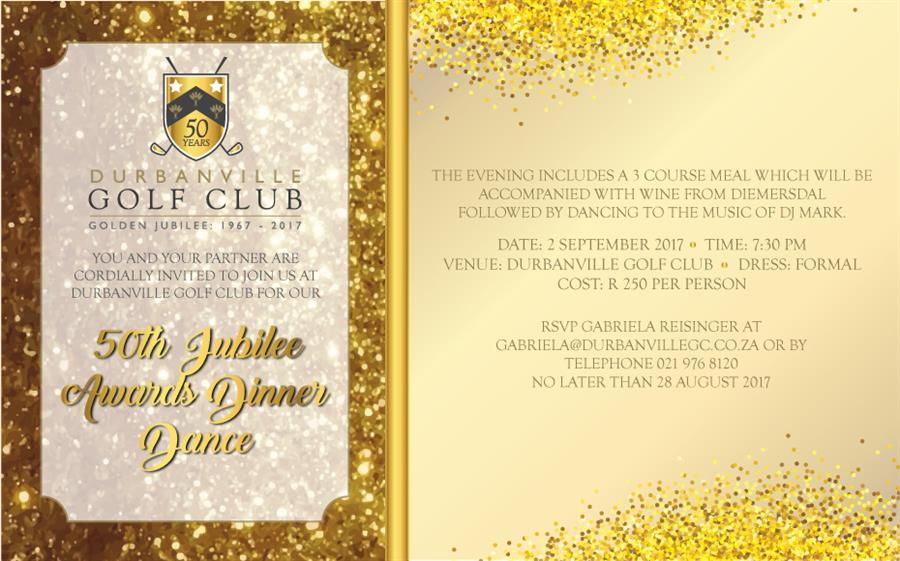 | | | |
| --- | --- | --- |
| SUPERDRAW! | | |
Friday, 1 September 2017


Join us from 6pm onwards - All our members welcome!
1st Draw is R15,000.00 & the 2nd Draw R1,000.00


The previous R3000 Draw was won by Ian Rothman!


You have to be there to win it! R500 Lucky Draw for all.

Fixtures… A full line-up of Forthcoming Club Competitions & Events:
Saturday, 26th August - Individual Monthly Medal
Wednesday, 30th August - 4BBB Stableford
Click on posters to enlarge...

The GM of Ruslamere Hotel, Spa and Conference Centre Val Killian has offered a special for DGC members at R195 per person. Limited space available.

Don't forget to enter your teams for the upcoming Inter-club Rules Quiz Evening. E-mail robert@wpgu.co.za to sign up.


Sunday, 15th October 2017 - Lion's Club Golf Day
Tournament starting at 11:30am.
Competition: 4BBB Stableford

Handicaps:
Affiliated players play off official handicaps.
Non-affiliated players play off: Men - max 18 / Ladies - max 24

To enter:
Phone Keith Shaw on 082 469 6265 or Pierre Crayé on 082 451 0937 for entry forms.

The first round of the Mixed Knockout will be played on Sunday 10th September.

Format: Betterball Stableford
Closing date: 3 September 2017
Competition fee: R50 per player once off.

The sheet for entry is on the noticeboard outside ladies locker room. If you have any questions, please contact me or

John Ekermans.

Never a winner on the Premier Amateur Tour (PAT), Cameron Johnston held on to his first round lead to win his first PAT event at the Milnerton Open.

It is hard to imagine a player of his quality not to have won an event on the PAT tour.

With rounds of 69-70 (139), Johnston held off Weyers Janse van Rensburg his Mid-Amateur team mate, to win by two strokes.

Van Rensburg, no stranger to Milnerton, holed 12 birdies but he wasn't able to keep the bogeys off his card and finished on three-under-par 71-70 (141).


Bellville Junior, Sam Simpson's golf continues to improve and impress. He has picked another top three finish, 71-71 (142) with his third place finish behind Weyers Janse van Rensburg.

Adrian Ford had a nightmare start to his tournament – after carding an opening round 80 found his rhythm in the afternoon to improve by 11 shots for a 69, but there was just too much ground to make up on the leaders. For full results, click here.

The next event on the Premier Amateur is the Steenberg Open –
Sunday 10 September.


What's your favourite shot? Is it sinking a long putt? Booming a long drive? We think an approach shot, with a mid-iron that's all over the flag, takes a lot to beat.

How far up the bag do you have to go before you lose confidence on approach shots? Are you happy just to get a #7 iron up around the green, or are you expecting to find the putting surface? Test yourself. Then challenge yourself to get better. Make golf a journey of improvement.

Never buy an iron without getting the shaft length and lie angle fitted, to give you the best chance of hitting that approach shot. Contact us to get started.


100 Reserve

100 Reserve Brandy have branded a Titleist Golf Bag, together with an umbrella and club towel to be given away as a prize to one lucky customer!

All you have to do to enter is to buy a double 100 Reserve and 200ml mix for R35, or TWO double 100 Reserves and 330ml mix for R55, fill your name in on the card and drop in the box in the main bar!

The prize will be drawn on the 30th of September 2017 at Members prizegiving.

Good luck to all!

Alfie Schneeberger
Food and Beverage Manager
| | |
| --- | --- |
| | |

Par 3... 4th Hole at DGC

Every hole-in-one, on a competition day, the player/s get a free bottle of Bell's Special Reserve.



Who's been taking down the competition at the club?



Click here

to view the results.




Registered Rounds Percentages


This month we introduce the Registered Rounds Percentage score and explain how this minor addition to the handicap system will help verify the integrity of your handicap.

Read more here.

As our course treats GUR according to the defined term:

"Ground under repair" is any part of the course so marked by order of the Committee or so declared by its authorized representative. All ground and any grass, bush, tree or other growing thing within the ground under repair are part of the ground under repair. Ground under repair includes material piled for removal and a hole made by a greenkeeper, even if not so marked. Grass cuttings and other material left on the course that have been abandoned and are not intended to be removed are not ground under repair unless so marked.

When the margin of ground under repair is defined by stakes, the stakes are inside the ground under repair, and the margin of the ground under repair is defined by the nearest outside points of the stakes at ground level. When both stakes and lines are used to indicate ground under repair, the stakes identify the ground under repair and the lines define the margin of the ground under repair. When the margin of ground under repair is defined by a line on the ground, the line itself is in the ground under repair. The margin of ground under repair extends vertically downwards but not upwards.

A ball is in ground under repair when it lies in or any part of it touches the ground under repair.

Stakes used to define the margin of or identify ground under repair are obstructions.

Note: The committee may make a Local Rule prohibiting play from ground under repair or an environmentally-sensitive area defined as ground under repair.

Read more here.


May we wish a very happy birthday to all those members who celebrate their birthday this week. They are:



Andre de Wet, Arthur Hansen, Joshua King, Jan Loots, Eugene Ricketts, James Smith, William Wettergreen, Desmond Archer, Malcolm Feldman, Mignon Huisamen, Alan Parry, Mark Brunsdon, Mercia Farmer, David Gray, Dianie Lamprecht, Magdalene Lamprecht, Gideon Rossouw, Jurgen Saunders, Philip Versfeld, Travis Procter, Jason Swart, Mecalia Timmie, Gabriel Barnard, Mark Davidson, Tony Dixon, Tiaan Leibbrandt, Hyun Ki Soon, Gary de Wet, Liam Ferreira, Sipho Molejane, Andre Schutte, Jakobus Bekker, Adriaan Bisshoff, Julia Mather, Johan Slabbert, Steve van der Westhuizen.



Have a wonderful day!



Golfer to caddie: "Why do you keep looking at your watch? I find it very distracting."

Caddie:
"It's not a watch, sir – it's a compass."

Please Remember To Fill YOUR Divots & Repair YOUR Pitch Marks!