Durbanville Golf Club's oldest golfing society, the "Durbanville 8", kicked off their 43rd season...

in perfect conditions on Sunday morning followed with a family braai at the club. Starting the season in September we play one Sunday a month, with a total of eight rounds individual stableford. The golfer with the six best scores during the season wins the Durbanville 8 Cup and becomes captain for the following season.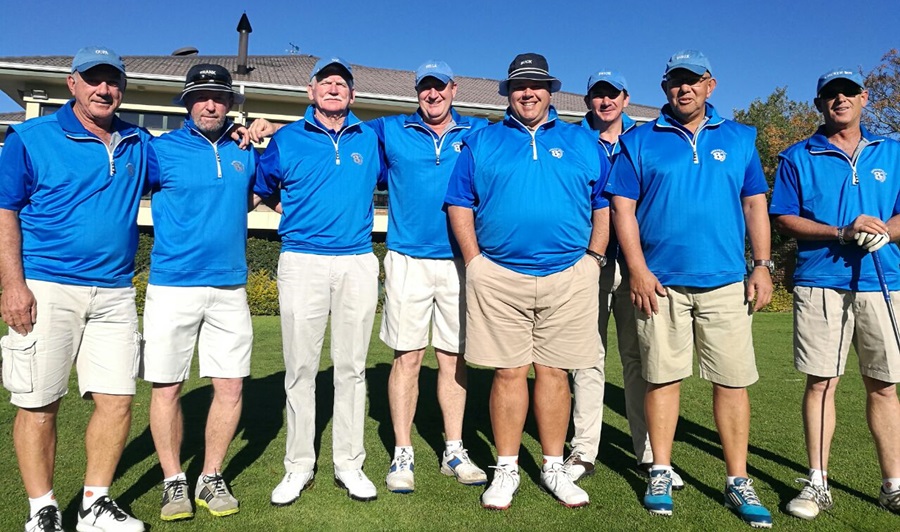 Photo from left to right: A Owen, C Du Toit, J Hamilton , M Hershaw, A Wainwright (Capt.), R Van Rensburg, K Pinn & G Nel
Absent: A Bosch & T De Jonge

WP IPT team doing well in the SA 2017 Inter Provincial Tournament played at Bryanston Country Club.

Keep up the great golf, WP!



Click on the image below for scoring.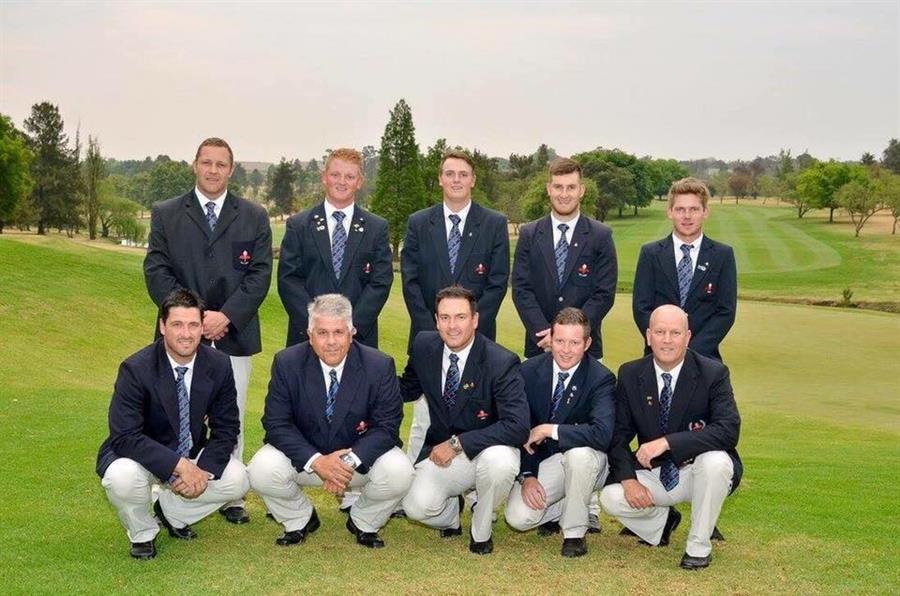 The WP Golf Premier Inter-Provincial team headed by Elton James, the team of Cameron Johnston,
Gerlou Roux, Adrian Ford, Carlo O'Reilly, Elmo Barnard, Chris Wicks and Deon Germishuys


Kirsten Byren wins the girls 9 - 10-year old division in the SA Kids Tournament held at Pearl Valley on Sunday!

Keep your passion alive and never stop dreaming! Well done to Noah Musikanth as well on his 3rd place in the boys division.

It's a wonderful thing to see our young juniors loving the game and taking every opportunity to participate, play and love this beautiful game called golf!


| | |
| --- | --- |
| Congratulations, Kirsten Byren! | |

You can get your kid started on a great journey as well. Sign them up for our October Holiday Programme today.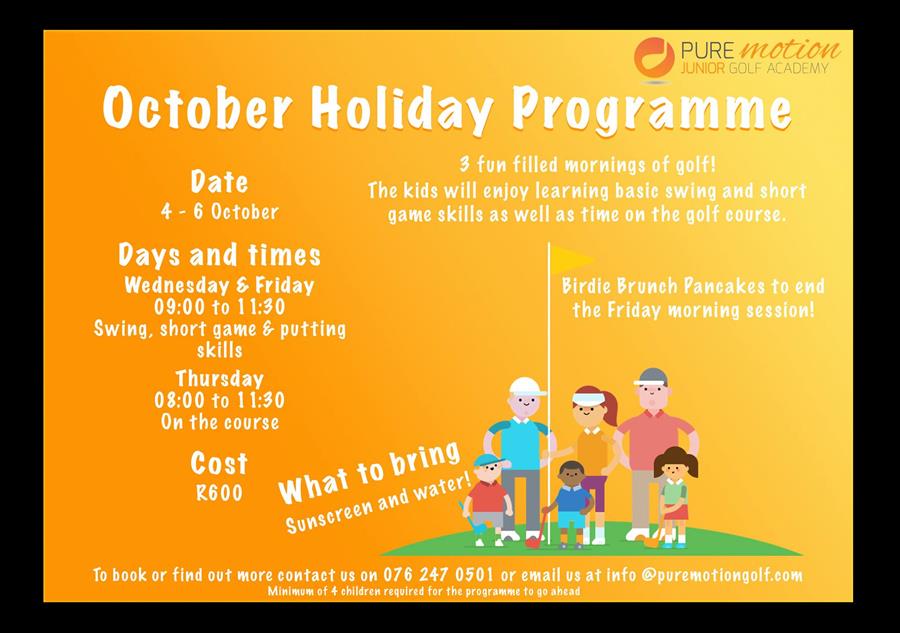 Fixtures…A full line-up of forthcoming club competitions & events:


Saturday, 23rd September - Alternate Combined Stableford


Monday, 25th September

- Public holiday – Heritage Day
Wednesday, 27th September - 4BBB Bogey Plus

Friday, 29th September - Good Day For golf & Super Draw!
Join us from 6pm onwards - All our members welcome!
1st draw - R15000.00 & 2nd draw - R4000.00
You have to be there to win it! R500.00 lucky draw for all.
Build-A-Burger - R65pp (With all the trims).
Live music - Just Adrian

| | | |
| --- | --- | --- |
| | | Don't miss out on the fun! |
Hole out on the 18th From our clubhouse Balcony Friday 29th September
5:30pm to 6:30pm. The 1st Hole In 1 Wins R2K Cash!

(Great prizes!) Sponsored by: Compass Guarding
Read more about them here.
Saturday, 30th September
- Monthly Medal

Click on posters below to enlarge...
Sunday, 15th October 2017 - Lion's Club Golf Day
Tournament starting at 11:30am.
Competition: 4BBB Stableford

Handicaps:
Affiliated players play off official handicaps.
Non-affiliated players play off: Men - max 18 / Ladies - max 24

To enter:
Phone Keith Shaw on 082 469 6265 or Pierre Crayé on 082 451 0937 for entry forms.

Tickets for this year's STBB4GOOD Twilight Run are selling fast so the time to enter this popular trail run on unique routes is NOW!


Your Nissan Dealer in the Northern suburbs, find us at 288 Durban Road for all your New and Pre-Owned vehicle requirements.

Please pay us a visit at 288 Durban Road to see our full range of Nissan vehicles, including the stunning new Qashqai, X-Trail and the rugged redefined brand new Navara. Let us structure a deal to suit you. We also have a wide variety of Used vehicles for sale.

Visit us between now and the end of September for a 50% discount on a diagnostic check on all out-of-warranty Nissan vehicles.



TELEPHONE : 021 001 3432
| | |
| --- | --- |
| | |

After a three-month winter break, the Winelands Senior League got under way again at Bellville Golf Club last Tuesday. Durbanville, suffering a 4-1 defeat to Helderberg, rather wished we could have had another month off! In a somewhat freakish morning, with rounds taking a horrendous five hours fifteen minutes, three of Durbanville's tried, trusted and normally successful pairings all failed to make it past the 15th tee. Greg Baxter and Bob Rees, three down very early on in their match, twice drew level but an outrageous chip-in from one opponent on the 15th and a 23 handicapper parring hole after hole saw them just fail to gain a half on the 18th green. That left the pair of Mike Rolfe and Gordon Simmons to gain Durbanville's solitary point with a solid 3&2 win.

The unusual match play format in the Seniors League, whereby strokes are taken on your respective handicap stroke holes, means 19-24 handicappers receive two strokes on up to six holes. In addition they frequently stroke on their own on the supposedly easiest holes rather than the hardest. Consequently, higher handicappers having a good day can make it very difficult for their lower handicapped opponents - which deservedly happened with Helderberg on Tuesday.

Some changes are being looked at for next year, but unfortunately Durbanville's wishes for the league to revert to the traditional match play format whereby the lowest handicapper goes down to scratch, have been rejected.

With a bye in the next round, Durbanville next host Devonvale at home in November. So plenty of time to regroup!




Scorecard holder - R200
Large tee bag - R175
Small tee bag - R150
Black tee bag - R150

Reserve an item here.




Young Tom Morris, a four-time Open Champion, recorded the first known hole-in-one in golf history in the 1800s. There had been conflicting reports about the actual year it occurred, but now we have the actual date nailed down.

Click on image below for the full story.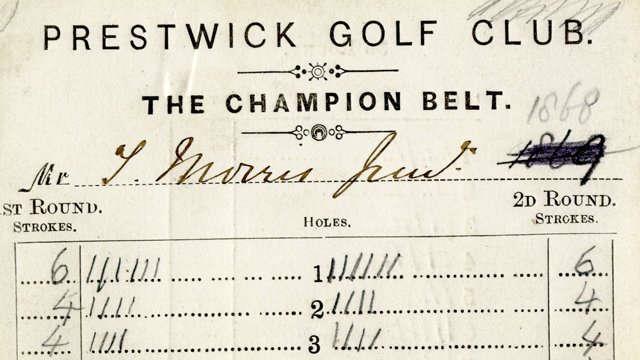 Please note the following policy when relacing in our lounge & bar area at Durbanville GC
It is our pleasure to have you enjoy a few rounds of drinks at our club, but your safety is also of concern to us! Our barmen have therefore been instructed to serve you drinks respectfully until such time as your behaviour proves that in the interest of your safety, (a) further drinks should be refused or, (b) we feel it necessary to arrange safe transport for you to get home. We have a special arrangement with "Sober Chauffeur", and will ensure that for a nominal fee, your vehicle and yourself arrive home safely.

Most often, in the surrounds of our club, roadblocks are positioned to avoid drink-and-drive situations, and huge fines are levied for those caught over the limit. Kindly trust that we will not summon a chauffeur unnecessarily, however, in your best interest it is our prerogative. Your safety is important to us! We ask that you kindly refrain from persecuting those staff members who deem it necessary to enforce the policy.

Your co-operation is appreciated, as always.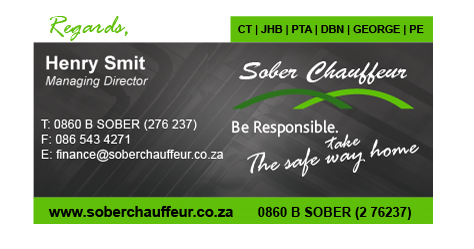 World Leisure Holidays are proud to bring you the Sun Resorts. This remarkable hotel chain owns 4 hotels in Mauritius (La Pirogue Resort & Spa,Sugar Beach Golf & Spa Resort, Long Beach Golf & Spa Resort, Ambre Resort & Spa) as well as the iconic Ile aux Cerfs, a leisure island on which is nestled a championship golf course. In the Maldives, Sun Resorts owns and operates the Kanuhura Maldives a member of "Leading Hotels of the World" luxury collection.


| | |
| --- | --- |
| | |

The iconic La Pirogue Resort & Spa carries the genuine and authentic spirit of Mauritius which has recently celebrated its 40th brthday. Its sister resort Sugar Beach Golf & Spa Resort, is a plantation style hotel, and an excellent choice for unforgettable family holidays and exclusive get-away's. Long Beach Golf & Spa Resort is the perfect hotel to unwind and re-energise for high-spirited families and couples. Ambre Resort & Spa is the perfect place to refresh, mix and mingle, this hotel is unique in that it only caters for guests 16 years and older. Our very special and unique Ile aux Cerfs is a complete leisure, pleasure and golf destination. The golf course designed by Bernhard Langer unfolds its world famous 18 holes par-72 championship golf course.

With our uniquely diverse offer, the aim is to entertain every member of the family and ensure an enjoyable stay for everyone discovering our facilities. The wide array of restaurants and bars as well as the multiple selections of land and sea activities will meet the expectations of our guests.


| | |
| --- | --- |
| | |

The hotels in the Sun Resorts collection are the place to be for avid golfers. Guests can enjoy a unique offer with a golf course collection designed by world-class champions. Staying on the sunrise coast, at Long Beach Golf & Spa Resort, golf is included at Ile aux Cerfs Golf Club and Anahita Golf Course, an Ernie Els design golf course, including hotel transfers and driving range access. The two immaculate championship golf courses are must-play courses on the island.

While staying on the sunset coast, at Sugar Beach Golf & Spa Resort, golf is included at Tamarina Golf Club, including hotel transfers and driving range access. The spectacular Rodney Wright golf course overlooking the mountains is definitely worth a game.

Mauritius is your dream destination for golf and World Leisure Holidays are there to ensure that you always get more island
For more information on these exclusive golfing vacations, please contact:

Your nearest travel professional or World Leisure Holidays

Tel: 011 285 2500
Email: golf@wlh.co.za
website www.wlh.co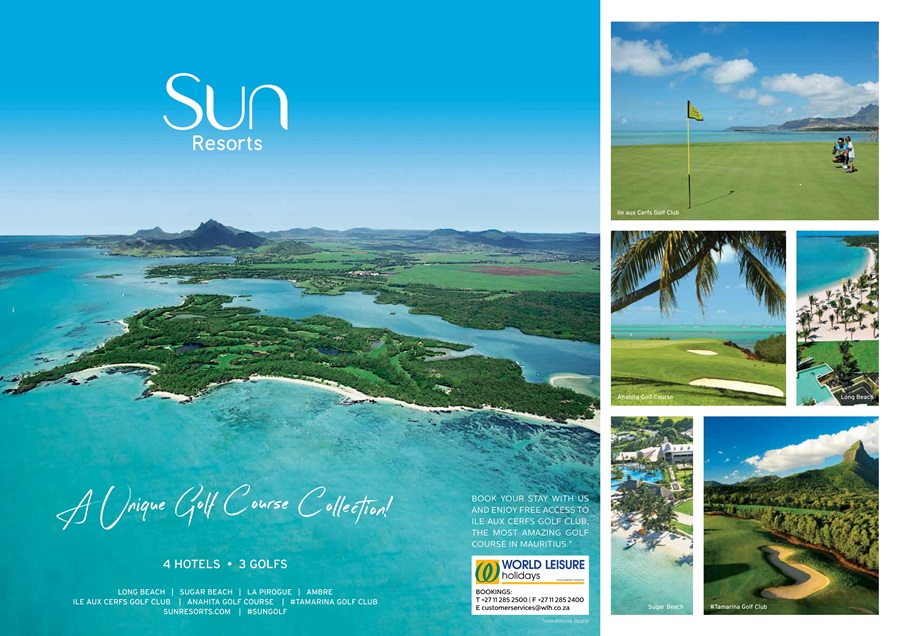 100 Reserve
100 Reserve Brandy have branded a Titleist Golf Bag, together with an umbrella and club towel to be given away as a prize to one lucky customer!

All you have to do to enter is to buy a double 100 Reserve and 200ml mix for R35, or TWO double 100 Reserves and 330ml mix for R55, fill your name in on the card and drop in the box in the main bar!

The prize will be drawn on the 30th of September 2017 at Members prizegiving.

Good luck to all!

Alfie Schneeberger
Food and Beverage Manager

Par 3... 4th Hole at DGC

Every hole-in-one, on a competition day, the player/s get a free bottle of Bell's Special Reserve.




Golf cart rules with Phillip

Watch the video below.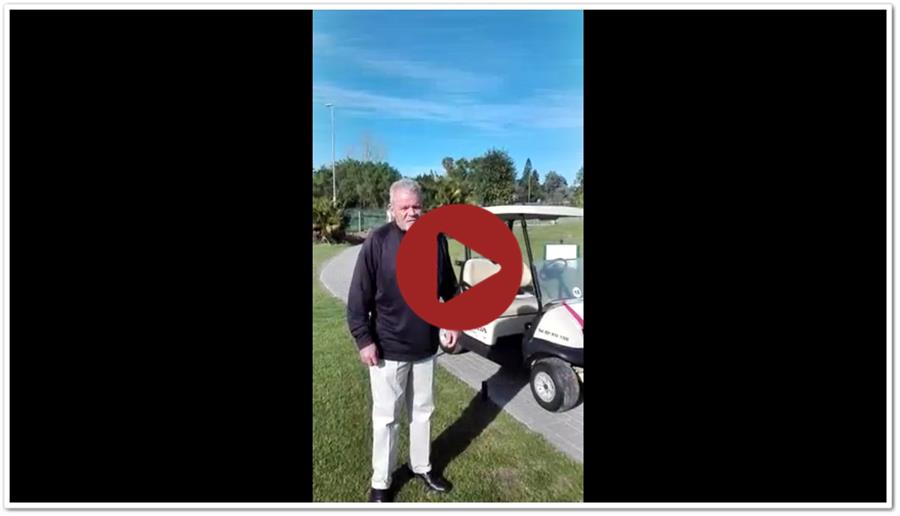 Click to watch

Taking relief from staked trees with Hélène Marais

Watch the video below.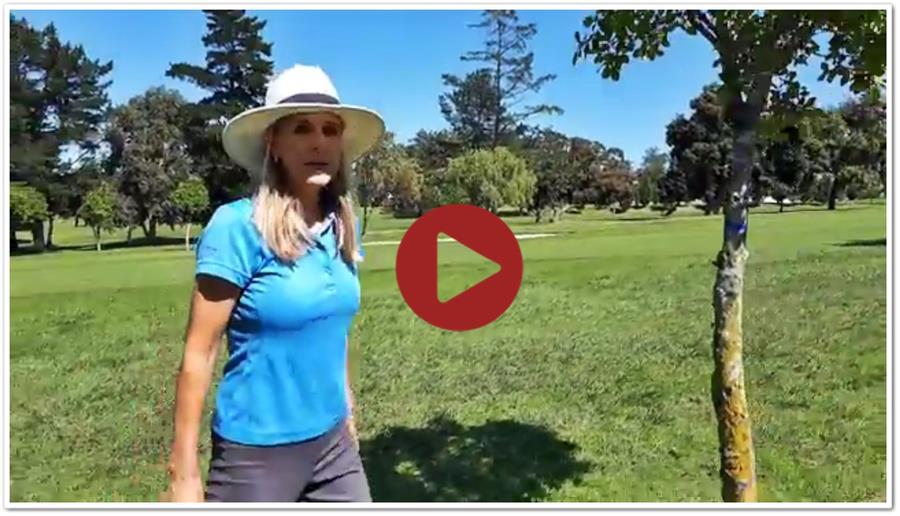 Click to watch
When a rule is breached in stroke play

There are four main situations that apply when a Rule of Golf is breached in a stroke play competition:


1.

A player breaches a Rule and includes the appropriate penalty on the score card that they sign and return.

2. A player unknowingly breaches a Rule and signs and returns their score card. The breach is brought to the Committee's attention before the competition has closed.

3. As in 2, but the breach is brought to the Committee's attention after the competition has closed.

4. A player knowingly breaches a Rule, but does not include the penalty incurred on their score card

So what are the considerations in each of these four scenarios?

Find out here.


Who's been taking down the competition at the club?



Click here

to view the results.


May we wish a very happy birthday to all those members who celebrate their birthday this week. They are:

Laurence Peter Adams, Savy Ciagila, Andre Gerber, Jennifer Lankhof, Carlo Prins, Paolo Stermin, Gideon Uys, Mogamat Abrahams, Riette Basson, Dawid Breet, Mary McDonnell, Astin Jason Owen, Charles Manning Thatcher, Annemarie Cilliers, Andre Mark Erasmus, Portia Klassen, Keith Markotter, Marcel Schwartz, Carel Pieer van Wyk, Nico van Wyk, Leana Wessels, Richard Mazewski, Niel Meyer, Against Mutangi, Anton Neethling, Anton Roelofse, Phumzile Simelela, Johan Nicholas van Zyl, Patrick Boyd, Dudley Shaw, Hano Smal, Ian van den Berg, Franz Holm, Dien-Marie Kingsley, Pieter de Bruin, Shauney du Preez, Christopher Grime, Keeno Kleynhans, Cara Novis,Ayden Senger, Teresa Treurnicht

Have a wonderful day!




Cathy McCartney Happel: A U.S. citizen is vacationing on her own in Ireland. She decides to play a round of golf and is paired with three local gents.

She takes a few practise swings, steps up to the first tee, and proceeds to hook the ball out of bounds. She shakes her head, reaches in her pocket, and re-tees another ball. She tells her playing partners that she is taking a mulligan. She pounds one down the centre of the fairway about 280 yards out.

With a big smile, she asks the others, "In the U.S., we call that a mulligan; was wondering what you called it here in Ireland?"

After a moment of silence, one of the locals replies,
"Hitting three."