Jurgen Saunders got a hole-in-one on the 7th


Congratulations!

· Bob Taylor's wife Ray passing away. (Flag at half-mast).

· Rem Ciolli's passing last week.

Our sincere condolences with the families and friends.

Par 3... 4th Hole at DGC

Every hole-in-one, on a competition day, the player/s get a free bottle of Bell's Special Reserve.


| | |
| --- | --- |
| | |

Fixtures…A full line-up of forthcoming club competitions & events:

Friday, 6th of October
2017 - Good Day For Golf & Super Draw!

Friday, 6th of October 2017 - Super Draw
Join us from 6pm onwards - All our members welcome!

1st draw R15000.00 & 2nd draw R5000.00
You have to be there to win it! R500.00 lucky draw for all.
Assorted pasta - R65pp

Hole out on the 18th From our clubhouse balcony - 5:30pm to 6:30pm.
The 1st hole-in-one wins R2K cash!
Great prizes sponsored by Compass Guarding.


Saturday, 7th of October - Alternate Combined Stableford


Click on posters below to enlarge...
Wednesday, 11th of October
- Individual Stableford

Saturday, 14th of October - Individual Stableford Captains Trophy

Sunday, 15th October 2017 - Lion's Club Golf Day
Tournament starting at 11:30am.
Competition: 4BBB Stableford

Handicaps:
Affiliated players play off official handicaps.
Non-affiliated players play off: Men - max 18 / Ladies - max 24

To enter:
Phone Keith Shaw on 082 469 6265 or Pierre Crayé on 082 451 0937 for entry forms.

Tickets for this year's STBB4GOOD Twilight Run are selling fast so the time to enter this popular trail run on unique routes is NOW!



You can control your shafts pitch with the visual reference to the stick.
So if you are getting the club behind you on the take away (Image 1) you can feel the alignment stick is pointing between your feet and the ball line on the back swing (Image 2). So if you trying to get more shallow on the downswing you can feel the stick is pointing in front of you which means the club is behind you (Image 4) You can trace anything in your golf swing with the stick

Follow @sergiodiasgolf on instagram and Facebook Sergio Dias Golf.

Contact us to book a lesson.

1. Club too
inside


2. Club too steep causing
slice


3. More vertical shaft pitch
on back swing

4.Shaft pitch shallowed
out


New bar man
Hi My name is Ryan van Rensburg.

I am 23-years old, born in Johannesburg and raised in Cape Town.

I arrived back in Cape Town in December 2016, as I was working in the United States for 7 months.

I enjoy being active every day in the gym and my hobbies are rugby golf and motor cross
I've worked at the club before.

Westlake Champions

Congratulations to Jordan Rothman and Freda Heerink for winning the Champion of Championships at Westlake today.

Jordan winning the silver and Freda the bronze.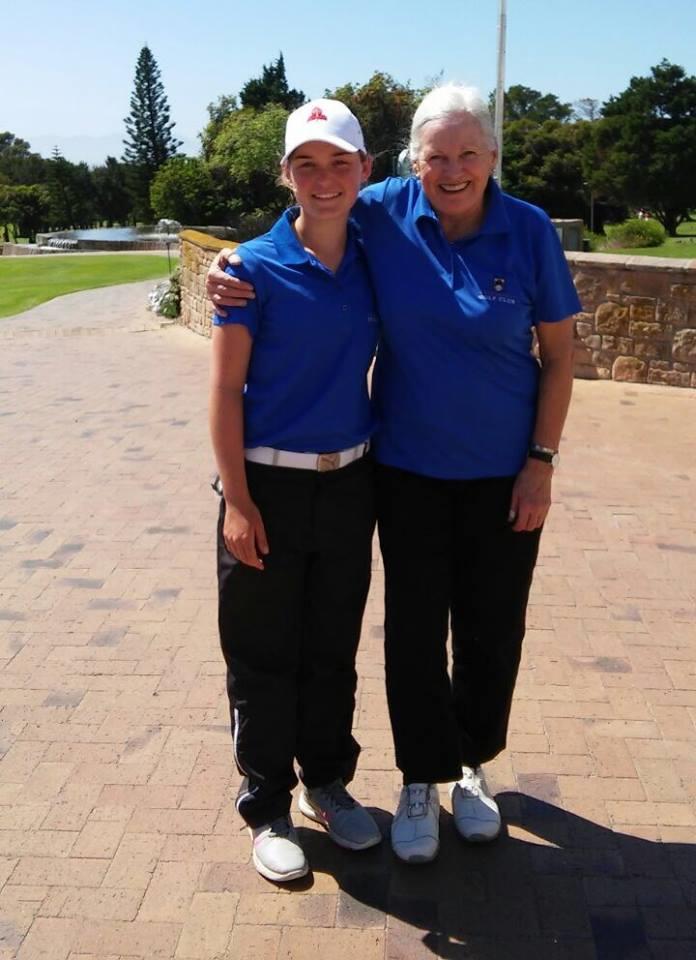 Scorecard holder - R200
Large tee bag - R175
Small tee bag - R150
Black tee bag - R150

Reserve an item here.

| | |
| --- | --- |
| | |

May we wish a very happy birthday to all those members who celebrate their birthday this week. They are:

Etienne Hawes, Cornelius Myburgh, Ronell Ohlms, Johnny Procter, James Shurmer, Calet Villet, Raymond Aucamp, Ted Kneller, David Barnard, Anthony Batchelor, Jean-Reece Brooks, Marais Du Toit, Nicholas Simons, Surita Smit, Robin Tooth, Lihle Tyandela, Chris van der Walt, Werner Weber, Paul Brink,Charles Jewaskiewitz, Chris Kotze, Lonwabo Mesatywa, Riaan Myburgh, Ricus van Heerden, Jordan Rothman, Peter Runkel, Pieter Basson, Evert Bouwer, Stephen Hall, Ryan Hayes, Busani Khumalo, NN Mnqeta, Gerald Muller, Jaco Nortje, Philip Viloen, Tanya Williams, Robin Rogers, Andre van den Berg, Bernie van Zyl.

Have a wonderful day!


A lady newcomer to golf was on the first tee and asked her Pro, "So, what do I do now?" The Pro replied "Well, see that flag on the green, you have to hit your ball as close to it as you can". The lady let one fly with a mighty swipe, the ball went flying, and eventually it came to rest 3 inches from the hole. She asked, "What do I do now?". The pro answered "You are supposed to hit it in the hole". The woman screamed..."why didn't you tell me that before".