I would like to thank each and every member that participated in our member events over the last month. It is fantastic to see such a good turn out each week and how you support the club. We really do have the best members so thank you again. This Saturday is our annual Turkey Trot. If you need any information, please do not hesitate to contact Carmen or the guys in the pro shop.

When I think about everyday shopping it is very seldom that we get to deal with an out-and-out expert. I would like for you all to think about it for a second, when is the last time you dealt with someone that blew your socks off? We are very fortunate that our suppliers and PGA Professionals are experts in their respective fields. If you want to challenge me on this I am happy to book you into a fitting with any one of our suppliers and you will not regret it.

These guys are exceptional at finding the correct equipment that will suit your game. It will be unlike anything you experience anywhere else and that includes our bigger retailers down the road. Will you buy a new suit and not have it fitted? Or will you buy a pair of shoes without trying it on? So why should your golf clubs be any different? Not one of us swings the club the same so how can we use the same equipment? If you look at the picture you will see that there are three golfers that is a different size. That means these three golfers all swing the club in their own unique way, so how can their clubs be the same? All of them will have a different clubhead speed, lie angles and launch angle.

By custom fitting your clubs you can improve your game without making any swing changes.


| | |
| --- | --- |
| | Different builds, different swings, different needs |

If you are looking to spoil yourself this Christmas the contact me here to book a fitting with one of our suppliers, I can guarantee that you will not regret it.

I mentioned our Handicap Committee to you in our last newsletter. I am happy to report that the team have been working hard behind the scenes. Please click on the two links below to find out what you can expect from them and how they will go about their business.

Introductory letter.
Handicap manual.



Hole more putts in 2018

Drive for show, putt for dough, meaning, a long drive (tee shot) impresses the gallery, but the guys who usually win the money are those who putt well. We all know that saying and deep down we know for that to be very true. I find it fascinating sometimes how golfers will spend more money or a driver or fairway wood then what they would on their putter.
In store we have just taken stock of the new Odyssey O works range and they are gorgeous. They spend a lot of time on the putters face piece or insert as we know it. Making the ball roll better regardless of the player's stroke seems ambitious. But that's the idea behind this putter's elaborate face piece. A soft elastomer insert is fronted by a super-thin stainless-steel-mesh face insert. Tiny hinges contract at impact to launch putts with more topspin that will allow you to leave less putts short and give yourself more chances.

If you need to hole more putts in 2018, do not look any further. Contact us today to book a fitting with one of our experts.


It is never an easy task to say goodbye! In our lives it often happens that one have to say goodbye to places, people and things. Here I am, at the end of a 3 year working stint at De Zalze Golf Club and Swingfit. I stand in awe of what I learnt, the experience I gained and most of all, the people I met and friends I made. It has been a life changing experience, it has shaped and built my character to a point where I am now ready for the new season in my life.

Today I have a thankful heart. To each member, visitor and all the staff at De Zalze, you played a significant role in my adventure here, and I am forever grateful for that. You all enriched my life and I carry only beautiful memories from every encounter we had. I bid you farewell and may we meet again in the future, on the fairway or in life.

Shalom to you all and with all my love,
Helena


Guy Kleu tells us what's happening on the course. Watch the video below: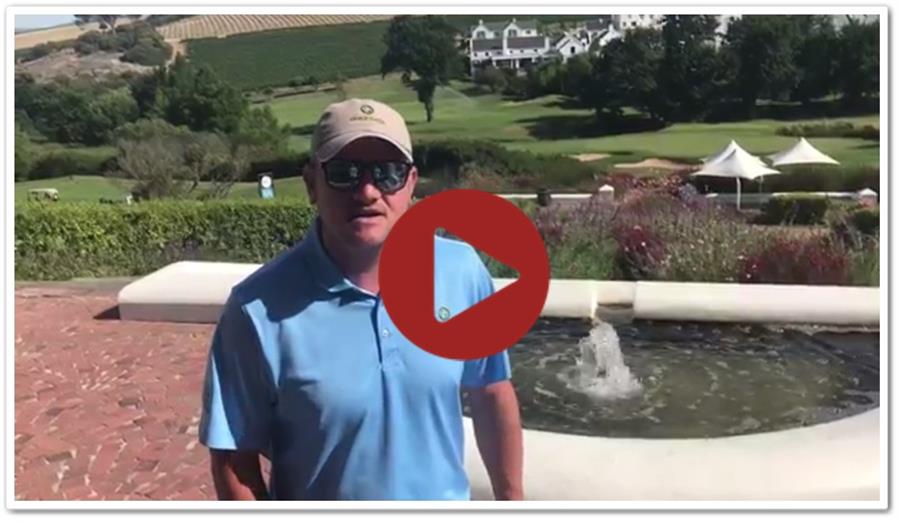 Click to watch

Wednesday Ladies Christmas Lunch

The Wednesday Ladies enjoying a glass of Kleine Zalze Wines and sharing small gifts after their last round of golf for the year! We want to wish all our Ladies a festive holiday season with family and friends.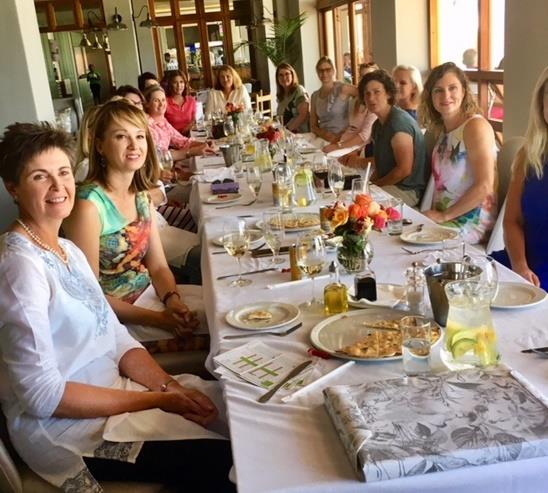 Our Ladies celebrating their last round for the year
Member Christmas Golf & Lunch
Remember to book your golf and lunch for the following dates:

Members Christmas Turkey Trot Competition: 2 Dec
Ladies Christmas Golf & Lunch: 5 Dec
Wasdag Christmas Golf & Lunch: 11 Dec


Member Event: 22 November - Tarentale Year-End Function
The day was very well attended, with tee-off times all booked out and the function room filled to capacity for the prizegiving dinner. There was a lively atmosphere on the Lounge Terrace for all the post golf actvities taking place there: Canapes and bubbly, live music and wine tasting and a challenging driving competition run by Galloway. Thank you to all our sponsors: SPW – Martin Schmulian; Spier Wines – table wines; Stellenbrau – beer gift packs; Leipzig Wines – tasting wines. Dinner was a fancy affair with fillet on the menu instead of the usual burgers! It was a fun day, well attended by members and their spouses.


| | |
| --- | --- |
| Members enjoying a tasting from Leipzig Wines | Relaxing and taking in the views |

Happy birthday to all our members who are celebrating their birthdays in December!
01

Tobie De Villiers
01 Jaco Durand
03 Johan Van der Merwe
03 Dirk Lutz
04 Dr Tinus Vermeulen
04 Pieter Harris
05 Lance Faure
05 Charl Vorster
06 Brendan Wiggelinkhuisen
10 Romy Lydia Munchow

11

Susan Joan Bergh
11 Jannie Botha
11 Jean Louis Van der Walt
11 Steve Wilson
13 Yvonne Corbishley
14 Heila Burger
14 Marius Barkhuysen
15 Desmond Lockey
15 Nell Harris
16 Daniel Francois De Kock

18

Hendrik Johannes Jordaan
21 Maryna Wasserfall
22 Willem Theron
23 Mardelyn Crouse
23 Jan Louw
24 Jacques Viljoen
24 Christoph Levenhagen
25 Christopher Nel
26 Bruce Grobbelaar
27 Liza Jacobs

28

Jacqui Van der Heijden
28 Evert Lourens
29 Werner Johannes Burger
29 Alan Burns
29 Paul Harris
30 Frans Bicker Caarten
30 Johan Basson
30 Albrecht Steel
31 Peet Olivier