GM leaving DGC


Our general manager John Bold has resigned from DGC after 7.5 years at the helm. John's last day will be on Friday 29th September. John has taken the club forward and upwards working with 5 captains during his time with us. John is leaving the golfing industry to take up a position in property management in the Cape Town waterfront. We are pleased that John will remain a member of Durbanville Golf Club and will start to work on lowering his handicap on weekends. John's passion, love, dedication and enthusiasm for Durbanville Golf Club will surely be missed. He's ability to attract so many sponsorships to DGC may be a very tough act to follow for our new GM.

We wish John all the best for his future and say thank you for your time, energy and for the history you have created that you will forever be a part of.
Andre' Wainwright
Captain DGC


Fondest goodbyes
After 7,5 exciting years as General Manager of "The Jewel of the North," the time has come for me to say my fondest "Goodbyes", as I look forward to taking up a new challenge in a different industry from the beginning of October 2017.


I would like to take this opportunity to wish the incoming GM the greatest success, and trust that he will look after Durbanville Golf Club with the same passion and drive that I have felt, in the years ahead! May he take the club to new heights, bringing with him a breath of fresh air!

I will miss my supportive team, and the many members who have become dear friends over the years. Thank you all for your support, generosity of sponsorships, and friendship. May you all enjoy many years of happy golfing on this beautiful course!

A letter from overseas...
As a former member of Durbanville Golf Club I would just like to add a few words of appreciation and thanks for all that John Bold has done for the club over the past almost eight years.

In my time as a club committee member, working alongside him in a variety of positions culminating in my captaincy and then presidency at the club, I have always found him to be a man of great integrity, very well intentioned, loyal, committed, enthusiastic, efficient and personable.

It is no secret that John's role as General Manager has seen him steer the club through a difficult period financially and, in his time at the managerial helm, yearend figures have always shown a surplus. At the same time the club has developed with additional facilities and, having been nowhere near such a position previously, a Golf Digest ranking on the verge of being one of the top 100 clubs in the country. None of this comes easily and is the product of many hours of behind the scenes endeavour.

On the golfing side John has organised and run a number of high profile events at Durbanville, including the only international junior competition held in South Africa, and has always been full of intuitive and inventive problem solving ideas.

A networker of note, he has been personally responsible for securing an amazing amount of sponsorship for the club in each of his seven and a half years as GM. No mean feat in itself when one considers the financial state of the country and one with very positive benefits for every member as this has meant lower subscriptions for them than might have been.

Not afraid of hard work and long hours, John has always led his team by example, inspiring a similar response from those under him at the club. If he has had a fault it is that he tends to take too much onto his own plate, however this often means that he approaches tasks and achieves results which others would find overwhelming.

Of course it is all too easy to sit back and criticise, but as one member has already put it, '...appreciation is sprinkled far too rarely in this day and age. I hope, however, the club will look back on your time with us as being a very successful period in its history to which you made a significant contribution.' Hear! Hear!

There is no doubt in my mind that John Bold's enthusiasm, energy and sparkle will be sorely missed at the club; his will be an extremely hard act to follow.

In thanking him for all that he has done for Durbanville Golf Club, I for one wish him every success and happiness in his future career.

John Freter



Chris Pollet holed out in one, in yesterday's afternoon competition field, on the 4th hole at DGC.


Par 3... 4th Hole at DGC

Every hole-in-one, on a competition day, the player/s get a free bottle of Bell's Special Reserve.


| | |
| --- | --- |
| | |

Fixtures…A full line-up of forthcoming club competitions & events:

Friday, 29th September - Good Day For golf & Super Draw!
Join us from 6pm onwards - All our members welcome!
1st draw - R15000.00 & 2nd draw - R4000.00
You have to be there to win it! R500.00 lucky draw for all.
Build-A-Burger - R65pp (With all the trims).
Live music - Just Adrian

| | | |
| --- | --- | --- |
| | | Don't miss out on the fun! |
Hole out on the 18th From our clubhouse Balcony Friday 29th September
5:30pm to 6:30pm. The 1st Hole In 1 Wins R2K Cash!

(Great prizes!) Sponsored by: Compass Guarding
Read more about them here.
Saturday, 30th September
- Monthly Medal

Click on posters below to enlarge...

Wednesday, 4th October - Captain's Delight

Saturday, 7th October - Alternate Combined Stableford

Sunday, 15th October 2017 - Lion's Club Golf Day
Tournament starting at 11:30am.
Competition: 4BBB Stableford

Handicaps:
Affiliated players play off official handicaps.
Non-affiliated players play off: Men - max 18 / Ladies - max 24

To enter:
Phone Keith Shaw on 082 469 6265 or Pierre Crayé on 082 451 0937 for entry forms.

Tickets for this year's STBB4GOOD Twilight Run are selling fast so the time to enter this popular trail run on unique routes is NOW!




Women's Inter-Provincial Tournament - Mossel Bay Golf Club 26-29 September 2017

WP Golf Women's IPT team are in Mossel Bay to take part in the 2017 Inter-Provincial tournament.

The A team of Vicki Traut,

Jordon Rothman

, Zayb Fredericks, Ashleigh Mills, Katia Shaff, is captained by Kaylah Williams.

The B team includes the Abrahams sisters, Aaliyah and Laylaah, Odette Booysen, and Iman Adams.

The rain and wind has dampened today's practice round - but it is all systems go with today's seeding rounds - foursomes & singles strokeplay followed by three days of matchplay.

Read more here.



Gauteng A won the A-Division Seeding Qualifier for the
2017 SA Women's Inter-Provincial at Mossel Bay
Golf Club; credit LGU.

Western Province B won the B-Division Seeding Qualifier
for the 2017 SA Women's Inter-Provincial at Mossel Bay
Golf Club; credit WPWG.

Langebaan Reciprocity Challenge - 23 September
Langebaan v Durbanville
Betterball Stableford
1 G van Zyl & A Swart 48pts
2 Tol & Mickey Snyman 46pts
3 S & F Snyman 45pts

Two clubs
S Morales, M de Vries, C Dames, Andre van Dyk, D Geldenhuys, H Rabie, D le Roux, S Snyman, J Gallienne

Best Durbanville Team Graham Gibbons & Michelle Kemp 43pts

Best Langebaan Team Johannes & Alta de Beer 43pts

Challenge Result Langebaan 277pts, Durbanville 276pts


| | |
| --- | --- |
| The Durbanville Team | Keith Petty & Steve Borstlap |
Central Gauteng lifts record 28th SA IPT title
SANDTON, 22 September 2017 – From the moment David McIntyre hit the first tee shot in the final round at Bryanston Country Club, the Central Gauteng team had one goal. Beat Western Province convincingly and guarantee victory at Bryanston Country Club.

The final result. A resounding 8 – 4 victory and Central Gauteng's record 28th victory in the 57th South African Inter-Provincial, sponsored by Tempest.

"There were so many permutations after the fourth round," said delighted manager Jaco du Plessis.


57th South African Inter-Provincial A-Section champions
Central Gauteng; credit Ernest Blignault.
"Although we topped the A-Section log, Southern Cape, KwaZulu-Natal and Western Province were still in the fight. I told the guys that we could only control what we did on the last day. I told them to go out and to take it away from them.
"In all my years as a manager, I've never seen a fight like that. I demanded perfection and they executed brilliantly. We won 3.5 points off Western Province in the foursomes and that's when we know that four wins in the singles would do it for us. Four points would take Southern Cape out of the equation after they went 1 – 3 down in their foursomes against Ekurhuleni and Gauteng North had the upper-hand over KwaZulu-Natal with a 3 – 1 lead."
Read more here.

Let us entertain your kid this holiday!
We are hosting another fun filled October holiday programme for kids aged 8 - 16. Join us for 3 fun-filled mornings of golf where your kids will learn basic swing and short game skills as well as time on the golf course finishing with a lovely Birdie Brunch Pancakes on Friday.

The cost is R600 per child. Download the entry form here.

Please RSVP by Friday 29 Sept to info@puremotiongolf.com or call us at 076 247 0501.



Scorecard holder - R200
Large tee bag - R175
Small tee bag - R150
Black tee bag - R150

Reserve an item here.




100 Reserve
100 Reserve Brandy have branded a Titleist Golf Bag, together with an umbrella and club towel to be given away as a prize to one lucky customer!

All you have to do to enter is to buy a double 100 Reserve and 200ml mix for R35, or TWO double 100 Reserves and 330ml mix for R55, fill your name in on the card and drop in the box in the main bar!

The prize will be drawn on the 30th of September 2017 at Members prizegiving.

Good luck to all!

Alfie Schneeberger
Food and Beverage Manager
| | |
| --- | --- |
| | |

Please take a look at Chris Kitson's September '17 Course Report, interesting reading as always.

Read it here.

Using measuring devices on the course with Hélène Marais


We are doing our bit to save water at Durbanville Golf Club.

Find out how here.

Who's been taking down the competition at the club?



Click here

to view the results.



May we wish a very happy birthday to all those members who celebrate their birthday this week. They are:



Laurence Peter Adams, Savy Ciagila, Andre Gerber, Jennifer Lankhof, Carlo Prins, Paolo Stermin, Gideon Uys, Mogamat Abrahams, Riette Basson, Dawid Breet, Mary McDonnell, Astin Jason Owen, Charles Manning Thatcher, Annemarie Cilliers, Andre Mark Erasmus, Portia Klassen, Keith Markotter, Marcel Schwartz, Carel Pieter van Wyk, Nico van Wyk, Leana Wessels, Richard Mazewski, Niel Meyer, Against Mutangi, Anton Neethling, Anton Roelofse, Phumzile Simelela, Johan Nicholas van Zyl, Patrick Boyd, Dudley Shaw, Hano Smal, Ian van den Berg, Franz Holm, Dien-Marie Kingsley, Pieter de Bruin, Shauney du Preez, Christopher Grime, Keeno Kleynhans, Cara Novis, Ayden Senger, Teresa Treurnicht.



Have a wonderful day!


A lady newcomer to golf was on the first tee and asked her pro, "So, what do I do now?" The pro replied, "Well, see that flag on the green, you have to hit your ball as close to it as you can."

The lady let one fly with a mighty swipe, the ball went flying, and eventually it came to rest 3 inches from the hole. She asked, "What do I do now?" The pro answered, "You are supposed to hit it in the hole".

The woman screamed...
"Why didn't you tell me that before?"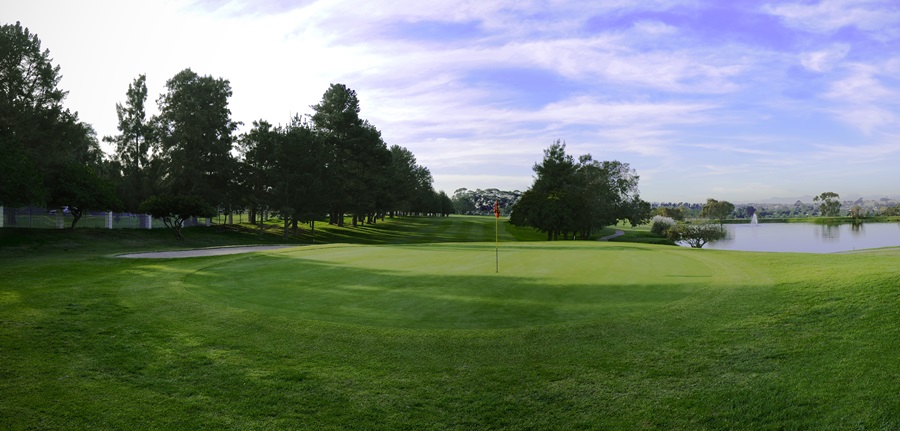 11th green (Image credit: Damian de Villiers)