Ayden Senger wins the Durbanville Open!
Premier Amateur Tour – Sunday 5 November 2017
The wind never gave the golfers an inch from the first hole to the last at yesterday's Durbanville Open. However, Durbanville's Ayden Senger had the patience and perseverance to come out on top.

With a slender one-shot lead from the morning round, he managed to edge out Stellenbosch's Erhard Lambrechts, with a par in the first play-off hole.

Two late birdies gave Erhard a chance to tie with Ayden as both players finished the regulation 36 holes on three-over-par.

Strand's Deon Germishuys finished third
2017 has been a breakthrough year for the 16-year-old Senger; he was chosen to represent South Africa at the U16 Italian Championships; he beat the strong field at the Bridge Fund Managers Junior Series with six-under-par total; and will represent Western Province at the U19 Junior Inter-Provincial in December.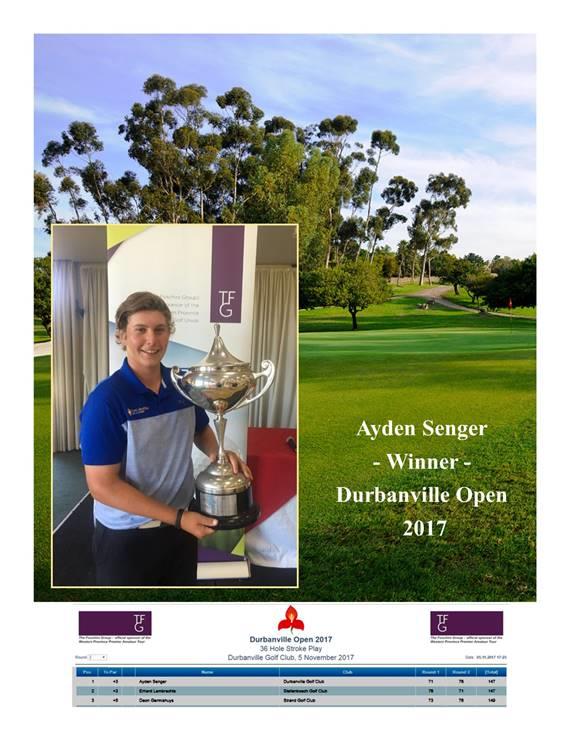 Click to enlarge
Deborah Martin
Western Province Golf | Golf Operations
---
Robert Larsen
(Golf Director from Western Province Golf) also commented that everything ran smoothly and that the "course was great."

Click here for the final results.
---

Western Province Golf: Rankings

Our members continue to make us proud and all the hard work is paying off!

Click here to see the men's rankings which include our members: Adrian Ford, Ayden Senger, Chris Wicks, Adam Ian Botha, Sean Howell, Connor de Groote, Joshua Smedema and Kyle Jervis.

Click here to see the Women's Rankings which include our members: Kelly Erasmus and Jordan Rothman

Click here to see the Juniors Rankings which include our members: Ayden Senger, Ian Botha, Connor de Groote, Lourens Loubser, Joshua Smedema, Thomas Bezuidenhout, Louis Loubser JNR, Jurgen Saunders, Joshua Wiese, Travis Procter, Heinrich Appel and Janco Fivaz.



The Seniors' League Team returned to action after last month's bye to take on the unbeaten, log-topping Devonvale Team at Durbanville on Tuesday. With several changes after last time's heavy defeat, a very creditable halved match was secured with excellent wins for Mike Rolfe and Gordon Simmons along with Greg Baxter and Gerald Muller. Mike and Gordon, having been four up after ten holes were reined in by their big hitting opponents on the next seven holes and it took a superb birdie from Gordon to secure the match 1 up on the 18th green. In the other successful pairing, Gerald managed to sink putts from everywhere to ensure a 2&1 victory. Neil Rix, playing with TJ Lee, also had a birdie opportunity on the 18th to secure a half, but his putt just slid by whilst Allan Taylor and Mike Johnston couldn't match the firepower of two players who were very keen to stress that they have lost just twice in seven years together! At two matches each and all to play for, the new pairing of John Kirby and Allan Kearsey fought back from three down to be dormie one up on the 18th tee. Unfortunately they couldn't quite do enough to win the match, but their half ensured Durbanville came away with a point from their efforts.

The final match of the 2017 League season is at Devonvale on 05 December where the team will hope to round off a disappointing year with a victory over Stellenbosch.

Yours in Golf,
Bob


| | |
| --- | --- |
| | |
Driving Range
Please be aware that due to health and safety regulations there will be times when the range will close for 15 to 20 minutes in order for the balls to be collected safely.

We cannot give a fixed schedule as it will dependent on when the high usage of the range occurs. We will endeavour to keep this to a minimum.

We thank you for your understanding and cooperation.
Get in touch with PMG!


We are now also on WhatsApp! If you want to book a lesson or have a query it's now even easier to get in touch. Add us as a contact at: 076 247 0501 and send us a message.

Contact us to book a lesson.

Get involved in our annual Pampoenkraal Festival Week!
PPK is our annual festival week happening from the 12th November to the 18th November.
Be a part of our biggest week of the year!
Like our Facebook Page @DurbanvilleGolf for more information or call 021 976 8120 and book today!

Andrew Cleophas


DGC's Course Controller
If you play a lot of golf at the Jewel of the North then you will have encountered Andrew. He has been working here for 15 years and knows this course better than most people…

Andrew has a beautiful wife and two sons. They have always lived in the Western Cape and love it here!

Andrew has always loved sports and, as you would assume, enjoys playing golf. His favourite part of his job is making connections with all the memebrs and building meaningful friendships.

Thank you, Andrew, for adding so much value to the Durbanville Golf Club. We value you!

Jason Labuschagne
DGC's Assistant Chef
This is a great person to befriend as he makes incredible meals here at the DGC!

His passion for people and hospitality led him to study at the International Hotel School and now he showcases his skills for all of you.

Jason's favourite dish to make is a beetroot dessert and he has a creative flair when he cooks.

His favourite aspect of his job is meeting genuine people and also working in a "beautiful establishment".

Thank you so much for all your hard work, Jason! You are appreciated.



To view the September Finance Report, click here.


Check out our new Callaway golf balls and Cleveland golf bags to raise the bar when it comes to your game! Try out our shoe freshener and keep your competitors on their toes…



Reserve any of these items here.

| | |
| --- | --- |
| To view the past week's competition results, click here. | |


Players accidentally moves their ball
Most golfers know that causing their ball to move incurs a penalty of one stroke, under Rule 18-2, and that the ball must then be replaced. However, there are some circumstances where a player does not incur a penalty for accidentally moving their ball, which I am listing here.

• A ball that that has been placed in the teeing ground at the start of a hole is not in play until a stroke has been made at it, so no penalty is incurred if it is accidentally moved before any stroke is made, Rule 11-3.

• From 1st January 2017 USGA and R&A have recommended that Committees introduce a Local Rule to the effect that when a player's ball lies on the putting green, there is no penalty if the ball (or ball-marker) is accidentally moved by the player, their partner, their opponent or any of their caddies, or their equipment. (Note: If your Committee has not yet introduced this Local Rule they should do so immediately).

• There is no penalty if a player causes their ball to move while moving a movable obstruction (i.e. anything artificial), providing the movement of the ball is directly attributable to the removal of the obstruction, Rule 24-1.

• A penalty is usually incurred if a ball is accidentally moved while searching for it under Rule 18-2, but there are four exceptions, which are detailed in Rule 12-2. Briefly they are; a) searching for or identifying ball covered by sand, b) searching for or identifying ball covered by loose impediments in hazard, c) searching for ball in water in water hazard, and d) searching for ball within obstruction or abnormal ground condition.

• If a player accidentally touches their ball with their club causing it to rock off its spot, but it returns to its original position, it has not moved according to the Definition of Moved and no penalty is incurred, Decision 18/2.

• There is no penalty if a player accidentally moves their ball while measuring, e.g. to determine whether a dropped ball has rolled outside the permitted area, Rule 18-2.

• If a player accidentally moves their ball in the directly attributable act of its lifting, marking, placing or replacing under a Rule, there is no penalty and the ball must be replaced, Rules 20-1 and 20-3.

Regarding searching for a ball, it is worth noting that if a player who is searching for their ball, say on the bank of a water hazard or in a bush, and they cause it to move, they incur the penalty of one stroke immediately and cannot avoid it by then choosing to take relief under penalty from the hazard or deeming it unplayable in the bush.

'Rhodes Rules School' Emails Not Received
I am receiving a number of emails from subscribers saying that they have started receiving my weekly 'Rhodes Rules School' emails again, having not received any since April of this year. I can offer no explanation for this, but can assure you that the AWeber email service company records show that my emails were apparently sent each week, but have not been opened by the various recipients. In order to prevent this happening again I recommend that you send me an email (to barry at barry rhodes dot com) with just "TEST" in the subject line and I will respond with a test reply. This should ensure that my email address is added to your email address book and should avoid anything sent from me being filtered as junk or spam mail. If you are one of those that did not receive all my weekly emails, please let me know and I will revert your subscription to the most recent one that you did open.

Good golfing,
Barry Rhodes




We wish a very happy birthday to all those members who celebrate their birthday this week. They are:

Zile De Kock, Raymond Gillyon, Roelof Mostert, Teresa Woolf, Filipe Das Neves, Peet Haefele, Deon Jennings, Norman van der Merwe, Liana van Vuuren, Cecil Adams, Ronelle Bester, Reece Brooks, Gerhard Cruywagen, Sean Howell, John Potgieter, Henk der Kinderen, Michael Glasby, Tanya Hart, Ruan Lamprecht, John Yorke, Brendon Bailes, Tracey Glasby, Kevin Spratley, Wilma Coerecius, Karen Loots, Nathan Roos, Merize Sowter, Hennie Wentzel, Roger Warren, John Wrightson

Have a wonderful day!



When you hole out in one on the 4th hole, you will receive a bottle of Bell's Whiskey! Sponsored by Culinary Kraft.