Scotsmen love it in the dunes!
Vodacom Origins of Golf...

From the Sunshine Tour website...
St Francis victory gives Doug second win of season


Doug McGuigan may have to rethink the order he placed for a new putter after he fired a final round six-under-par 66 on Saturday to win the Vodacom Origins of Golf event at St Francis Links.

Even with a bogey and a double-bogey on his card, his 13-under-par total for the 54-hole event was enough to give him a two-stroke edge over Hennie du Plessis, with England's Scott Campbell and Steve Surry sharing third with Neil Schietekat who finished at nine-under-par.



"I ordered a new putter this week and I never used it,"

said McGuigan.

"I used my old putter, an old Odyssey I've had for about 15 years. It just seemed to line up nicely and I was stroking the ball beautifully."

In fact, two eagles, rather than putts, were the shots that catapulted him to the win, his second in the season after he won the Vodacom Origins of Golf opener at Highland Gate at the end of July.

He made the first from the fairway on the first hole, and then, after he had dropped three shots on the seventh and eighth, he made his second on the 13th after two birdies on succession on the preceding two holes.

"It started off very nicely for me when I eagled the first, and made two birdies in a row after that," he said. "I gave it all back on seven and eight, and then on the next 10 holes, I played unbelievable golf. I was very fortunate."

"After those drops, I thought back to the seven I made in the final round at Highland Gate. I thought that I'd got it back from there, and I could try and do the same thing here."

Although the weather started off in the final round with some drizzle, heavy rain held off, and the wind which makes St Francis Links such a good test, began to come up. And after his eagle on 13, he needed to consolidate the lead he had grasped.

The opportunity came on the par-five 16th. "That was one of the hardest par-fives I've ever played," said McGuigan.


"Today, I hit driver, four-wood and three-iron and made birdie, which wasn't on the cards off the tee. It was one of the best three-irons I've ever hit."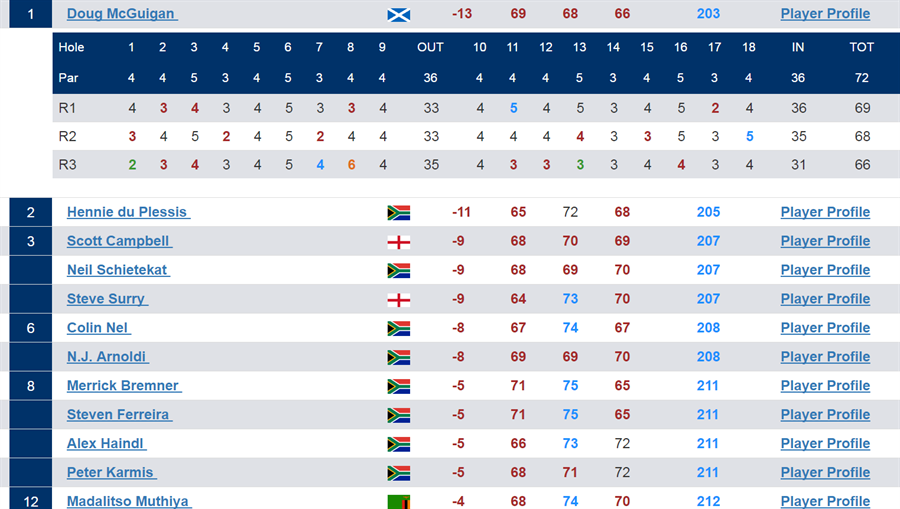 Click to enlarge
He had the luxury of playing his approach to the 18th green conservatively and using a putter from well off the green to advance the ball to within eight feet, knowing he could still drop a shot and win. "That final putt didn't feel great, despite the fact that I know I had two putts for the win," he said. "But the first putt went in and that's good."

It was his eighth Sunshine Tour title in a career that has spanned nearly 25 years, but it was the first time he has won two titles in a single season. "That it was my second win of the season was very unexpected," said McGuigan. "It's a big confidence boost ahead of the summer season, but now it's back to the practice range next week and get working again."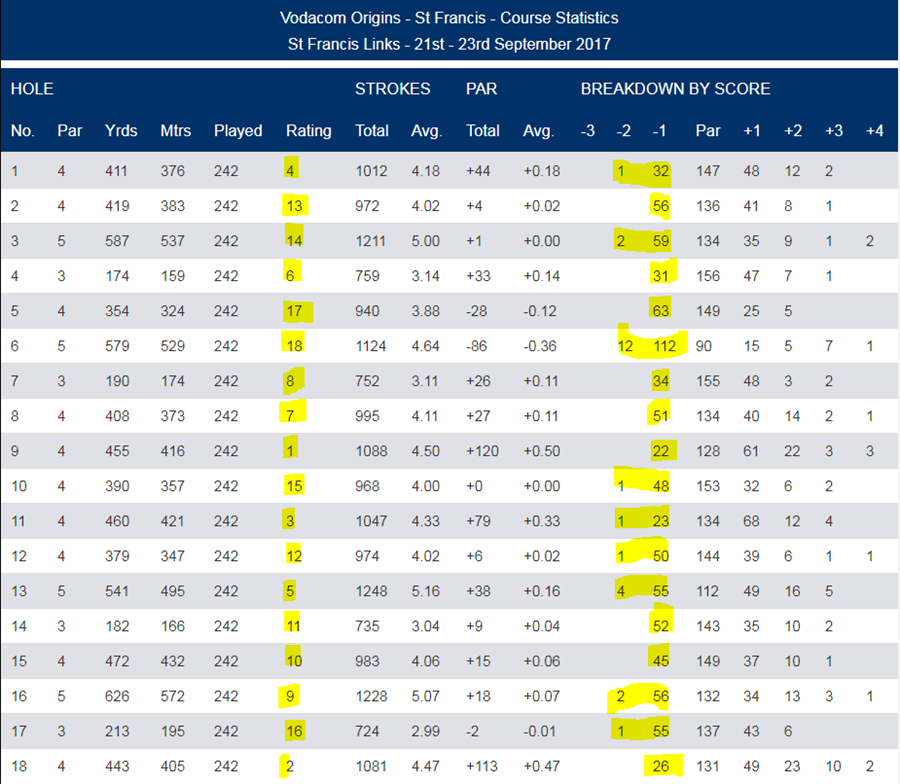 Click to enlarge

I have known Dougie for years; BEFORE and after the game, he was full of praise for St Francis Links, our course, our staff and our hospitality. Well done, Team, St Francis Links
Local lifesaver a world champion

06:00 22/09/2016 (News 24)

Our St Francis Links resident is a World Champion




Woodridge College pupil, surf lifesaver and St Francis Bay resident, Amica de Jager, returns home this week from the World Lifesaving Championships in the Netherlands as a world champion.

Amica, a Woodridge Surf Lifesaving Club member, represented South Africa as a member of the Junior Springbok Lifesaving Team where she competed against the best lifesavers in the world. Amica then went on to represent Durban Surf Lifesaving Club at the World Lifesaving Club Championships held at the same venue (as Woodridge SLC do not attend this event).

She achieved a gold medal in the Tube Rescue Relay and a gold medal in the Tap-lin Relay (swim, board, ski, run). She furthermore won silver medals in both the Surf Swim and the Oceanwoman (swim, board, ski) events.

Amica recently earned her second Springbok cap when she was selected to represent the South African National Lifesaving Team at the Orange Cup, which will take place in Holland in November.

Go FOR IT, Bri, Bri!
PGA qualified, Brian Wessels, is moving to America for Part 2 of his career!

Brian Wessels has been with me and St Francis Links for more than 3 1/2 years and he has really come of age. On Saturday night, we hosted a little farewell for Bri Bri at the Leisure Centre and the room was full of members and friends who have been touched by Brian during his stay here.
Brian prepared a speech and presented it as the confident and considerate young man he is and put a tear in my eye!

With Thinus' assistance, the welcome mat is out at Frenchman's Creek, an 600 home residential estate in Palm Beach, Florida. They boast 36 holes of golf and all the amenities you could ask for. While his initial duties may appear to be a step back, I am sure his knowledge and determination will advance him quickly in the organization!

Three cheers for Brian Wessels, PGA Professional!




Links Cup and Presidents Cup are up next!
Join us this weekend as we support Nick Price, Ernie and their boys from South Africa, Gracie, Louis and Charl, as they hit the "Jersey Shores" where Dustin, Justin and Jordan will be waiting at Liberty National for this year's addition of the President's Cup.


As I stood on the 1st tee starting the Vodacom Origins of Golf round 2, the phone rang and it was Ernie with my great friend, Meyer du Toit, Gracie, Louis and Charl. They needed to confirm that my allegiance for the upcoming Cup was truly with SA. I said, "Of course, Pards, and in the Links Cup, I'll play for the World, as well." I didn't tell him, that it was SA vs the World, when we play the Links Cup. In conjunction with the Ryder Cup, I return to SA as there is no way I can back Europe in the RC.
The Links Cup
Our Order of Merit winners for 2015-6, Keith Simpson and Helen Bridges will be captaining their sides in the Links Cup. With Keith returning from Scotland and about 100 games, he should be in good form as he leads the Saffers. Helen will have plenty of support when she sings the Greek anthem on Friday night. If you have not entered, do so as the more the merrier! See you for flag-raising at 6pm on Friday.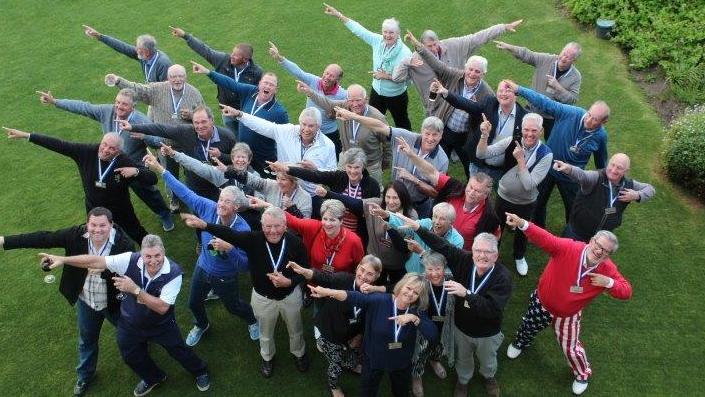 Els for Autism
Fundraising for Els for Autism South Africa will be the ultimate goal from our special day on the 5th of October. Our sign-ups for the day are good but could be even better. I listened to a recent ad on the radio where a child with a dream of being a race car driver had a chance of 1 in 88 000 - the chance of him winning on the NASCAR circuit is 1 in 1, 345M. The chance of his son having a form of autism is 1 in 68 and falling. Ernie and Liezl Els have a son with autism and their efforts to create awareness are widely regarded in the world today. After the golf we will be offering special items for auction with all of the funds raised going to South Africa's Autism causes. It will be a special day and night. Hey, we even have friends coming from Northern Ireland to play and contribute!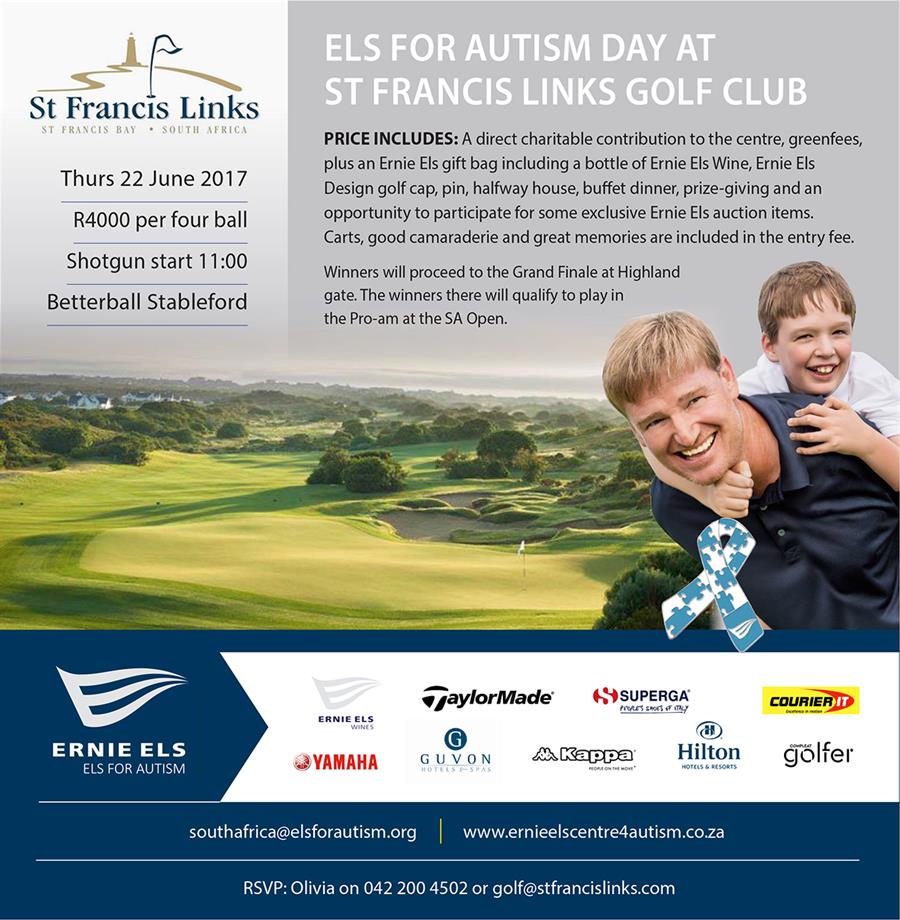 More to remember!

This was our best year to date in almost every way:

- We finished our 118th home on the estate (63 are permanent residents)
- ST and Emarie Maarschalk are our newest residents
- 21 homes have been completed this year.
- 11 homes are under construction
- 26 homes are in the planning or application stages
- We are financially sound with great lifestyle choices for the entire family
- Our golf rounds featured golfers from more than 20 different countries - from Wisconsin to New South Wales
- We moved up in the nation ratings to No. 7 in Golf Digest
- The UK rates us No. 6
- The Swedish press rate us No.4
- With our members, No. 1


| | |
| --- | --- |
| | |

"Change of season"
Three and a half years ago I decided to move to St Francis Links from The Hill/PE Golf Club as a young 19-year-old. There was an overflow of excitement and nerves as I stood up to make my speech in front of all the members as Jeff put me on the spot for the first and not the last time. I was very shy and quite an introvert at that stage of my life when dealing with people and the challenges that faced me, and as the years passed from learning the correct mannerisms and skill set I started to open up and be the best I could be with members, guests and fellow employees.

I have gained an exponential amount of knowledge through the people I have met at St Francis Links, be that in any department, and to set the bar at the highest standard possible. As the years progressed I started to see myself moving through the ranks starting from carts and shop assistant to taking care of groups, ordering stock and working close to the people that inspired me to do the best. There will always be ups and downs but the staff can always infuse any situation that needed to be and did it to the best of their abilities, and that is what makes this place so special knowing you will have a warm welcome at the door, catering to everyone's needs and wants and delivering that exceptional service. This is what I wish to take along with me to my next life's adventure and be the face of St Francis Links.

I will be moving to West Palm Beach Gardens in Florida to Frenchman's Creek Country Club where i will be working in the outside operations department. The club has two courses ( North and South) with 1100 members of which 40% are active in golf. I have obtained a J1 Visa which allows me to work there for a year.

I would like to truly thank all the members, employees and friends for their time and efforts in making my stay here as enjoyable as possible, and will cherish all the memories that went with it.

Thank you and God Bless!

Brian Wessels
---

Don't stop yet! New Events are listed below!


---




Itec Solutions

will be our sponsors for OPEN Wednesday (2nd Wednesday) with meat and added prizes. Invite your friends to enjoy SA's best with special rates for golf, snacks after the game and great prizes – Hey, Curry Night follows –

stay or take away!



Monday Roll-up!
Pitch up and play (9 holes or 18 Par-3 from 2pm) let's add you to the Whatsapp group.

All day Saturdays - Morning and afternoon fields
The afternoon field will be booked from 12 noon backwards with emphasis on "ready golf" - Prize-giving and Happy Hour at 17h00


---
Sep 28
Sep 29-30


Sep 30

Kouga Business Golf Day
The President's and Links Cups


SA vs OZ (17h05)
---
Jan 2-3
Jan 7-8
Mar 11
Apr 28-30
May 7
May 18-19
May 20
May 27
Jun 3
Jun 10
Men's Member-Member, St Francis Bay wins by .18 of a point! Well done!
The Pam Golding Annual, Derek Ryan and Scott Keevy, Champions
Greensomes over 18 holes (NEW) Sandra Marais/Ingvild Stiansen; Mauro Nettl/Yan Coesens
Club Championships - Ralph Richardson and Helen Bridges, Champions
Inter-Estate Challange (St Francis Links)
Woodlands' Dairy Golf Days for HOSPICE R400 000-00 raised for Hospice
Stulting School Day R280 000-00 raised on the day
Foursomes over 18 holes (NEW) Margot McGregor and Dr Lynn Slogrove, Champions
Ladies' Invitational


Sanlam – Links Qualifier
Jul 2-3
Jul 20-23
Jul 23-25
Aug 6
Aug 8-23
Sep 30, Oct 1


October 5


Nov 11-12
Dec 2
Jan 2-3

National Junior Order of Merit (Wilco Nienaber, Champion - ranked No. 3 in SA)
Men's Invitational
The Annual "Road Trip"
Sanlam Cancer Finals HERE at St Francis Links
Spring Programme – Course and Clubhouse Closed
Links Cup


Els for Autism at St Francis Links (finals at Highland Gate)


Pam Golding Ladies OPEN Weekend
Ladies' Member-Member
Our course has evolved and proven to play differently for men and ladies.

Seasonal packages are now on offer
It's also the time of year for golf travel
. We join others in advertising our course countrywide. The are are a couple of subtle differences between what you pay and what you receive in a golf package. We pride ourselves on over-delivering with personal services, additional opportunities, special events, shoot-outs and so much more. We'll supply the braai or what you need to do it yourselves; we'll serve your meals here or recommend the area establishments who will exceed your expectations (and of course, we'll do the booking for you). Why? Because we can and we want to!

Why not sign up for the special events coming up in the future and expand them into a few days of play! Play in the Inter-Estate Challenge, enter the Ernie Els for Autism in June, start planning for the Invitationals - ladies and men; Invite your friends in for the best golf in SA (and beyond).


| | |
| --- | --- |
| Every great shot starts with a SMILE | |