It gives us great pleasure to announce the WP Golf Women's Golf Teams for the SA Women's Inter-Provincial Championships to be played at Mossel Bay Golf Club from 25-29 September 2017.

View the letter with the team announcement here.

Congratulations to the selected players, we wish them and their manager every success. A special congratulations to our very own Jordan Rothman who have also been selected!
Sean left, with clubmate Chris Wicks

Premier Amateur Tour - Kuilsriver Open 14 July


A rare event on the PAT - a hole-in-one - Golf Digest USA estimate that a tee shot hit by an amateur golfer on a par-3 goes into the hole one out of every 12,750 times.

Sean Howell holed out with his tee shot on the par 3, 7th in the second round at the PAT Kuilsriver Open...

View the results here.

WP Premier IPT 2017 selection
Congratulations to Adrian Ford, Chris Wicks and Adam Botha (Reserve) on your WP Premier IPT 2017 selection! Click here.

WP Closed Championships results
Congrats to the DGC Lads, Well played! Click here for full results.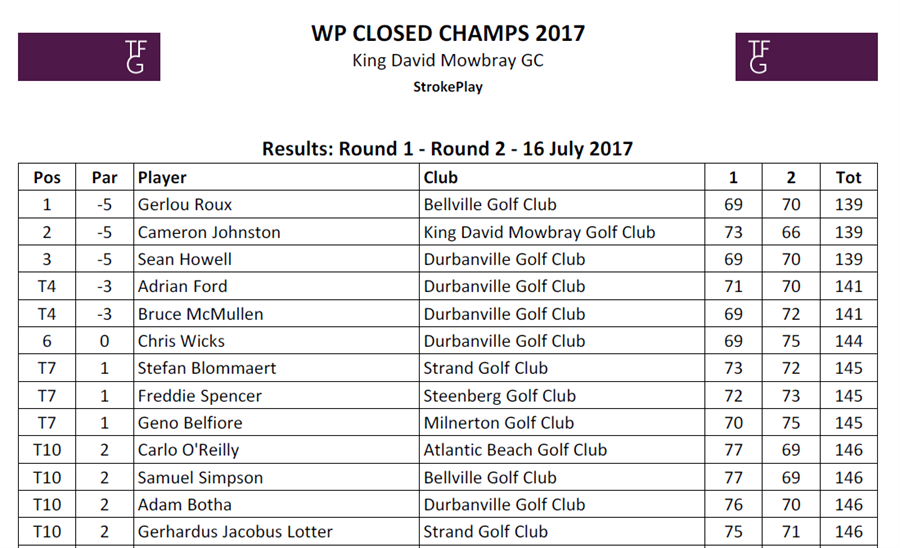 Click to enlarge


Boy's U13 Div WP Matchplay Champs
Alex Wallace in the Boy's U13 Div WP Matchplay Champs made it to the finals, but lost 3 & 2. Great result!


DGC's…Rothman slays Mistry at SA Women's Amateur



Click here for full story…

Congratulations on make it to the Quarter Finals! Fantastic achievement!



Championship division


Quarter-final result
Cara Gorlei beat Crystal Beukes 19th Hole;
Sarah Bouch beat Jordan Rothman 8 & 6;
Zethu Myeki beat Lindi Coetzee 2 & 1;
Jessica Dreesbeimdieke beat Danielle du Toit 2 & 1;


Par 3...4th Hole at DGC

Every hole-in-one, on a competition day the player/s get a free bottle of Bell's Special Reserve.



Special deal for Members!
The Cape Town Festival of Golf makes a stop at Durbanville GC on the 22nd of August. Members are more than welcome to play at the event. A green fee of R200 per player (No green fee for pre-paid members) plus a R200 competition fee gets you in for the Durbanville leg of the event.

Should you like to play in one or more of the other legs of the festival, you will pay a R200 green fee and R200 competition fee for those various events.

To book your spot in any of the 4 days the festival has to offer, be sure to talk to the guys in the Pro Shop.


Fixtures… A full line-up of Forthcoming Club Competitions & Events:

Saturday, 22nd July… Captain's Trophy
Individual Stableford
Wednesday, 26th July - 4BBB Bogey Plus



Saturday, 29th July - Monthly Medal




Durbanville Ladies Classic - 31 August

Download the entry form here.

Click on a poster to enlarge.
---

Premier Amateur Tour – Erinvale Open - Sunday 6 August 2017


Entries are open for the Erinvale Open to be played on Sunday, 6 August 2017. Enter on Wester Province Golf's website by clicking here.

They have recently revamped their website, and we have a new online entry process.

Click on Men's tab - Click on Tournaments & Results
Click on Category - Click on Premier Amateur Tour – Click Search
Select the 'E' button – Click and follow the entry process from there.

Entries close: Sunday, 30 July 2017 at 23h59. The entry fee for this event is R490.00

(included – green fee, shared cart, halfway meal & meal at prize-giving)

Nomads WP Foursomes Championships - 13 August
Here is the entry form and details for the Nomads WP Foursomes Championships

Please note there is NO online entry for this event, and that all entries are to be completed and sent to Lindy@wpgu.co.za

Entry fee: R750 includes shared cart Entries close: at noon on Monday, 7 August 2017

2017 Mid-Amateur-Series - Strand Golf Club (22 August 2017)

2017 Senior Amateur Series - Westlake Golf Club (21 August 2017)



Click on a poster to enlarge.






"We at Pure Motion Golf Academy strive to deliver excellent service by keeping abreast with the latest information and technology in coaching" - Lana Orgovanyi

Get started on a great journey!

It doesn't matter who you are and if you know something about golf or not. Our coaches will have a gameplan to get you into the game and show you how to have fun out on the course.

Contact us today to sign up.
Do you want to improve your game in the scoring zone?

Contact us today.


Internal Out of Bounds at the 2017 Open Championship
An interesting Local Rule was introduced for the 2017 Open Championship at Royal Birkdale. During early practice rounds last week, officials realised that some players may be considering an alternative route on the 9th hole, aiming their tee shots towards the 10th fairway. This route (the dotted line in the photo) gave them a straight shot to a generous fairway with the potential of a shorter second shot to the putting green, avoiding having to take on the 9th's dog-leg fairway (the solid line in the photo). The R&A reacted quickly and on Tuesday their chief referee, David Rickman, notified players that the following Local Rule would apply for the duration of The Open:

Read more here.

Please Remember To Fill YOUR Divots & Repair YOUR Pitch Marks!



The sheet for entries to play in the DGC Match Play is on the league noticeboard. Entries close on Sunday 30 July with the 1st round scheduled to start on 5 August.. Entry fee is R30 plus water levy.


Who's been taking down the competition at the club?

Click here to find out.





May we wish a very happy birthday to all those members who celebrate their birthday this week. They are:


Dennis Batchelor, Gheran Hatting, Craig McCarthy, Rohann van Zyl, David Conradie, Mare Prins, Joe van den Berg, Ray Wainwright, Hein Botha, Margaret Grobler, Jurelema Kemp, Mark Little, Aida Schutte, Karen Buttner, Dirk Hanekom, Lochner van Zyl, Alistair Ross, Fanie Ferreira, Jeffrey King, Gary Atkins, Judith Coyles, Anita Oppel Brand van den Heever, Paul de Groot, Evaristo de Nobrega, Maryke Knoetze, Conrad Wehmeyer.


Have a wonderful day!





The language of golf

Phil Beale, a member at Gudge Heath Golf Club, has a 60-foot breaking putt and makes a bet stating that he has a dollar that says, 'I can make this putt.'

Everyone takes him up on the bet. Phil duly misses the putt by 5 feet and says, 'You all owe me a dollar.'

Of course, his golf mates all think he is crazy until Phil produces a dollar upon which he wrote, 'I can make this putt.'