Congratulations Ian Snyman who qualified for the 2017 US Amateur!

Wow! What an awesome achievement to have qualified to play in the US Amateur!

We are so proud to call you our member! What a humble guy!

We wish you well, and most importantly, enjoy it to the full and play well!


Click on Ian's image below to take you to the website for more news...
Our juniors are making us proud!

ALEX WALLACE
• 5th u13 A Division Taylormade Boys/Girks Championship - Gross 84
• 2nd u13 A Division WPGU Junior Championships - Gross 77
• FINALS in the Matchplay u 13 A Division of WPGU Junior Championship

HEINRICH HAASBROEK
• 3rd Boys u13 A Division Erinvale Junior Open - Gross 82

JORDAN ROTHMAN
• 27th NOMADS SA Girls Championship 2017 Orkney GC
• T19 Liberty Gauteng North Women's Open 2017 - Waterkloof GC
• 28th Sanlam SA Women's Amateur Matchplay Championship 2017 Stellenbosch
• Lost to Sarah Bouch in the Quarter Finals after defeating SA # 1 Kajal Mistry in the first round of the Matchplay

NOAH MUSIKANTH
• 2nd Boys u13 B Division Erinvale Junior Open - 36 Points
• 3rd Boys u13 B Division Westlake Junior Open - 29 Points
• 6th u13 B Division WPGU Junior Championships Gross 93 Nett 72

ZIMKHITA NDUBE
• 6th Girls Division WPGU MUPINE MASHIE 18 Points (it was Zimkhita's first competition)

JORDAN PILLAY
• 1st Girls Division Parow Junior Open - 32 Points
• 4th Under 13 B Division WPGU Junior Championship 2017 Milnerton GC Gross 91 Nett 73
• Represented WP Girls in the NOMADS SA Girls Championship at Orkney

JURGEN SAUNDERS
• 3rd A Division Metropolitan Junior Open - Gross 75
• 6th A Division Parow Open - Gross 78

CONNOR DE GROOTE
• T2 A Division Westlake Junior Open - Gross 75
• 2nd A Division Metropolitan Junior open - Gross 74

JOSHUA SMEDEMA
• T8 Mini Masters 2017 King David Mowbray 75 76 (+7)
• T5 WPGU Junior Championships Milnerton Golf Club 78 73 (+7)

HEINRICH APPEL
• T6 u15 A Division Taylormade Boys/Girls Championship Parow GC - Gross 88
• Represented WP u14 Team in the Taylormade Invitational IPT at Bellville GC - Team finished 2nd


LOUIS LOUBSER
• 4th WPGU Junior Championships Milnerton Golf Club 74 76 (+6)

LOURENS LOUBSER
• T5 WPGU Junior Championships Milnerton Golf Club 76 75 (+7)

JOSHUA WIESE
• T16 Mini Masters King David Mowbray 86 73 (+15)

JURGEN SAUNDERS
• T16 Mini Masters King David Mowbray 78 81 (+15)

JEMMA LOUW
• Represented WP Girls in the NOMADS SA Girls Championship at Orkney



Long time DGC member and member of the Super 16 Society Philip Le Roux has just received his colours for Western Province, (no not for golf yet he is a pretty good player and is normally a single figure golfer) for Body Boarding .

Philip also just recently won the Cape Classic 2017 and thus proving to the Western Province selection board that they made the correct choice.

Philip is off to Durban soon to represent WPBA in the Nationals. There is no stopping this guy, as he has another sport in which he competes (if you could call it that - I call it torture) he has been, and still is, a very successful competitor in the Iron Man Series (run, cycle, swim).





Durbanville GC does it again! See below a letter of thanks to DGC Club Captain Andre Wainwright:

Read it here.
Good day John and Gabriela Durbanville GC is indeed the jewel of the North!

On behalf of the Captain and all the members of Nomads Golf Club Western Province I express my sincere gratitude fo
an
r the effort you together with your teams put in to make our day last Thursday a most successful one. Your effort
s
d contribution to the Nomads cause is acknowledged and appreciated.

We look forward to visiting your magnificent facilities again and will be contacting you closer to the time.

Kind regards

Eddie Arpesella







Three Generations of Ricketts at the
Nomads Golf Day

Par 3...4th Hole at DGC

Every hole-in-one, on a competition day the player/s get a free bottle of Bell's Special Reserve.



Special deal for Members!
The Cape Town Festival of Golf makes a stop at Durbanville GC on the 22nd of August. Members are more than welcome to play at the event. A green fee of R200 per player (No green fee for pre-paid members) plus a R200 competition fee gets you in for the Durbanville leg of the event.

Should you like to play in one or more of the other legs of the festival, you will pay a R200 green fee and R200 competition fee for those various events.

To book your spot in any of the 4 days the festival has to offer, be sure to talk to the guys in the Pro Shop.


Fixtures… A full line-up of Forthcoming Club Competitions & Events:
Saturday, 29th July - Monthly Medal
Sunday, 30th July - Mixed Competition

Wednesday, 2ndAugust - 4BBB Medal

Saturday, 5th August - 4BBB Bogey Plus

Click on a poster to enlarge.
---

Premier Amateur Tour – Erinvale Open - Sunday 6 August 2017


Entries are open for the Erinvale Open to be played on Sunday, 6 August 2017. Enter on Wester Province Golf's website by clicking here.

They have recently revamped their website, and we have a new online entry process.

Click on Men's tab - Click on Tournaments & Results
Click on Category - Click on Premier Amateur Tour – Click Search
Select the 'E' button – Click and follow the entry process from there.

Entries close: Sunday, 30 July 2017 at 23h59. The entry fee for this event is R490.00

(included – green fee, shared cart, halfway meal & meal at prize-giving)

Nomads WP Foursomes Championships - 13 August
Here is the entry form and details for the Nomads WP Foursomes Championships

Please note there is NO online entry for this event, and that all entries are to be completed and sent to Lindy@wpgu.co.za

Entry fee: R750 includes shared cart Entries close: at noon on Monday, 7 August 2017

Premier Amateur Tour – Milnerton Open on Sunday, 20 August 2017.

2017 Mid-Amateur-Series - Strand Golf Club (22 August 2017)

2017 Senior Amateur Series - Westlake Golf Club (21 August 2017)



Click on a poster to enlarge.





Get started on a great journey!

It doesn't matter who you are and if you know something about golf or not. Our coaches will have a gameplan to get you into the game and show you how to have fun out on the course.

Contact us today to sign up.

1.
In the case of any golf carts being used in an unauthorised manner on the course, first–time offenders will receive a warning, and if continuing to disobey the rules, their cart will be removed by the marshall on duty. (This latest decision taken by the committee as at 25th July 2017).

2.

Remote bookings can still be made for a four ball by an individual member with other members of the club. However, for "guest-of-a-member" bookings, this will no longer be available or accepted on-line with immediate effect. This, due to abuse of this option, as per the committee, with thanks. (Members must call the proshop for this option).



3. Please Remember To Fill YOUR Divots & Repair YOUR Pitch Marks!

Please take a look at Chris Kitson's latest Course Report for July. Interesting reading as always.



Read the full report here.


The sheet for entries to play in the DGC Match Play is on the league noticeboard. Entries close on Sunday 30 July with the 1st round scheduled to start on 5 August.. Entry fee is R30 plus water levy.

May we wish a very Happy Birthday to all those members who celebrate their birthday this week. They are:



Madelein du Toit, Paul Eek, Jaco Ellis, Chantell Geldenhuys, Yongshin Kwag, Nicol Lerm, Charl Mussmann, Kyle O'Reilly, David Balkwill, John McLean, Gideon Redelinghuis, Sakkie Claassens, Tyrell Collins, Christy Kriel, Janco Maritz, Bernice October, Nicola van der Merwe, Stefan van Wyk, James Kilfoil, Nic Lombard, Natasha Morrison, Wilna van Niekerk, Tuek Jong Lee, Bennie Lesch, Annelie Mader, Ji Yoon Baek, Nicolaas van Wyk, Kelly Erasmus.



Have a wonderful day!


"Our dream was to create the ultimate performance chair, to relieve pain, and bring about a source of total relaxation to people everywhere in the World!"




Who's been taking down the competition at the club?

Click here to find out.


Cadge

Every time, Peter, the man next door headed toward Paul's house, Paul knew he was coming to borrow something, he was always doing so and it was driving him mad.

'Peter won't get away with it this time, 'muttered Paul to Liz, his wife, 'Watch this.'

'Er, I wonder if you' d be using your hedge trimmer this morning?' asked Paul the neighbour.

'Crikey, I'm terribly sorry, 'said Paul with a smug look, 'but the fact of the matter is, I'll be using it all day.'

'In that case, 'smiled Peter, 'you won't be using your golf clubs, mind if I borrow them?'



---

We took one of the brand's #5 iron models and checked out the number of standard variations to the different components. The first one we looked at was an iron designed for the developing golfer. There were two shaft options, each with just two flexes.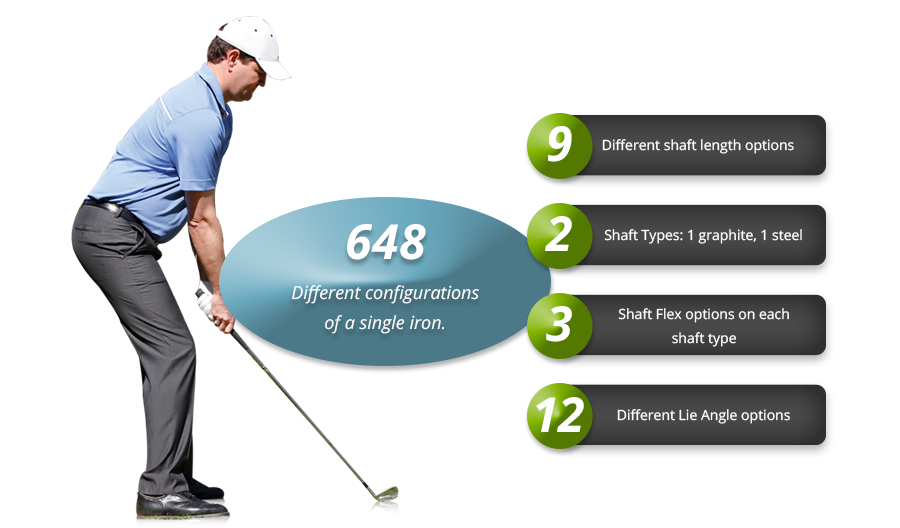 The same brand, a better player's iron, and there were 6 different shaft options, each with different flex options. Some shafts had 4 flex options, others had just 2. But just in shafts there were 15 different shaft options. Now add the lie angles and shaft length options and the number is huge.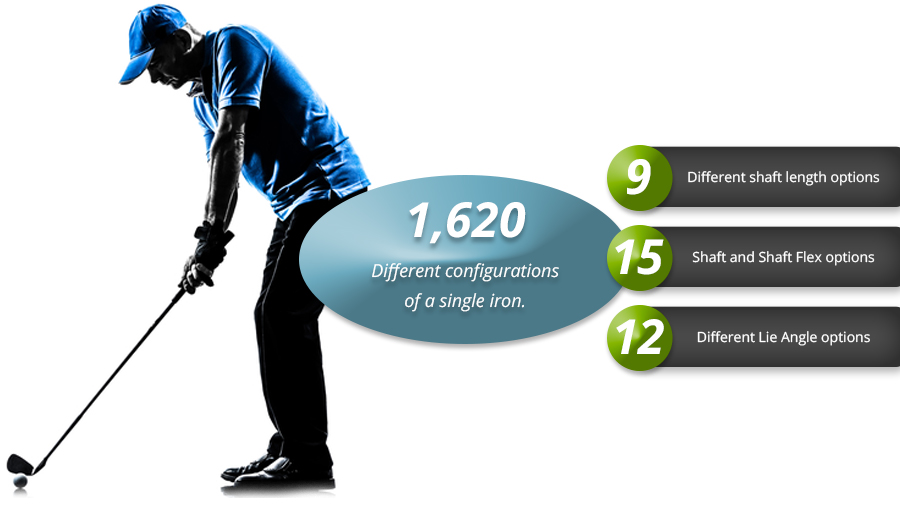 If you're looking to hit better approach shots, possibly one of the first questions you should ask is whether the configuration of your current iron set is making the game easier or more difficult.
In fact, why not start with an assessment of your swing and equipment?
Contact Us

I read that in a survey conducted in the United States at several golf clubs, it was revealed that less than 2% of golfers between a 20 and 5 handicap intended on having any coaching in the next 12 months. The attitudes to better golf were also interesting, especially across the age groups. I wonder what the view is at our club?




Don't let another 12 months pass you by. Why not set out, at your pace, to become a better golfer, not for the trophies and awards, but for the pleasure there is every time you hit a good golf shot. Hitting more of those means it's a better day. That journey starts with an Assessment. Call us now.
Learn More