I would like to take this opportunity to welcome all of our members back. I wish you all the very best for 2018, I hope that this year will be one of low rounds, more birdies and more fun on the course with your friends and family.


This could be you in 2018

I am sure when you look back on a golfing year there are a few rounds that stand out, and then there are those that you would like to forget. Why don't we make 2018 a year to remember? With the correct advice and guidance from the experts we can help you to play better golf. We always look at touring professionals, thinking: Wow these guys are good! We are quick to forget that even the touring professionals take advice from a group of experts. All of them have someone who looks after their swing, health and equipment.



My suggestion to you is that we take a look at your equipment.

There many ways for you to benefit from modern technology, without having to make a single change to your swing.
Having modern equipment fitted to your own specifications is a massive step towards better golf in 2018. I am not saying you need to replace your current set, many of you can benefit by just having your grip thickness checked. I still find it hard to believe that someone will buy a set of clubs off the rack without having it fitted.

Everyone has at least one shot that spoils the card or round too often. Normally it is the tee shot on a long Par 4, where the approach shot often required a long iron or hybrid. Imagine hitting that perfect shot more often on that hole...it's a nice thought, isn't it?

Take a minute to

complete the survey

and give us the feedback we need to help you with your game.


Let It Be - A tribute to The Beatles
We still have a few places open for this fun-filled evening on 1 February. Let's pay tribute to the music of these legends of the 60's as presented by the artist Louis Loock. Come dressed up in the theme - there will be a prize for the best dressed couple!

Book your table of 8 without delay – R300 pp including tapas and Vergenoegd wines.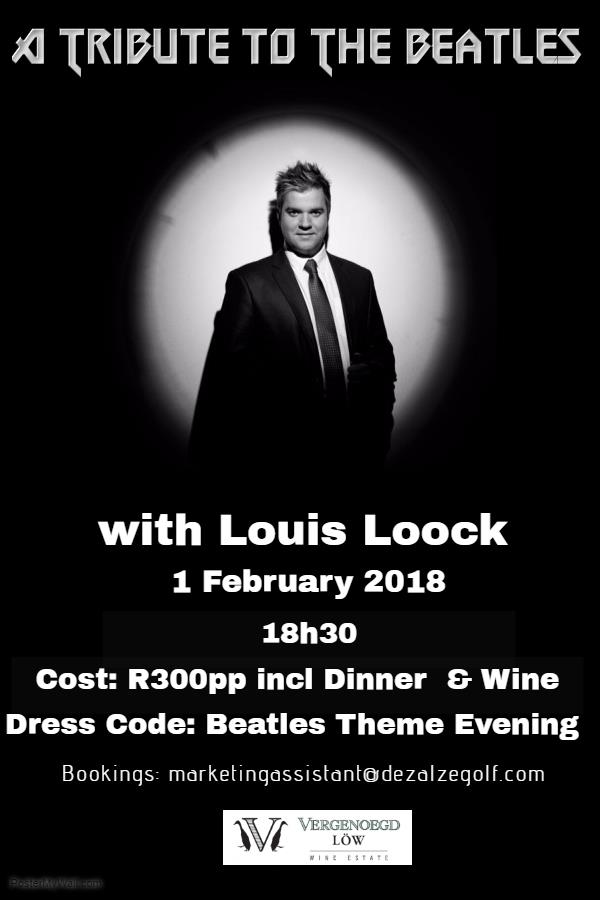 Sundowner
It is once again time for our very polpular 9 Hole Sundowner on Friday 19 January – proudly sponsored by Redz Properties, Ernie Els Wines, Galloway and Swingfit. Join us for complimentary pizza and wine on the terrace post golf. Limited tee off times available – book without delay!

Quiz night
We would like to invite you to join us for a fun quiz night, also on Friday 19 January, which will commence just after the Sundowner at 19h00. Quiz masters Pierre and Zenia van Vuuren will present easy to moderate questions on 5 different subjects, which will entice you to set to work those seldom used little grey cells! Team up with your family or friends to make up tables of 8. The quiz fee is R120 per person, which includes a hearty buffet meal. Don't miss out on this evening of laughter, fun and prizes!


| | | |
| --- | --- | --- |
| | | |

De Zalze Winelands Classic: 5 May 2018
DZGC would like to invite you to this prestigious golfing event, proudly sponsored by Kleine Zalze Wines. The day is open for members as well as guests, but for our members there is a special discount of R1000 on entry fee: only R4000 per 4ball (excluding carts).

Please see the

letter of invitation below with all the information (click on poster to enlarge).
Click here to download the entry form.

There are various sponsorship opportunities available – please speak to Joe Roux regarding sponsorship of holes. The entries for this event is now officially open – all bookings to be done with Carmen (info@dezalzegolf.com)



Vergenoegd Wines

We would like to introduce
you to Vergenoegd Wines,
our January Wine Ambassador. Please see their selection of wines in the front of the menu, which are on promotion for this month only. Vergenoegd will present tastings every Wednesday on the terrace after the usual Tarentale Competition - be sure to taste their trademark Runner Duck Wines, which is real value for money!




Happy birthday to all our members who celebrate their birthdays during the month of January. Please click here to view al the January babies! May you enjoy a blessed day with family and friends.


Be the best dressed golfer on the fairways this summer in the new Under Armour range we have in store. Under Armour is certainly establishing themselves as a top brand, with a wide variety of clothing to choose from. At R899 a shirt, you will not find better quality for that price - so hurry up and get yours while stock last!


We also have these very handy car organisers in store. These are a must for any golfer and will help you to keep all of your golfing goods in order. They are only R220 each, so contact me here if you would like for me to keep one out for you.