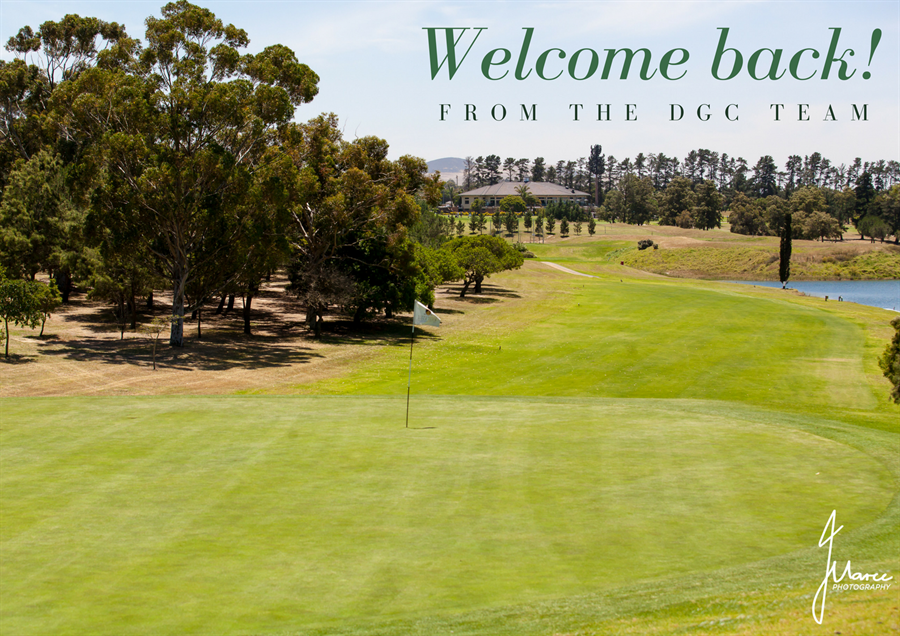 GREETINGS FROM YOUR DGC TEAM | BRINGING YOUR CLUB CLOSER

December



Rounds of golf played: 4506
Number of Visitors: 1400
Number of Members played: 2647
Number of Golf Days: 459
New Members: 23



Thank you for supporting the Jewel of the North and for making this holiday a memorable one!

February Fixtures



6th 3 Ball Alliance
13th Medal & Putting
20th Single Stableford
20th League
Silver - vs Rondebosch @ Durbanville
Bronze 1 - vs Clovelly @ Rondebosch / Bronze 2 - vs Somerset West @ Bellville
27th Single Stableford

Congratulations Jordan Rothman on winning a place in the Bridge-fund Junior Series Finals to be held a little later this year. The only girl to win a spot. Jordan has gone from strength to strength, finishing 2017 on a true scratch handicap. We wish you all the best for 2018.

Kind regards,
Florence Harding
Lady Captain

See below an article about Jordan's latest achievement:

WGSA (Womens Golf South Africa)
January 17
Rothman qualifies for Bridge Fund finals

CAPE TOWN, 17 January 2018 - Jordan Rothman, a 15-year-old pupil at Curro Durbanville, has become the first girl to qualify for the finals of the Bridge Fund Managers Junior Series, a national series of 18 events sanctioned by GolfRSA. In the finals in April 2018, Jordan will compete against some of the country's best U-19 boys for the grand prize of an all-expenses paid trip to the USA to play in the prestigious Junior North and South Championship at Pinehurst.


Jordan, who only took up the game just over three years ago and already plays off a scratch handicap, qualified for the finals after finishing third in the juniorseries.bridgefm.co.za event at Durbanville golf club on 5 January 2018.
She was in sizzling form, making birdies on the first two holes and grabbed the tournament lead when she birdied the sixth hole to go 4-under par. A gale force South Easter put paid to a record-breaking round, but Jordan bravely battled the conditions and had a putt for birdie on 18 to take the tournament lead at 3 under.
A disastrous four putts later she had to settle for an even par round, that momentary lapse costing her the tournament win.

The good news was she still qualified for the finals because the first and second place finishers, Tyran Snyders and Sam Simpson, had already won events in this year's Bridge Junior Series.
Jordan, who starts Grade 10 in 2018, is a sporty girl who loved playing netball: "But I kept breaking my fingers and twisting my ankles."


Her sporting life was transformed when she discovered golf.
"My dad plays and I thought if I started playing I'd get to spend more time with him," says Jordan. "So, I went to the driving range with him and when we got home he said to my mom 'this girl can really hit a ball'. He told me if I'd prove my commitment to the game by hitting 1000 balls at the practice range, he would sign me up for lessons."
Just two months later she eagerly reported to her dad Ian Rothman that she had hit 1400! The lessons began and so did her speedy rise up the national rankings.
Jordan's career highlights so far include beating WGSA senior number 1 Kajal Mistry in the second round of the Sanlam SA Women's Amateur last year and being part of the title winning Western Province team at the SA Women's Interprovincial Championship in 2017.
Four putting the 18th at Durbanville was a painful reminder of the cruelty of the golfing gods, but Jordan has an unusual way of coping with inevitable miss-hits: "I am a big daydreamer on the course, which keeps my mind off the bad shots."
Speaking of dreams, Jordan's goal is to hone her craft on the challenging college circuit in the USA, before turning professional. She got invaluable career advice from South Africa's greatest woman golfer and Major Champion Sally Little.
"I met Sally Little at Kuils River Golf Club last year. She congratulated me on my play and invited me join her for two rounds at Metropolitan Golf Club, which was a privilege," says Jordan.
Her goal of competing in the USA could come sooner than planned if Jordan brings her A-game to the Bridge Junior Series finals in April 2018. The nation's best boy golfers will need to keep a watchful eye on their skirt-clad daydreaming rival.
"We got involved with the series to boost junior golf and we have been delighted to see several players from the SA Golf Development Board excel in the nine events held so far," says Paul Stewart, Executive Director at Bridge Fund Managers. "It has also been terrific to see the likes of Crystal Beukes and now Jordan Rothman flying the flag for girl golfers. Providing opportunities for this rich pool of young talent will ensure a very bright future for South Africa golf."

PHOTO - Western Province 15-year-old Jordan Rothman is the first girl qualifier in the 2018 Bridge Fund Managers Junior Series, a national series of 18 events sanctioned by GolfRSA; credit Doug Carew.

ABOUT BRIDGE FUND MANAGERS
BRIDGE FUND MANAGERS is a specialist asset manager operating in the retail, institutional, private clients and stockbroking markets. At BRIDGE we harbour and nurture our clients' hard-earned assets. Our unique Payers & Growers® investment methodology is designed and actively managed to assist investors in securing high and growing income streams and inflation-beating capital returns through their investment portfolios. For more information please visit
http://www.bridgefm.co.za.


CLICK HERE for January's Competition Results
CLICK HERE for the December Course Report


CLUB CHAMPS COMING SOON!
Sign up at our Club Match Play & League Board!
As Capetonians, we are all, no doubt, aware of our water situation, or the lack thereof at the moment. We are all making a concerted effort to save as much excess water as possible and all need to be fully aware of how invaluable this resource is.

Below you can see some pictures provided by Chris Kitson, from STM, which show a few of the "Behind the Scenes" of our watering and greenkeeping process at the Durbanville Golf Club.

Here are some frequently asked questions that Chris has answered for you about water on the course:

1. What time does the course get watered?
We start watering the course at 19:30 each evening and, depending on what's being watered, the cycle lasts for between 7 and 11 hours.

2. How do we water the course and why those specific times?


We water the various parts of the course on various nights according to the requirements. The reason we water at night is to avoid golfers and the wind usually blows less at night which means more water reaching the target. The greens, tees and immediate greens surrounds get water each night. These areas are mowed at the lowest cutting heights and are required to have the tightest and best quality surfaces. Other areas like fairways and rough are only watered 3 times a week due to the water scarcity and they can tolerate less water due to the tougher nature of the grass and the higher mowing heights.



3. How does the watering impact my golf and experience?

Without the efficient and sufficient watering of the course, the high-quality surfaces we provide at Durbanville will not be sustainable.

On another note, in order to contribute to the water saving, our showers will be switched off until further notice. We thank you for working with us to save as much water as possible! CLICK HERE for more information in the water crisis and how to save water.

The Bridge Fund Managers Junior Series on the 5th February was a massive success! Well done to all the Juniors who represented Durbanville Golf Club and a special congratulations to our very own Tyran Snyders who aced our 12th hole! We would like to also congratulate Jordan Rothman who became the first girl to qualify for the Bridge Fund Finals. Keep up the hard work!

CLICK HERE for the results and see below for the pictures of the event as well as an article written about Jordan Rothman by Women's Golf South Africa.


Picture Below: Tyran Snyders receiving his certificate for his Hole in One on the 12th Hole.




Congratulations to Colin Montgomery for acing the 7th Hole at the Jewel of the North on the 8th January 2018!
Photograph 1: (left to right) Colin Montgomery receiving his certificate from the Captain of the Seniors Society, Allan Taylor.

Well done Malcolm Young for acing the 12th Hole at the Durbanville Golf Club on the 19th January 2018!

Photograph 2: (left to right) The Captain of the Seniors Society, Allan Taylor handing over the certificate to Malcolm Young.


Congratulations to John Bland who aced his 29th Hole in One at Fancourt on the 24th January 2018... Practice makes perfect!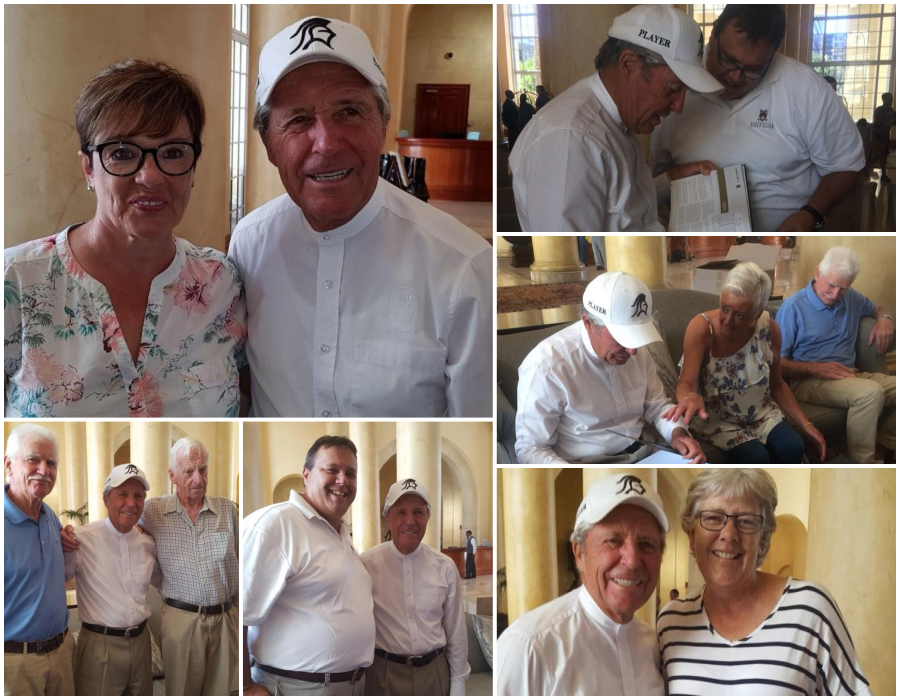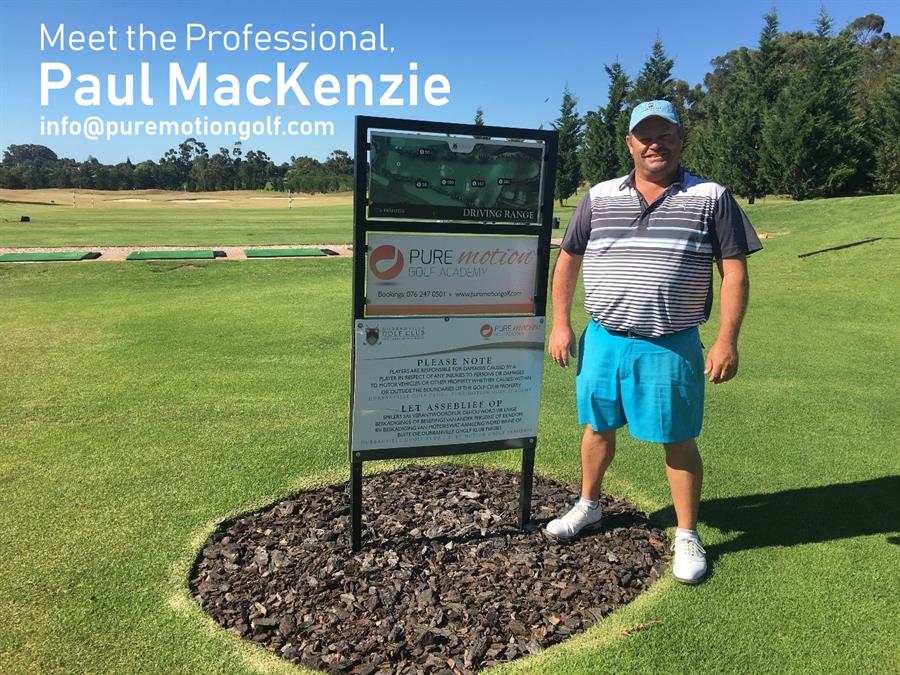 Paul is a AAA class PGA professional and golf teaching specialist with more than 20 years' experience in the industry. Paul has been a player, administrator and coach of all levels of golf from beginner to intermediate, having specialized in ladies and juniors, including WGWP Development coaching in the first half of his career.

"I have a passion for both, seeing my students improve their technique and increasing their enjoyment of the game." Paul has always been one of those teachers to coach the individual and not the stereo type. Paul's golf retail knowledge can also be used to source the best equipment for your needs.

Paul will be available for a CALL FOR HELP which is a 5-minute complimentary session where he will give you some basic tips to improve your golf game.

DRIVING RANGE CALL FOR HELP: Mondays between 17:30 and 18:00

PITCHING GREEN CALL FOR HELP: Wednesdays between 17:30 and 18:00

All you need to do is JUST ARRIVE!
Morning CALL FOR HELPS can be arranged privately with Paul.

We wish a very Happy Birthday to all those members who celebrate their birthday this week. They are:


Karde Buys, Charl Andre Carlsen, SG Du Toit, Barend Julies, Andre Lombard, Johann Muller, T Nolutshungu, PJ Oosthuizen, Bernuto Titus, L Van Der Sandt, Joshua van Niekerk, Michelle Barnard, Hassan Eugnene, Janco Fivaz, Philip Kraft, Jordan India Pillay, Ruben Schalk Steyn, Hasun Suh, Wynand van Zyl, Alexander Burger, Warren Hengst, Pat Holland, David Isaac, Ian Snyman, Melissa Wainwright, Helene Burger, Marelise Conradie, Anthony Healy, Leo Rossouw, Jimmy Sakellaropoulos, Paul Truscott, Aidan Chad Wilson, Kevin Patrick Coyles, Rowland Nel, Duran Cornhill, Johan Kirstein, Lungile Malinga, Celine Stark, Kelly van Staden, Gary Christy, Ettienne De Kock, Emile Du Preez, Celest Knoetze, Kenry Olivier, Michael Shirmacher, Leonie Steyn, Don Torr, Wilma Barnes, Chantel Boks, Roger Michael Greaves, Willie van Niekerk, Tertius Engelbrecht, Ludwig Lillie, Marcel Olivier

, Peter Geoffrey Stanton

Paulene Stark, Dylan Cloete, Glen Kriel, Freda Jacoba Heerlink, Elschen Beyers, Darren John Dunlop, Erita Strydom, Juan-Pierre Adams, Herbert Exner, Norman Kemm, Sanet Louw, Desmore Oppel, Christoff Anderson, Ian Botha, Norbert Hasso Engel, Jan Erasmus, John Kirby, Inus Marais, Gregory Snow, , Liezel Coetzer, Linda Merrill French, Pikkie Passano, Steven Sollinger, Hermanus Steyn, Gavin van der Merwe, Henry Wolstenholme, Stephan Cruywagen, Gabriel Hugo, Agatha King, Jean Oosthuizen, Marlize van Schalk, Rassie Wentzel, Evert Cilliers, Richard Craddock, Leon Huisamen, Chris Kitson, Sheldon Renaud, Jean Taylor, Jannie De Lange, Tania Groenewald, Kyle Haarhoff, Peet Roets, Liezel Schreuder, Koos van Wyk, Hennie Bouwer, Robert Cockburn, Leon Coetzee, Andrew Nardone, Brent Normington, Ian Sebastian Rothman, Terence Ronald Brown, Ute Buerkle, Robert Hughes, Jaryd Snyman, Maureen Wainwright, Howard Wilkinson, Kristen Basson, Vaughn Lee Botha, Elizabethe Dettmann, James Eva, Adrie Jacobs, Jean-Claude Vachaudez, Steven van Wyk, Eben Abrahams, Guy Denichaud, Jonathan Johnson, Magdaleen Kroon, Johanna Marais, Jason Schouw, Ryno Willem Bekker, Jacques Marais, Colin Timmis, Andries Kruger, Joelle Rodseth, Lieza Visser, Carine Wasserfall, Dean Abrahams, Jaco Johannes Du Preez, Gareth Henry Griffiths, Anton J Du Toit, Denis Fry, Ronald Russell, Madeleline Du Toit, Stephan Le Grange, David Degenaar, Mario Ferreira, Graeme Oliver, Lawrie Snyman, Tony Wright, Sean Cronje, Amanda Dani, Anthony Ellis, Craig Andrew Findlay, Erica Maree, Jen Muller, Francois van der Berg, Thomas Jason Bezuidenhout, Wendell Messiah, Denk Rabie, Eunice Hugo, Lionel Klassen, Stefan Jacobus Marais, Wilhelm Cornelius Meyer, Henry Stemmett, Walter Terblanche.


Have a wonderful day!