Congratulations JJ!
There is no better way to start my weekly Dog's Tale than by congratulating JJ Senekal on winning the Zanaco Masters in a playoff on Sunday. JJ had a great week in Lusaka. He finished tied on -14 with Jaco Alhers, Andre De Decker and Alex Haindl after normal play on Sunday. He won the playoff with an eagle against Jaco Alhers on the second playoff hole. That makes it three out of three for Stellenbosch GC, as both Oliver Bekker and Justin Harding has won the tournament before. Well done JJ!



The Champion and his trophy leaving Lusaka!



Everyone wants a photo with the Champion –
Go JJ!





Golf is not always smiles – but every great shot starts with one

…

Monday Night Football
What a way to celebrate JJ's victory over the weekend! Join us for the Varsity Cup final! Before we watch the rugby, while enjoying one of our delicious gourmet hamburgers, we are going to play a special little Par 3, 9 hole course that I have created for you. This is going to be a lot of fun and if you come early enough, you can play it twice! Join us from 4 o'clock and get ready for an evening to remember! #whowillmakeaholeinone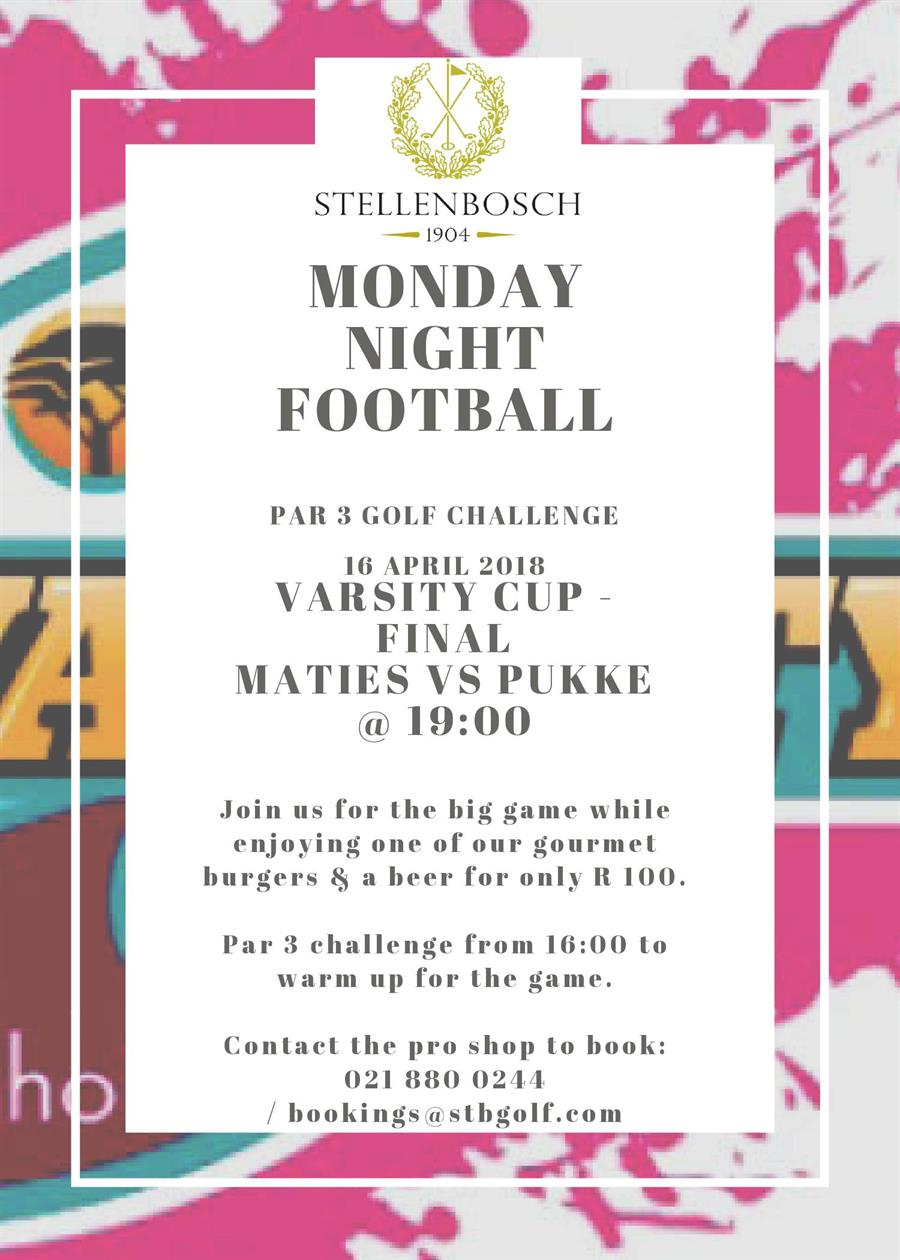 Click on the poster to book
Ryder Cup Ladies


The Stellenbosch Ladies went to visit Paarl last week for the annual Ryder Cup Match between the clubs.

This year, Paarl was the host club and they also walked away as the champs. The Stellenbosch ladies did well with 9 holes to go, but sadly could not pull off the win.

But hey, the camaraderie and the friendship on the day between the ladies from the two clubs are more important, and knowing our ladies, I am sure this was achieved! We are looking forward to welcoming the Paarl ladies to Stellenbosch GC next year, when we will be hosting this event.

#stellenboschgirls
Solid performance by our ladies


Stellenbosch performed admirably at the annual Boland Silver, Bronze and Copper Competition held at Hermanus earlier this month.

Boland squad member, Bianca Wernich, walked off with top honours, winning the Silver Division (handicaps 18 and below) on a gross score of 73. On nett scores in the same division, Ulrike Stolte came in second on 71. Our club was well represented by 10 participants in the field.

Pictured here is Bianca and Ulrica with Boland Ladies President, Tarryn Borsutzky, and Vice President, Louise Olivier.
Friendship Cup
The first of many more Friendship Cups was played on Wednesday. With a shotgun start at 13h00, the field was back in the clubhouse at 17h30. A nice braai awaited the players as they sat down on the deck and veranda, where the prizegiving took place. If you missed out, you missed out! The podium was stationed on the deck and the braai fire got everyone in a joyful spirit after their round of golf. The day was sponsored by Gerrie Jonas' Wednesday group. Dr Hertzog addressed the members with some wise words about friendship in sport and in life. Thank you to a special group of gentlemen for adding another wonderful day to the club's calendar. #friendshipcup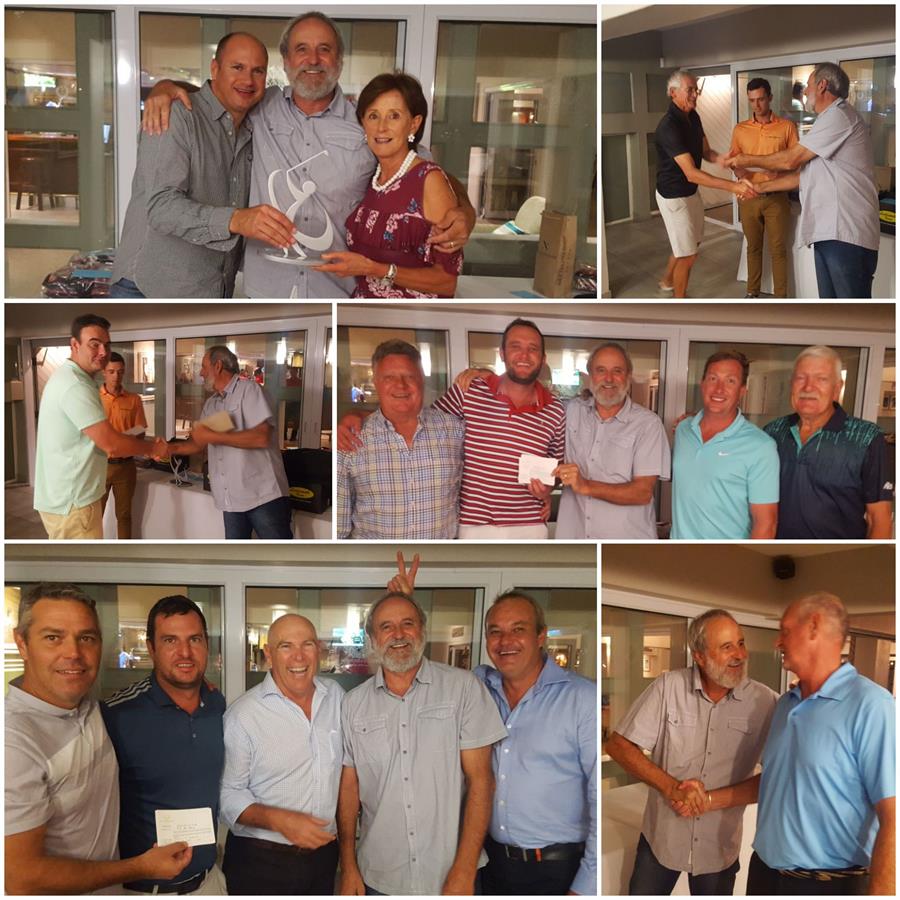 Whose clubs are these?


Have a look at the picture and see if you can tell me whose clubs it is? I can give you a tip or two - the photo was taken in 1997 and in that same year the player won a Major Golf Tournament with them...Got you thinking, right?

I was more intrigued by just how far golf club evolution has come over the years. Irons to a lesser extent, but still they have improved greatly from these babies enjoying their 21st this year.

I don't even want to think about what would happen if I had to go out and play a round of golf with woods that are 21 years old.

Answer:
Tiger Woods used these clubs to win the 1997 Masters Tournament.
World Wide Handicap
All 441 courses in South Africa were completed using the USGA Course Rating System, including Slope, by January 2018. The SAGA decided at their Exco meeting in February 2018 in Durban, to implement the USGA Course Rating System including Slope, on a date to be confirmed, dependent on the approval of the roll-out plan and budget to be tabled by a recently constituted Implementation Committee.

Background on the USGA Course Rating System process
Most of the world has now implemented the USGA Course Rating System, including Slope. CONGU (United Kingdom and Ireland) and South Africa have yet to implement slope, but CONGU has committed to doing so and is currently rating all its courses for slope, while South Africa is on the verge of implementation, since the process has been completed.

The World Handicap System (WHS), which is going live in 2020, adopted the USGA Course Rating System as the system to be used by all countries for the rating of their courses and is one of the primary building blocks of the WHS, which will result in handicaps being comparable worldwide.

The Course Rating reflects the difficulty of the tee relative to par. The Slope Rating is the difference between how difficult the tee plays for a higher-handicapped golfer relative to a scratch golfer.

The Slope system was developed because when the statistics from millions of rounds were analysed, it was found that while the course ratings were correct for scratch players, there was a big difference in the degree of difficulty for the higher-handicapped players at different courses and so, at these courses, the higher-handicapped players were at a disadvantage. The Slope system was developed to adjust the higher-handicapped players' handicaps according to the slope.

The standard slope was set at 113, which means that if a course has a slope of 113 then no changes would be made to handicaps. If the slope is, say, 130 then the tee is more difficult for the higher-handicapped golfer relative to the lower handicapper, and their handicaps should be adjusted upwards. When we introduce Slope, we will adjust the last 20 scores of all golfers to the new Course and Slope Ratings, so a new number, namely the Handicap Index to be used for calculating Course Handicaps, will be on the system.


Importantly, the golfer won't need to calculate anything, as there would be a Course Handicap Conversion Chart for each tee at the club, as well as on the system and the handicap app.

This way, golfers can easily look up their Course Handicap for the tee.
On completing the round, the player then enters their adjusted gross score or hole-by-hole score, as they currently do, and the system calculates their Handicap Index. This is working all around the world without a problem. The majority of our golfers are higher handicappers and when this is introduced, together with the more accurate Course Ratings, it will ensure that golfers from different clubs in South Africa (and the world) will have comparable handicaps and can compete on a more equitable basis.
Mayor Golf Day 2018
On Thursday we hosted the second annual Mayoral Gold Day. In conjunction with Stellenbosch Municipality and schools in our golf development program, we planted 15 trees along the left-hand side of the 6th fairway. I had the pleasure of playing with our President, Dr Hertzog, and General Manager, Dr van der Merwe, in the day. My partner being Dr Laubscher, as usual - we lost our private game as I felt a bit out of dept with all the doctors in my 4 ball. On the 16th hole, I asked my partner, "doc", where his ball was, when suddenly I had responses from all three my playing partners! Maybe "doc" was not the best way to address my partner...

During the evening, Dr Hertzog handed over a cheque of R75 000 to the Mayor of Stellenbosch, Gesie van Deventer, on behalf of everyone who participated and sponsored the day. #thankyou #welostagain #vanherdeslaubeker


| | | | | |
| --- | --- | --- | --- | --- |
| The Mayor planting trees | | My old friend, Beyers Truter, knocked it close on the 9th! | | Dr Edwin Hertzog handing over the cheque to the Mayor, Gesie van Deventer |
| | | |
| --- | --- | --- |
| Kids from our golfing program came to plant trees in the annual Mayoral Golf Day at Stellenbosch GC | | Winners of the 2018 Mayoral Golf Day having a photo taken with the Mayor |

The end of the line
Sadly, the life of a tree also comes to an end. You may have noticed that we had to cut down some Pinetrees behind the men's 12th tee box. Being situated next to the R44, the municipality advised that we take them down. On the positive side, we planted more trees last week than we took down! #letsplantmoretrees



ARGENT Stellenbosch Club Championships 2018 (5 & 6 May)
Can I get a yes please! The oldest competition in the club will be played over the weekend of 5 & 6 May, with the Junior Club Championships (kids without handicaps or under 12, not playing during the weekend) and Putting Championships taking place in the afternoon on Friday 4 May. Entry forms are available here and at the Stellenbosch Pro Shop. Click here for the rules and regulations.

The Stellenbosch Club Championships has been one of the most successful and enjoyed tournaments during the last couple of years, with our very special Sunday Finish! #clubchamps2018 #sundayfinish


| | | |
| --- | --- | --- |
| | | Lastly, on Wednesday, we are welcoming back ABC Security for another lovely day proudly sponsored by them – thank you ABC Security for your support! |

Have a great week!
Louis



Baie van die lede van die Stellenbosch-gholfklub was in jul jongdae uitblinkers in ander sportsoorte. Francois (Mannetjies) de Vries was vir jare lank een van die beste bofbalspelers in die WP. In my onderhoud met hom praat ons 'n bietjie oor sy bofbaldae, wat het gholf en bofbal in gemeen asook sy liefde vir die spel.

VRAAG: Jy was 'n baie goeie bofbalspeler as junior en ook as 'n jong man. Vertel ons meer hoe dit begin het dat jy bofbal gespeel het, en wat was die hoogtepunte in jou bofbal-loopbaan?



DE VRIES:

As 10-jarige seun het my broer my een Saterdag Bergzicht toe geneem om Van der Stel se 1ste bofbalspan wat die middag teen Seapoint Cardinals gespeel het te gaan kyk. Dit was my eerste bywoning van 'n bofbalwedstryd.
In daardie span was daar manne soos Killer Nel en Johan Goosen, beide Springbokke, asook puik bofbalspelers soos Johann Gerber, Jan Padda Engelbrecht, Gielie Neethling en Piet (Poskantoor) Swanepoel om net 'n paar spelers te noem.


Dit was spelers na wie ek as jong seun opgekyk het. Daardie middag het die bofbal-gogga my gebyt. Dit was 'n vinnige spel - 'n wedstryd duur ongeveer 2 ure.

My broer het my voorgestel aan Mills Petrie wat gevra het of ek nie belangstel om die volgende Dinsdag saam met die juniors te kom oefen nie.

Daar het alles begin.

Ek het my hele bofbal-loopbaan 3de rus gespeel. Die volgende jaar was ek vir die WP onder 12-span gekies en die jaar daarna vir die WP onder 14 span. Op senior vlak het ek 'n goeie kolfgemiddelde gehad en veldwerk was seker ook my sterkpunt. Ek het ongelukkig nooit die senior WP span gehaal nie aangesien ek in my posisie moes meeding met John Pete van Clyde Pinelands - hy was 'n WP-speler wat ook vir die Springbokke gespeel het. Ek het bofbal gespeel tot ek ongeveer 31 jaar oud was en toe 'n jaar afgerig by Van der Stel.

Vir die res van die artikel, kliek hier.