Sunday, November 29, 2020




Grey Goose® World Par 3 Championship is set to return to Turtle Hill Golf Club at Fairmont Southampton in Bermuda,
from March 1 – 4, 2018




Turtle Hill Golf Club



Fairmont Southampton is pleased to announce the return of the 2018 Grey Goose

®

World Par 3 Championship to Turtle Hill Golf Club for the 9th consecutive year. The 36-hole championshop will be contested on March 2 and 3 and the Sponsors Pro-Am will be held on March 4, 2018.
As a note:
Flights to Bermuda are currently at an all-time low ~ so make sure you book your flights EARLY!



Click on the following links to get you closer to the Championship:





Tournament Registration

~ follow this link



Fairmont Hotel

~ to Book Tournament Package


For regular updates

~ follow us on Facebook





A lot of what you read about golf is entrenched in 'grip, stance, posture' and 'swing plane, swing path'. Important, but not exciting.

How about having a conversation about what happens in your golf game? There are particularly parts of the game that have a huge impact on enjoyment for most of us, and performance for the very best:

Put the ball in play, find the green consistently from the 50-yard range, manage a longer putt so that you're not left with a knee-trembler, or sink an opportunity from 15 feet and you're not walking off the green, you're floating. It's a great feeling.

Why not book an assessment with us? We'll examine your comfort with these basic skills (Driving, Pitching & Chipping, and Putting) and together with you we'll work out what the quickest route to more fun and enjoyment is for you. Come and chat to us or
Learn More

E

veryone has at least one hole that
spoils the card or round too often.

If it's a long Par 4, for most of us,
it's usually not the tee shot that causes us the challenge.

The approach shot often requires a long iron / hybrid.

Imagine you've hit the perfect shot.
If you haven't answered them,
there are three very simple questions.

Operation 36: A shot to Master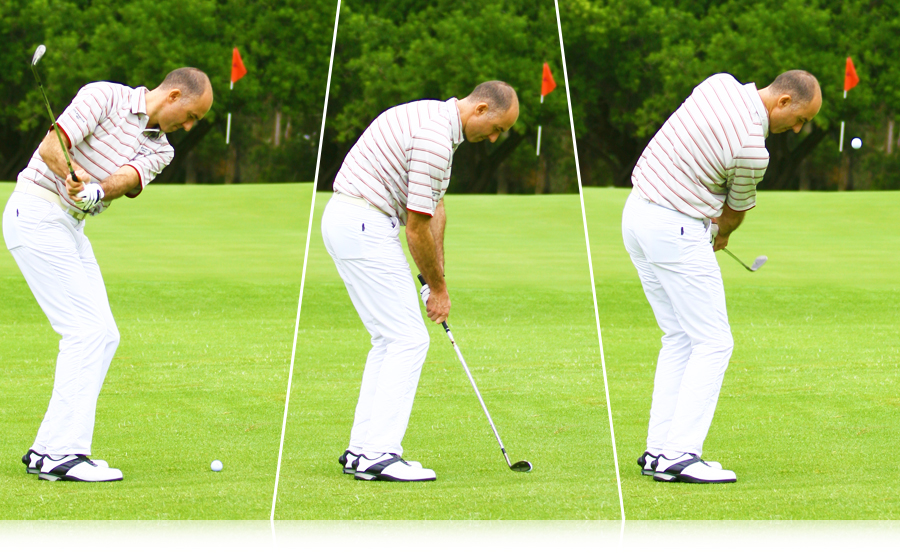 If your handicap is 15 or above, then review your performance and technique on this shot.
It's the short-pitch shot (between 15 - 50 yards). For most golfers, a 27 - 55 yard shot.
If you're taking 3 or less to get down from here, every time, then your handicap should be dropping.
It's worth investing some time and effort into improving and practising your technique.