Hello Everyone,

Let's start with the S.A. Open one final time. This was a true test for us all and in hindsight, a wonderful opportunity to showcase what we as Westlake have to offer. I would like to share with you the reply to my letter of thanks that I sent to the organiser, as it is addressed to all of us. She wrote as follows:

"The pleasure is all ours and we thank you all most sincerely for all the time and effort spent on the event with us and I am pleased to say that we reached the finish line together! Westlake is a wonderful venue and club and it didn't take long for this to shine through, from your members, the volunteers, and to all your staff nothing was too much trouble which made our task that much easier.

Anyone can have a golf course but a "club" is made up of the groups of individuals and you certainly have the cream of the crop!

Please may I ask you to pass along our sincere thanks and appreciation to your Management Board, your Members and all your staff for welcoming us with open arms at such short notice and for going the extra mile to ensure that we had a wonderful tournament."

I think that pretty much sums up what was a memorable week, despite the sacrifices we all made. Thank you to everyone involved and to you, the members for your contribution. We can all be justifiably proud!

The TV schedule for broadcast times of the S.A. Open at Westlake are as follows: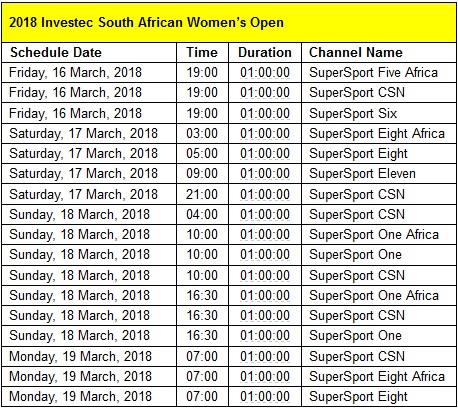 At this time of year, the events come thick and fast and this Thursday is the Westlake Ladies Open. Good luck to all playing and have a lovely day ladies!

This Friday is the R10K Draw. It is no usual draw and Peter Ward is extremely excited, as Saturday is St. Patrick's Day! As a result he and his team are putting together some fine Irish food for your enjoyment on Friday evening! Bookings are advisable so please book your table directly with Westlake Kitchen.



Please note that there will be no 9 holes on Friday and Saturday afternoons this week

and next week due to preparation for Club Champs.

Saturday is the start of the men's Club Champs, 4 tough rounds of golf which really tests your skill and mental fortitude. This year we have 164 participants, the highest in recent times and we would like to wish you all the best of luck and a thoroughly enjoyable 2 weeks. Don't forget the afterparty next Sunday 25th March after round 4. It is coupled with a delicious meal and having flown down specially to attend last year, I can attest to the spirit of this fantastic club! You will all receive the draw for this weekend today and the draw for next week's games will be sent to you all after the weekend. Don't forget about our Club Champs special on Stellenbrau Ale and Lager. Get an extra 10% off for the duration of Club Champs. Valid 15 – 25 March.

Please note: Actions that may result in disqualification during Club Champs.
As the tournament is four rounds of strokeplay, competitors need to remember that certain actions that are permissible in betterball and other forms of play, are not permitted in strokeplay and may result in disqualification.

Here is a list of the most important rules players need to adhere to – otherwise you will be DQ'd:

Start on time – you will be DQ'd if you arrive more than 5 minutes after your published tee time. (starting within 5 minutes of your tee-time is a 2 stroke penalty).

You are responsible for writing your handicap on each scorecard of the tournament. (Handicaps as at 07:00 on 17 March apply for the duration of the tournament).

Check that your markers recording of your hole by hole score is correct as you are responsible for this – not the adding up of the score.

You and your marker must sign your scorecard before you leave the score recording area.

Other important points to remember:
Do not practice on the course before or after any of your rounds. You may use the practice range, demarcated chipping area and practice putting green.

Make sure your balls, tees and clubs conform to the R&A specifications (Appendix II)

Do not agree to play out of turn or not lift a ball in order gain an advantage.

Do not use any artificial device, practice aid or unusual equipment during your rounds.

Do not refuse to comply with a rule which affects the right of your fellow competitiors.

Remember to adivse the Tournament committee of any doubtful situations that have occurred during your round before you sign and hand in your scorecard.

A reminder to all to please repair pitch marks and divots as well as raking bunkers. This was one thing that struck a lot of us during the S.A. Open, just how diligent the competitors and their caddies were when it came to basic etiquette. Let's keep the course in pristine condition by all doing our bit when playing.

Our next festival event is the Masters Par 3 Competition on Friday 6th April. This was a fantastic day last year and we aim to make it even better! All pertinent information was mailed to you earlier in the week, but just a reminder that bookings open this Friday. Give the office a call and book your spot.

Speaking of festival, it is a year-long event this year with everything culminating at the Big Bash on the 24th November. On that night, our raffle will come to its conclusion, with one lucky ticket holder walking away with a brand new Toyota Yaris 1.5 CVT worth almost R270 000! Tickets are now available at R200 each and all money raised will be used in the upgrade of the locker rooms. All members are asked to assist in selling a book of just 5 tickets. If we manage this, we will be able to effect a magnificent revamp. Books of tickets are available at the office and we will be walking around at prizegivings with books available too. Please do your part in helping us achieve this goal.


One of our new sponsors is Automotion. They are a company specialising in airport shuttles, and valet parking at great rates which includes a complete valet for your car. They will be sponsoring certain members days in the near future, but should anyone be travelling by air, feel free to have a look at what they offer below. Having tried this myself, I can honestly say it beats the usual airport parking experience! The current special offer validated by presenting your Westlake card is a preferred rate of R180 per day .

· Automotion current rates are around R234 per day including VALET.
· ACSA Airport parking covered is R210 per day without the VALET.
· Westlake preferred rate R180 per day including VALET (simply present membership card at book in).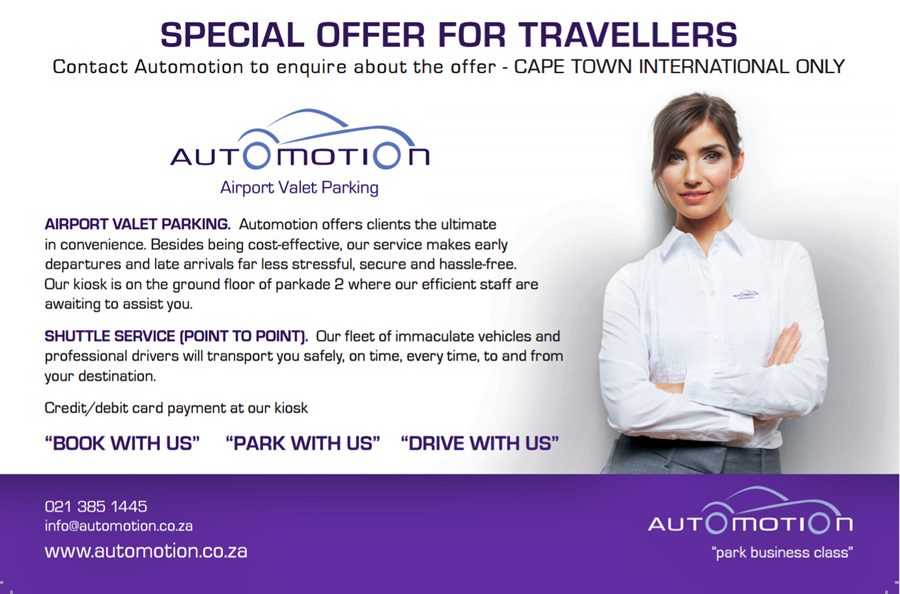 While on the subject of advertising, there are a few tee boxes still available should anyone be interested in promoting their company. Mail me directly at manager@westlakegolfclub.co.za should you wish to know more about this fantastic opportunity.

In closing, Rae Wagner, 87-years old and using her driver, achieved a hole-in-one on the 3rd last Sunday. What a wonderful achievement and inspiration to us all! Well done, Rae!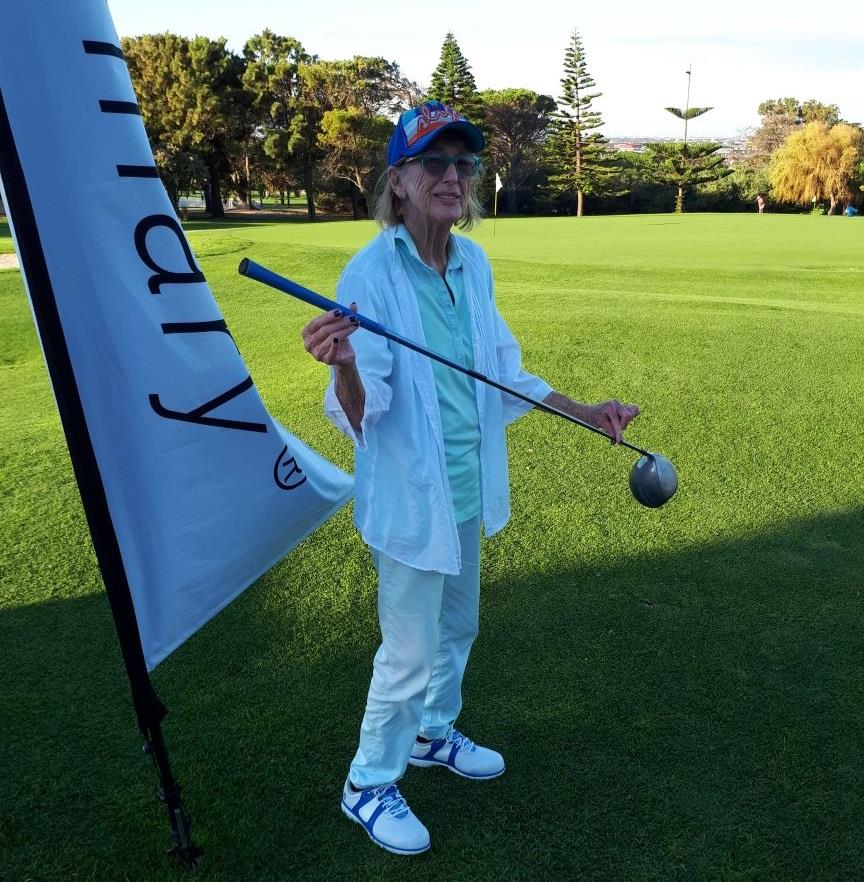 Rae Wagner aced the 3rd hole with her driver!
Congratulations Rae!

Have a great week and good luck to all taking part in Club Champs!
The Westlake Team



Wow! What an amazing SA Ladies Open. I'm sure you will all agree that we were extremely fortunate to host a tournament of this stature.

In terms of agronomy, the golf course was in fine condition for the tournament with the greens stimping at 11ft+ and rolling true. Most of the feedback that we received from the members has been very positive but almost always came with a disclaimer. Why can't the golf course and most especially the greens always play like this? The simple answer is that for every action there will almost always be an equal and opposite reaction. For instance, if I were to mow the greens consistently short and double roll them daily (as we did for the tournament) their overall health would certainly diminish, with the end result being diseased greens with large dead patches all over. I know this sounds a little doom and gloom, but it is true. Even after this past weekend we have already noticed the greens starting to yellow in places (yellow = plant stress). This just proves that one needs to be very careful, and to rather make sure that you have playable greens for 365 days a year.

That all being said, we have the Men's Champs for the next two weekends and my team and I will certainly try our best to keep the conditions as close as possible to what they were for the SA Ladies Open.

Good luck and birdie wishes,
Raymond, Max and Gary


Every Monday is blue at the Westlake Pro Shop this March!

10% off anything blue - Buy any top & bottom and receive R300 discount.