Greetings From Your DGC Team | Bringing Your Club Closer


Greetings to all our Members,



For the first time in 3 years we are again experiencing a normal Cape winter thus far. We all welcome the rains and hope all the dams in the Western Cape fill up again before the start of summer. Unfortunately, the wet weather has a direct impact on our income at DGC with fewer rounds played with a reduced F&B spend.

Sadly, for cart users there are days when the course is so wet that we have to make the "No Carts" rule to protect the golf course. This decision is always a last option but sadly has to be made!
Currently the softer winter greens are taking a hammering from hundreds of pitch marks left unrepaired by golfers. Please remember to repair your pitch marks and any other pitch marks on the greens and all divots! No player will be allowed onto the course without a full sandbag!
Did you know?

The average number of pitchmarks made on the greens per round is 8 per golfer. Assuming only 130 rounds are played each day on our course, our greens receive 1040 ball impressions daily.

31000 per month.
374400 per year.

And we wonder how to make a putt under these conditions?

Repair your pitchmarks!
Twilight Golf

Your Committee has introduced Twilight rates for junior golfers as from the 1st July with the following conditions:

R50 including irrigation levy from 4pm in winter pending availability.
R50 including irrigation levy from 5pm in summer pending availability.
Players may play as many holes as they like.

I wish all the players the best of luck who are playing in the Winter knock out which starts soon and let's hope we get a few drier golfing days to enjoy in July! Don't forget to book your table with friends and family for our "Christmas in July" evening on the Saturday 14th!

Yours in golf,

Andre' Wainwright
DGC's Club Captain

Dear Members,



Wow – how time has flown, we are halfway through 2018 and only 183 days left until Christmas (at the time of writing). Firstly thank you to each and every one of you who has made my arrival here that amazing. It is a huge privilege to be employed at Durbanville Golf Club and together we will drive this club forward. Along with my Management team, we are driving an internal campaign, this to ensure our staff all have the same approach. We are pushing our staff to be proactive in what they are doing, to act with integrity and to take pride in where they are. You may have noticed recently the uniform role out. Staff are more identifiable and along with this comes member awareness.
It is always sad for us to say goodbye to staff. Recently Rosa decided to spread her wings and join a new company, we wish her an amazing journey. The same is to be said for Gabriela, she has decided to relocate to the United Kingdom. We too wish her happy travels.

But it is exciting times at the Club… The super draw is sitting at a whopping R15,000.00 and R14,000.00 respectively. The shoot-out has been won an amazing three times on one night this month! We have some amazing golfers at the club. July is action packed with the Wellington Boot on the 7th July, Christmas in July on the 14th, the Mixed on the 15th sponsored by KWV, The Superdraw on the 20th July and Blues meets Rock on the 27th July where we are expecting 300 people to attend. A unique opportunity to chill unwind all in some fine music, great food which can only be an amazing time out.

Our juniors continue to shine and it's such a pleasure to watch these young players evolve. Congratulations to Ayden Senger, who had an amazing run of form whilst representing South Africa in Japan, and to Jordan Rothman who has gone from strength to strength in her golf, recently selected to play in Jakarta. Durbanville can be proud of its junior section with three teams represented in the Junior leagues and with this wealth of talent coming through, our league's premier league side can only benefit.

Enough cannot be said when it comes to thanking our sponsors. You make a huge difference in the experience at the club. For those members who wish to get involved in sponsoring at the club, please feel free to contact either myself or Celine (
marketing@durbanvillegc.co.za). We will happily show you the various areas where you can be involved.
Yours in Golf,

Sean Verdon
DGC's General Manager

Congratulations to the Vice-Captain's team on winning the Captain vs V-Captain on the 5 June 2018. Fun was had by all.
Medal Winners For June 2018



Silver

- Mona Coetzee nett 81
Bronze - Leigh Mitchell nett 68

League Results – 19 June 2018



Silver Division

- Durbanville against Rondebosch at Parow (won 0/3)
Bronze 3 Division - Durbanville against KDMowbray at Erinvale (lost 3/0)
Bronze 4 Division - Durbanville against Westlake at Metropolitan (lost 3/0)

Fixtures for July 2018





03-Jul-18

League
10-Jul-18 Medal & Putting
12-Jul-18 Boland Seniors
17-Jul-18 League
19-Jul-18 WP Seniors
22-23 July WGWP Mid Am & Senior Championships (Durbanville GC)
24-Jul-18 Novelty Ball
31-Jul-18 Birthday Girls

Yours in Golf,
Florence Harding
DGC's Lady Captain

Seniors' League
The Seniors' League team braved the wet and cold this month, beating Stellenbosch on their home course 3.5/1.5. Just after our final pairing teed off, the heavens opened for two holes which caused some flooding on greens. This did make some question the wisdom of continuing, specifically the first Stellenbosch pairing. Finding themselves three down after just four holes to Suat Palanduz and Winston Heunis, making their debuts for Durbanville, the opposition conceded the match and walked in! The four pairs behind them were made of sturdier stuff, however, and although Mike Rolfe and Gordon Simmons went down 2&1, Neil Rix and TJ Lee won 3&2 whilst Peter Seward and Bert Vos again ground out a 1 up victory. The final pairing of John Kirby and Allan Kearsey came from three down early on to secure a very well earned half.

Durbanville didn't gain any ground on the Log, but do have a game in hand on three of the five teams above them as well as having yet to play three of them. So plenty still to play for.

In an interesting sideline, Paarl and Helderberg - due to tee off straight after Durbanville - decided between them rather prematurely not to play. They thus both forfeited any points and were given fairly short shrift by the remaining six clubs who did play.

The next match will be on Monday 13 August in the rearranged Strand fixture against Devonvale.
Farewell, Rosa!
At last Wednesday's prizegiving, our Senior society members sadly had to say farewell to Rosa Heydenrych. It gave us the opportunity to present her with a small token of our appreciation for her outstanding service to our senior members. For the past 7 years Rosa has been a dedicated servant to our members and has been the first person to turn to when we have problems, be it, membership issues, handicap problems, replacement cards, lockers, or any other member services. We would like to wish Rosa a healthy and successful future in whatever field she moves into.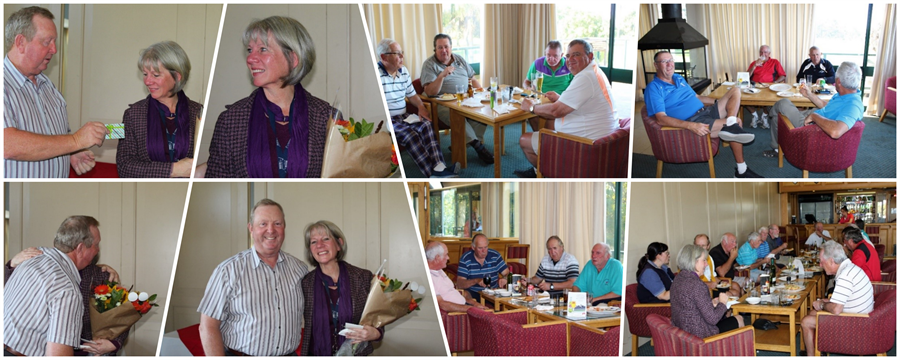 Rosa please go in the knowledge that there will always be a special welcome waiting should you pay us a visit in the future.

Good Luck,

DGC Senior Society


A sad goodbye...



Thank you for your 7 years of service, we really appreciate all your hard work and dedication throughout the years.

We wish you well on your journey ahead and look forward to still seeing you on the golf course!

Meet Nicola, DGC's new Receptionist…

Nici is married with two daughters and has a background in the catering and secretarial industry. We look forward to the elements she is going to bring to our team and would like to ask that you introduce yourself as you walk by reception.

Welcome, Nici, we love you already!
Meet Kelly, DGC's new ProShop Assistant…

Kelly has joined our team from July until August and will be helping in the ProShop. She graduated from Fairmont High School and studied Media Production at the University of Southern Mississippi in the United States. Kelly is a keen golfer and has represented South Africa in 2010 and 2012. She is currently a Western Province Golfer and is largely involved in the ongoing competitions.

Welcome, Kelly, we are so happy you have joined us!

Golf RSA & Team SA News
5th June at 08:44 PM
Nkosi Rorisang, Keyan Loubser, Jordan Rothman, Kiera Floyd and WGSA Vice President Sarah Braude at the Himbara World Junior Golf Championships, presented by Ciputra in Jakarta, Indonesia.
Jordan Rothman's approach into final green. The 15-year-old from Durbanville Golf Club turned 2-under & interrupted a par-run down the back nine of the Pantal Indah Kapuk Course at Damai Indah Golf with further gains at 13 and 17.

Opening round of the Girls A-Division Competition in the 2018 Himbara World Junior Golf Championship, presented by Ciputra.
Rothman leads SA's march in Jakarta
Jordan Rothman Leading from the front

Jordan Rothman shot to the top of the pile at Damai Indah Golf while fellow South African juniors Kiera Floyd, Rori Nkosi and Keyan Loubser also enjoyed a productive day in the Himbara World Junior Golf Championships in Indonesia on Wednesday.

Rothman fired five birdies at the Pantal Indah Kapuk course to open her campaign in the Girls A-Division (15-17 age group) with a three-under-par 69.

She leads by two shots from Hannah Reeves from Australia and she will start the second round three shots clear of local favourite Patricia Simolungan.

'My strategy was to play shot-for-shot and try not to let the occasion overwhelm me,' said the 15-year-old Durbanville golfer.

'I was able to stick to my game plan. I hit my driver well, my ball striking was good and the putter was hot. I felt really positive out there. It felt like everything flowed well.'

Compatriot Floyd was also impressive from tee to green, but like Nkosi and Loubser, endured a frustrating day on the greens. Floyd had three bogeys on the bounce during her first loop, but only gave one shot away coming home. She notched two birdies to sign for a three-over 75.

'I hit the ball really well,' said the 13-year-old Ebotse golfer, who lies fourth overall in the B-Division (13-14 age group). 'I hit a lot of fairways and greens, but the putter was cold. I'll work on the putting this afternoon and hopefully I can pick up a few more shots in the second round.'

Rothman and Floyd combined for a total of 144 to rise to the No 1 position in the Girls Team Competition. Two teams from Thailand are hot on their heels.

Nkosi opened with a 78 to start the second round in seventh place, six shots off the pace, in the Boys B-Division (13-14 age group).

A solid ball-striking day not only attracted a large fan club, but the 13-year-old North West junior closed with a 74 to move to fourth. He is eight shots off the pace on 152.

Fellow South African Golf Development Board player Loubser was delighted to shave five shots off his opening 84.

'My execution and course management was definitely better today,' said the Bellville golfer, whose 79 moved him to 24th in the Boys A-Division (15-17) age group.

'I drove the ball better and found more fairways and greens, but I am still struggling on these slick and fast greens. Like Rori, I had a lot of putts that just slipped past the hole. The key was to stay patient and to keep trying, so I'm I am really pleased that I improved on the first round.'

Loubser and Nkosi posted a team total of 163 in round one and combined for 152 in the second round to climb to fifth overall in the Boys Team Competition.

Credit: GolfRSA

Western Province Golf News



Congratulations to Sean Howell, Ayden Senger, Astin Owen and Connor de Groote for representing Team Durbanville and winning the WP Winter League 2018 that was held at Erinvale Golf Club yesterday! We are very proud of you.

A special well done to Ayden Senger for tying for 2nd place as well as Astin Owen for tying for 8th place. Keep up the hard work!

Click here for the full scores.
Senger helps put GolfRSA boys into fifth spot

The GolfRSA Boys team are going all out in the final round of the 2018 Toyota Junior Golf World Cup, supported by JAL, in Japan on Friday after another solid day at the Chukyo Golf Club in Toyota City lifted the team to joint fifth.

Spain maintained their position at the top of the boys competition with a third round 207 and will start the final round seven strokes clear of Denmark on 20-under 619. The GolfRSA boys posted one-over 214 to join Argentina and Sweden on four-over 643. The GolfRSA girls combined for 152 to share eighth with Italy, while Japan reclaimed the lead in the girls competition with a third round 139. The local heroes lead Korea by six shots on 14-under 418.

Boys Competition
Ayden Senger
led the GolfRSA boys for a second day running with a one-under 70. Fellow Western Province junior Deon Germishuys and Martin Vorster from Southern Cape returned rounds of 72 while Werner Deyzel from Gauteng North posted a non-counting 74.

'If consistency won tournaments then we would be leading,' said team manager Eden Thompson.

'The weather was really fantastic with the wind gusting, but not as bad as in the second round. The greens were quicker and firmer though, which made judging the pace really tricky.'

Senger had birdies at 13th and 14th, but bogeyed the 10th (course first) when his drive disappeared in the water. He countered further bogeys at 14th and 17th with gains at 12th and 16th.

'I struggled at 13th in the first two rounds,' said the Durbanville golfer. 'It's a tough tee shot, because you have to carry the bunker. I hit a big drive, landed safely and hit a 9-iron to six foot and sank the putt for birdie. At 14th, I hit a nice 3-wood down the fairway, pitched it seven foot from the hole and made the putt for another birdie.

'Unfortunately, I dropped my first shot in 27 holes at the 1st, but I was pleased that I cancelled all the bogeys today, which is something I failed to do in the opening round.'

Germishuys was two-over through seven, but found something standing on the eighth tee (his seventh hole). The 2018 Sanlam SA Amateur champion parred 16th and 17th and birdied 18th. He got it to one-under with birdies at 4th and 6th, but finished bogey-bogey.

'I hit a 3-wood and sand-wedge to six foot and sunk a tricky downhill, left to right putt for birdie to turn one-over,' said the reigning Nomads SA Boys U-19 Stroke Play champion.

'I made great up-and-down to save par at 11th after I short-sided myself and hit it a foot short of the hole and made the birdie putt at 13th. I chipped it to six foot at 15th and boxed the birdie putt and I was one-under with two to go when I hit it out of bounds on 17th (course eighth). On the last hole, I hit it in the fairway bunker. I pulled the shot slightly, and couldn't up-and-down to save par. Not the finish I was hoping for, but it felt great to get into red figures again.'

Thompson said it was yet another day of mixed results for Vorster and Deyzel.

'Martin had another frustrating day,' said Thompson. 'He hits it great off the tees, but he is battling with accuracy on the shorter shots into the greens. This makes it difficult to score on a course where it is really hard to scramble for pars.

'Werner continued to battle a cold putter 'He played much better and although the frustration is starting to show, he kept himself centred, which was great to see. The lads are fired up after climbing to fifth and determined to give it one big last push in the Friday's final round.'

Photo: The GolfRSA boys (from left to right) Werner Deyzel, Martin Vorster, Deon Germishuys and Ayden Senger.
Boys Team Leaderboard
Round Three
619 Spain 203 209 207
626 Denmark 210 202 214
629 Thailand 210 210 209
631 Japan 208 209 214
643 South Africa 215 214 214;
Argentina 213 213 217;
Sweden 213 216 214
644 Italy 215 215 214; Korea 205 215 224
645 New Zealand 221 213 211
646 Mexico 211 218 217
652 Colombia 214 218 220
654 United States 216 221 217
664 Canada 218 223 223
678 Morocco 215 223 240
14 June:

Ayden Senger set the pace for the GolfRSA Boys with a 1-under 70 in round 3 of the Toyota Junior World Cup...here he walks in a birdie on 14 at Ishino Course at Chikuo GC.

Click on image to watch video.

Vorster and Nkosi set Dimension Data pace in George

George, 27 June 2018 – The value of international competition was amplified in George on Wednesday with Martin Vorster and Rori Nkosi leading the Dimension Data Junior Open tournaments at Kingswood and Fancourt on Wednesday.

Less than two weeks ago, Vorster fired a 10-under 61 in the final round of the Toyota Junior Golf World Cup in Japan. His course record to help the GolfRSA Boys team to a top five finish in the team event at the Chukyo Golf Club.

While the Southern Cape junior was setting the Ishino Course alight, Nkosi from North West finished up in the Himbara World Junior Golf Championships with a top seven finish Indonesia.



Dimension Data Junior Open





It wasn't the ideal day to start the first event on the Sunshine Tour Junior Tour as the rain showed up quite early and pounded the players at both venues in the popular Garden Route stop.
Vorster, a member of the Louis Oosthuizen Junior Golf Academy down the N2 at Pinnacle Point Golf Estate, fired an impressive three-under-par 69 in the challenging conditions to take the lead in the Under-19 tournament at Kingswood.

"The weather was really challenging and I just reminded myself to stick to basics and to go through my processes on every shot," said the 17-year-old GolfRSA National Squad player.

"I two-putted the first and the third for birdies, missed a really short putt for par at four and managed to get the shot back with a birdie at seven.

"I hit my driver just short of the green at eight and chipped it close to tap in for birdie. I hit a sand-wedge over the green and chipped in for birdie at nine. Then I made a really dumb drop at 10. I hit it just short of the green and didn't up and down."

Vorster birdied 11 but hit a 2-iron out of bounds right on 13 and dropped a shot.

"The rain was bucketing down from the 13th and the wind was pumping," Vorster said. "I made some good pars to keep the round going. At 16, I hit driver off the tee, 3-iron for my second and 9-iron from 110 metres into the green to give. I tapped in for four to get to four-under.

"I parred 17 and missed the green right at 18. I chipped it to five feet, but I missed the par putt. It was a tough day at the office, but if you could keep it in the fairways, you still had a chance for birdies."

Not surprisingly, Christo Lamprecht was hot on Vorster's heels.

The George golfer returned from the GolfRSA UK Tour buoyed by an international breakthrough in the East of Ireland Amateur Championship. Lamprecht eagled the first, as did Central Gauteng's Marcus Taylor, and the pair tied for second on two-under.

South African Golf Development Board (SAGDB) duo Carl Mwale and Tristan Galant tied for fourth with Bridge Fund Manager Junior Series winner Tyran Snyders on one-under.

Ekurhuleni's Casey Jarvis, who won the Nomads SA Boys Under-15 Championship at Kingswood in January, carded a one-over 71 to round out the top 10 alongside Jordan Duminy, Daniel Cronje and Oliver Goldhill.

Nikhil Rama from Bryanston Country Club definitely had the best finish of the day with his first ace.

The Central Gauteng junior holed out with a 5-iron from 155 metres into the wind at the par three closing hole and the one on his card for a 75 propelled Rama into the top 20.

Dimension Data Under-15 Challenge
Nkosi from Pecanwood overcame a bogey start with a birdie at the second at the Outeniqua course at Fancourt and set the first round target with a three-under 69.

The 13-year-old SAGDB golfer reeled in further gains at seven, eight, 10 and 11, He gave two shots back with a pair of bogeys at 13 and 14, but steadied the ship with pars at 15, 16 and 17 and knocked in signed off with a birdie finish for pole position.

Former two-time SA Under-13 champion Amilkar Bhana finished two off the pace.

Christopher Bagnall, Dylan Melville, Kayle Wykes and Lyle Roche Pedro played the course in even-par to share third. Phil Snyman finished fourth on one-under and the trio of 74 Jaden Deltel, Filip Sakota and Ivan Verster share fifth on two over.
Dimension Data Junior Open
69
Martin Vorster
70 Christo Lamprecht Jnr; Marcus Taylor
71 Carl Mwale; Tristan Galant; Tyran Snyders
73 Oliver Goldhill; Casey Jarvis; Jordan Duminy; Luhan Bester; Daniel Cronje
74 Samuel Simpson; Brandon Weir; Eben Spangenberg; Ben van Wyk; James Murray; Kian Rose
75 Jurie Johannes Mostert; Nikhil Rama; Tiaan van der Bank; Liam van Deventer; Kieron van Wyk
76 Yurav Premlall; Ryan van Velzen; Damian Osner; Christiaan Burke
77 Craig Louw; Cole Stevens; Andre van Dyk; LB Boshoff
78 Warwick Purchase; Dijon Coetzer; Connor de Groote; Jean Pierre van der Watt; Jordan Burnand; Ayden Senger
79 Christopher Long; Brendan Porter; Meekah de Sousa; Barend Botha; Jaco Anderson; Christiaan Maas; Kyle Kistensamy; Benjamin Brent
80 Alexander Pienaar; Cade Basson; Dean Sanders; Ryan van der Klis; Saul Moss; Carlos Losper; Reece Coleman
81 NJ Botha; Drikus Joubert; Nash de Klerk; Judd Sundelson; Romain Legentil; Calvin Maia
82 Miles Taylor; Angus Klintworth; Darren Neyt; Herman du Plessis; Keyan Loubser
83 Lumkile Mantshiyo; Alessio Graziani; Shaun Jones
84 Samual Mckenzie
85 Jan-Hendrik Nieuwoudt; Aidon Willemse
87 Logan Roos
91 Hezron Frieslaar
96 James Vorster Jnr
97 Keanan Austin Keffers
Dimension Data Under-15 Challenge
69
Rorisang Nkosi
71 Amilkar Bhana
72 Christopher Bagnall; Dylan Melville; Kayle Wykes; Lyle Roche Pedro
73 Phil Snyman
74 Jaden Deltel; Filip Sakota; Ivan Verster
75 Fabrizio de Abreu
76 Dujuan Snyman; Matthew Dennis; Stefano Marchetti
77 Jonathan Wilsenach; Angelo Keffers; Tiaan Hugo; James Alan Jarvis; Jordan Wessels
78 Jaydon Liddell; Andrew Long; Hunter Walker; Hannes Strooh; Aiken Olivier
79 Luc Gavagnin
80 Danie Jooste; Tristan Leonard
81 Juan Human; Michael Ferreira
82 Kieran Urquhart; Astin Wade Arthur; Franco Gericke
83 Zamokuhle Nxasana; Cameron Gray
84 Pieter Joubert; Werner Potgieter; Heinrich Appel; Ryan Koekemoer
86 Michael Sim; Corne Pieters
87 Bernhard Köster
88 Caden Chuang; Leonard Bevan; Desmond van der Walt
89 Rialdo de Bruyn; Misha Loots
90 Craig Jacobs
92 Tyler Stagg

Photo: Martin Vorster leads the Dimension Data Junior Open by one shot after an opening three-under-par 69 at Kingswood Golf Estate; credit Ernest Blignault.
For further information, please contact:
Geoff Taylor (South African Golf Association President) –
geoff@saga.co.za
Grant Hepburn (GolfRSA CEO) –
granthepburn@golfrsa.co.za

Written and released by Lali Stander on behalf of GolfRSA.

Lali Stander
Media Liaison – GolfRSA
Tel: +27 82 990 7150 / Email:
lalistander@golfrsa.co.za
News



Team Announcement

Well done to Jordan India Pillay who has been chosen to compete in the WGSA Nomads Girls Championship!

Jordan and the team played at Orkney Golf Course from the 24th - 26th June.

We wish you all the best for your future, Jordan!
Bell's Competition Winner

Congratulations to Koos Janse van Rensburg who won the Golf Bag on his birthday from the Bell's Competition that was held! We look forward to seeing you on the course with your new golf bag...
Not just a shot in the dark: 4 Superdraw Holes-in-one!

Well done on your hole-in-one, Joshua! Thank you to Alpen Autohaus for the cash sponsorship of R1000.
Well done on your hole-in-one, Astin! Thank you to Culinary Kraft for the voucher sponsorship to the value of R1000.
Well done on your hole-in-one, Ian! Thank you to Sotherby's for the cash sponsorship of R1000.
Congratulations on your hole-in-one, Paul! Paul won R1000 cash from DGC.


Click here

for June's Competition Results.

Click here for the June Course Report.

Click here for an update on the Slope Rating.


Your New SAGA Cards have arrived!





If you still have the previous version of the SAGA cards (colour: black), please pop by reception and collect your complimentary new one (colour: red)



• Bubba Watson has done it again. He won his third Travelers Championship title at the TPC River Highlands in Connecticut, picking up his third win of the season. His 7-under 63 saw him turn around a 6-shot deficit and gave him a 3-shot win on 17-under 263. He shot 33-30, finishing off with a birdie at the last. Third-round leader Paul Casey (72) had back-to-back bogeys on 16 and 17 to finish tied for second on 14-under alongside Stewart Cink (62), Beau Hossler (66) and J.B. Holmes (67). US Open Champion Brooks Koeka tied for 19th on 9-under.

• Matt Wallace won his second European Tour title of the season at the BMW International Open at Golf Club Gut Laerchenhof. He started the final round two off the lead and shot a 65 to win on 10-under 278. Thorbjørn Olesen gave him a good run for his money, shooting a record-breaking 61. He finished tied for second on 9-under alongside Martin Kaymer (68) and Mikko Korhonen (67). Justin Walters tied for 9th on 6-under alongside Nacho Elvira and Andy Sullivan.

• Nineteen-year old Nasa Hataoka from Japan won her first LPGA title at the Walmart NW Arkansas Championship. She started the final round tied for the lead and then shot an 8-under 63 which saw her win by six shots on 21-under-par 192, the biggest margin of victory on the LPGA this year. Hataoka has had five top-10 finishes in her last six starts. Austin Ernst finished second on 15-under and Lexi Thompson, Minjee Lee, Sandra Gal, Ryann O'Toole, Ally McDonald and Brittany Altomare tied for third on 13-under.

• Thailand's Kanyalak Preedasuttijit won the Ladies European Thailand Championship on her home course at Phoenix Gold Golf and Country Club. She shot rounds of 70-68-66-69 to win on 15-under-273, one clear of 17-year-old Korean amateur Selin Hyun. Chonlada Chayanun finished third four strokes back.

• Brady Schnell won his maiden Web.Com title in a play-off at the Wichita Open Supporting Wichita's Youth at Crestview Country Club. He shot a final round 66 to force the play-off, tying at the close of regulation play on 14-under 266 with Brandon Hagy and Scott Pinckney. Pinckey was knocked out on the first play-off hole and Schnell won with a birdie on the second. Wes Roach, Justin Hueber and Sebastian Cappelen tied for 4th on 12-under.

• Scott McCarron won his first title of the season at the Champions Tour's American Family Insurance Championship at University Ridge. His final round 8-under 64 gave him a one-stroke win over Jerry Kelly on 15-under 201. Tournament host, Steve Stricker, tied for third with Fred Couples and Colin Montgomerie on 13-under.

• David Law won his maiden European Challenge Tour title at the SSE Scottish Hydro Challenge hosted by Macdonald Hotels and Resorts at Macdonald Spey Valley Golf Club. His final round 4-under 67 saw him take pole position on 11-under 273, two clear of Joachim B Hansen. Pedro Figueiredo finished third on 7-under.

• TT Crouch won the Mackenzie Tour Canada's Lethbridge Paradise Canyon Open in a play-off with Zach Wright and overnight leader, American Chris Williams. Crouch and Wright shot final round 65's while Williams shot 68 at Paradise Canyon Golf Club, to tie on 23-under 261. Williams was eliminated on the first play-off hole and Crouch won with a birdie on the second play-off hole.

• Korea's Minchel Choi won the Asian Tour's Kolon Korea Open Golf Championship at the Woo Jeong Hills Country Club. His birdie at the last gave him a two-shot win over Sanghyun Park on 12-under 272. Keith Horne tied for 19th on 1-under and Scott Vincent tied for 28th on 1-over.

• Slade Pickering won his maiden title on the IGT Challenge Tour at Kyalami Country Club. He shot an 8-under 64 in the final round which gave him a convincing 5-shot win on 14-under 202. Keegan Mclachlan shot a 69 to finish alone in second on 202 and Peetie van der Merwe finished a further stroke back.

• Make sure you book your tickets for the 2018 Nedbank Golf Challenge hosted by Gary Player. Rory McIlroy has confirmed he will be playing and so will Sergio Garcia. The penultimate event on the Race to Dubai will be played from 8th to 11th November.

• Who's up this week? (Please note that this is the entry list as at Monday & is subject to change)
• PGA TOUR – Quicken Loans National – Rory Sabbatini; Tyrone van Aswegen
• EUROPEAN TOUR – HNA Open de France –Dylan Frittelli; Trevor Immelman; Dean Burmester; Haydn Porteous; Darren Fichardt; Brandon Stone; George Coetzee; Richard Sterne; Thomas Aiken; Zander Lombard; Erik van Rooyen; Jacques Kruyswijk; Christiaan Bezuidenhout; Justin Walters
• LPGA - KPMG Women's PGA Championship – Ashleigh Buhai; Lee-Anne Pace; Paula Reto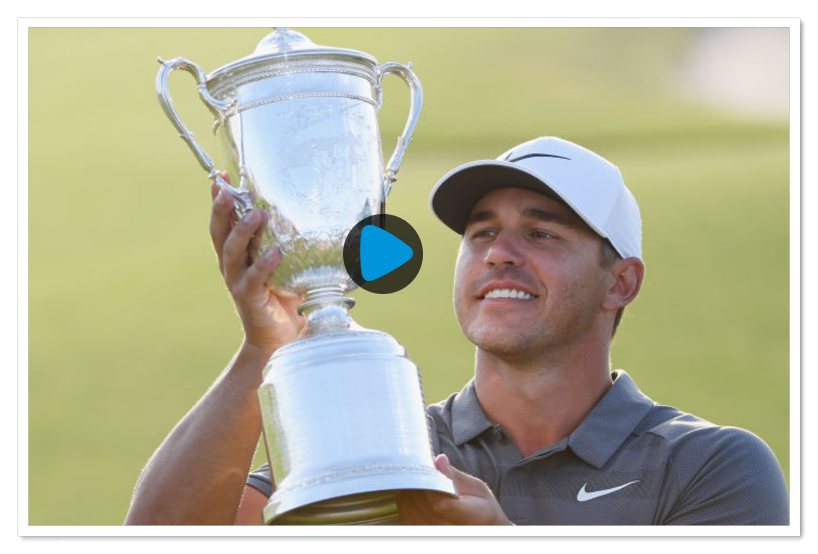 A massive thank you to Johan Slabbert for the fantastic additions his letters have been in our newsletters.
Click here for his final one!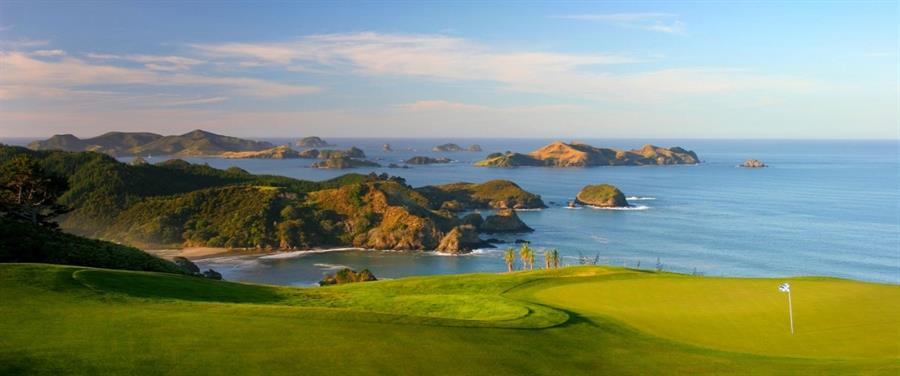 Tips to launch it higher
Most amateurs hit the ball with a downward strike too low on the face, creating high spin and low launch—the worst combination for distance. You'll immediately get longer if you hit it in the sweet spot, which is a little above the center of the face. To do that, focus on how your driver approaches the ball. By the time your hands swing down next to your legs (above), it should feel like the driver is about to brush the grass behind the ball. This gets the club moving upward before impact—an instant power booster.
Turn the right amount

You need a good downswing sequence to transfer energy from your body and arms into the clubhead, but a big, out-of-control backswing (below) ruins the ability to do that—so your backswing matters. Turn with your shoulders only as far as you can go without straining. You should feel pressure in the instep of your back foot, but not on the outside of it. Meanwhile, your foot closest to the target will feel light on the ground. From here, a good downswing starts by pushing hard into the ground with that front foot, like stepping on the accelerator pedal of a dragster.
| | | |
| --- | --- | --- |
| | | |
Freewheel it
One of the misconceptions about power is that you get it by keeping your wrists hinged so the clubhead lags behind your hands through impact (below). That's no way to generate speed. It also makes it really hard to deliver the face square and with enough loft for that high launch. Instead, let your wrists unhinge and freewheel the clubhead through impact.

It should be passing your hands as it strikes the ball. Try this drill: Mimic a backswing with your right arm only. Swing down from the top pretending like you were going to slap the ball into the fairway with the palm of that hand. You wouldn't hit the ball with the heel of your palm. You would let your wrist unhinge abruptly, giving the ball a good smack. Put that feeling of wrist release into your downswing when you hit drives, and 10 more yards—or more—will suddenly appear. — with Matthew Rudy

Shaun Webb, a Golf Digest Best Young Teacher, directs the David Toms 265 Golf Academy in Shreveport, La.


Click here for more instruction from Shaun Webb.


Dam levels rising, but too early to let up on water savings





18 June 2018




Published by: City of Cape Town, Media Office



As at today, Monday 18 June 2018, Cape Town's collective water usage over the past week was 520 million litres of water per day. Dam levels have again increased solidly by 6,3% to a total of 38,1% of storage capacity. This increase is the biggest single weekly increase this year. Read more below:

The good rainfall we have received over the past four weeks has increased our dams' storage to the same levels they were at towards the end of winter of 2017. While this is good news, it is too soon to know what supply level is needed in order to safely navigate the summer of 2019. It is therefore critical that we continue to keep our consumption low.

The City of Cape Town urges all of its residents to keep on saving even if it is raining. The National Government's restrictions on abstractions from the dams remains in effect.
'The innovation on water-saving consumption that we've seen from residents, businesses and this local government has been quite phenomenal. We ask them to keep up with this effort until the dams reach assured levels of supply.

'The City's advanced pressure management roll-out continues to have a positive effect on water usage and is now saving on average 70 million litres a day.

'We will continue rolling out our advanced pressure management programme across the metro to ensure that consumption remains in the lowest ranges possible. An assessment of our overall water situation will be done at the end of the winter rainfall season to determine whether restrictions can be adjusted. At this stage, the new normal of enhanced water conservation remains business-as-usual, as we cannot predict what the rest of the winter season will bring,' said the City's Deputy Executive Mayor, Alderman Ian Neilson.



Please visit

www.capetown.gov.za/thinkwater for all water-related information and follow https://twitter.com/CityofCTAlerts for pressure management-related information specifically.

Please always check with your neighbours whether they too are experiencing low water pressure or intermittent supply disruptions as this would in all likelihood be pressure-related. If the problem persists for an unreasonable period of time, please send an email to water@capetown.gov.za or call 0860 103 089, WhatsApp 063 407 3699 or SMS 31373 (max of 160 characters).
Please always insist on a reference number when logging a service request and keep this number on hand to expedite requests

Durbanville Golf Club, partnered with Pure Motion Golf Academy, has by far one of the strongest and most healthy Junior contingents in the Western Cape, indeed if not the strongest and healthiest.

Close to 100 Junior golfers, aged between 4 and 18 years, come through the gates of our club on a weekly basis. Each one comes with their own goals and expectations.

Some arrive to work hard at their game as they strive to reach the professional ranks, whilst others come to have fun, learn the art of the game and spend time with friends.

Whichever aspiration they may have, they bring light and energy to our club environment.

There is never a tournament result sheet sent from WP Golf Union that does not have at least 8 Durbanville Juniors participating and with at least one of our players in the top 10 in all categories.

Over the years I have seen young golfers, highly frustrated, dealing with crazy emotions, throwing clubs and flaring tempers, going through dips of disappointments and wanting to give up. However, learning to deal with their failures, they have developed into calm, mature and respectful young adults.

I believe that golf offers a platform to develop solid life skills which teach our children honesty, integrity, perseverance, discipline, patience, loyalty, consideration and how to deal with life when the going gets tough.

We have seen phenomenal achievements by so many of our Juniors over the past year. Those dedicated to taking their game further have produced the results and others are improving weekly.

Ian Botha, Lourens Loubser, Ayden Senger, Louis Loubser, Travis Procter, Heinrich Haasbroek, Jordan Rothman, Jordan Pillay, Jemma Louw, Thomas Bezuidenhout, Connor de Groote, Joshua Smedema, Tyron Snyders, Sean Cronje, Noah Musikanth, Joshua Wiese, Janco Fivaz, Alex Wallace, Liam Marias, Joss Viljoen, De Wet Viljoen, Juan Putter, Kennard Ward and Eben Fivaz have either represented WP over the past year in their respective categories, won tournaments or had remarkable top 5 results in the PAT and Junior Open tournaments. Two of them, Ayden Senger and Jordan Rothman, have represented South Africa on the international Junior Stage with success.

All of the above represent their school golf teams, with the Fairmont High School Team of Ian Botha, Travis Procter and Joshua Wiese winning the National qualifier.

Several of our younger golfers, Zimkhita Ndube, Kirsten Byren, Noah Musikanth, Caitlyn van Ballegooyen and Adriaan Bisschoff, have been participating in the SA Kids tournaments with top results. These tournaments are brilliant as the course is set up appropriately for each age category making scoring more achievable for the player, thus growing positive golfers.

I would also like to honour those juniors who are not striving toward top level golf, but rather play for enjoyment. They are just as valued as the others and we are honoured to have them as part of the Durbanville GC community.

I believe fully that the input and encouragement of our club management, older members and young adult members who welcome the juniors, include them in their fourballs and in the league teams, who take time to talk to them and encourage them, play putting competitions with them and practise alongside them, adds to their success and enjoyment.


There is no doubt that Juniors are key to growing our club. We are extremely grateful that Durbanville has opened their hearts and welcomed the youth to join the community. This has been instrumental in the obvious development and achievements of our young golfers.

It has been a pleasure and honour to be a part of their journey throughout my 8 years at Durbanville GC. I also thank my team of coaches, Paul, Matthew and Johan for their commitment and passion shown to every junior student they work with and care for.



Contact us

to book a lesson.




We wish a very Happy Birthday to all those members who celebrated their birthday this month. They are:


| | | |
| --- | --- | --- |
| | | Albert Coetzee, Vernon Jones, James Cox, Peter Muirhead, Rosa-Linda Wessels, Kate Bester, Jan Horn, Susara Cawood, Noah Musikanth, Elizabeth Rothman, Rudie van Lill, Kenneth Bougard, David van Rensburg, Mario Vermeulen, Eberhard Kruger, Tom Ohlms, Johan Burger, Michal Calitz, Urs Gloor, Martin Henning, William Johnstone, Chris Moller, Marius Reitz, Duncan Murphy, Brandin Walter, Jan Weber, Pierre Craye, Christoffel Greeff, Jacques Louw, Koos Janse van Rensburg, Brian Murphy, Darren Nagel, Stephan van der Walt, Tom Hollenberg, Ewan Bouwer, Erietha Nel, Gareth Cornish, Margaret De Wet, Crystal Farmer, Carel Lloyd, Chris Wicks, Antonio De Abreu, Jann Penfold, Denver Williams, Michael Da Silver, De Wet Viljoen, Ruan Meiring, A E Smith, Jean-Paul Strydom, Mbulelo Mbali, Johaan van Eeden, Yolande van Rensburg, Michael Bruyns, Louis Genis, Seong-Kook Kang, |
Wayne Klaver, Christian Steenkamp, Stephan Asanger, Eric Brand, Diana Henkel, Durand Le Sueur, Juan Engelbrecht, Justin James, Mike Bradford, Anton De Kinderen, Cynthia Leach, Annelies Slabbert, Tyran Snyders, Derek van Zyl, Yvonne Carr, Clive Gallienne, Jimmy Mills, Martin Stander, Maurice Stockdale, Pasha Swanepoel, GunnarVisser, Howard Boyd, Paul Edgar, Graham Fraser, Anton Kapp, Johannes van Dyk, Elize Hoefling, Val Killian, Deon Truter, Tony Correia, Andre de Koker, Charter Kidzugane, Janice Mills, Ferdinand Nel, Guillaume Nell, Jaco van Tubbergh, Charlene Willemse, Paul Hart-Davies, and Deon Poolman.

We hope you had a wonderful day!

Albert Coetzee, Ryan Albert, Herman Daniel Kruger, Ryan Eugene Dunne, Christo De Swart, Mark Butlion, Hennie Lombard and Brent Nieuwoudt.

We look forward to seeing you on the course!

| | | | |
| --- | --- | --- | --- |
| @DurbanvilleGolf | @DurbanvilleGolf | @DurbanvilleGolfClub | Durbanville Golf Club |

Uniforms proudly sponsored by PAPERBOSS!




Greenville Property For Sale:

Caddy Uniforms proudly sponsored by Spiro's Mica Durbanville


Mark of respect


Two golfers are ready to play on the 11th tee as a funeral cortege passes by. The first player stops, doffs his cap, and bows his head as the cortege passes.
"That was a really nice thing to do," the second golfer says. "It's good to see there is still some respect in the world."
"Well, it's only right," the first golfer replies. "I was married to her for 35 years."



World's worst


A golfer was having a terrible round – 20-over par for the front nine with scores of balls lost in water or rough. When his caddie then coughed as he steadied himself over a 12-inch putt on the 10th, he lost it.
"You've got to be the worst caddie in the world!" he yelled.
"I doubt it," replied the caddie, dead-pan. "That would be too much of a coincidence."
A word of advice




If you drink, don't drive. And don't even putt.





Drowning your sorrows


After a particularly poor round, a golfer spotted a lake as he walked despondently up the 18th.
He looked at his caddie and said, "I've played so badly all day, I think I'm going to drown myself in that lake."
The caddie, quick as a flash, replied, "I'm not sure you could keep your head down that long."



The fisherman


What is the difference between a golfer and a fisherman?
When a golfer lies, he doesn't have to bring anything home to prove it.