Tuesday, October 22, 2019

Book a Lesson

|

Club Website

|

www.readingproshop.co.za

| Tel: 011 907 8906
Whisky Draw


Barrel of Fortune

Bowls Draws

12th January 2019





Val Jarvis






Barrel No. 441




P B Coertzen





Not in the Bar





This week : R1750.00





Be in the Bar to Claim your Prize

50/50 No results shown







Dear Members,

We had wonderful rain over the last couple of weeks which turned the golf course into the jewel it is. Unfortunately, with the rain came some serious winds which caused a few trees to fall over but luckily Sean and his crew cleared them quickly. This also highlights the need for the tree planting project which Jan and his Golf Committee are addressing currently.

The new ceilings have also been completed in the bar as well as the golf passage and it really makes a difference to the look and feel of the Clubhouse. A big thank you to the Ladies Golfing Section of the Club for sponsoring this project. A much bigger thank you must go to Ricki Ferreira, who provided all the materials for the project at a seriously good price to the Club. If you need any partitioning, dry walling or ceilings to be done, speak to Ricki as they import the material and I am sure he will give you a deal of note (If you need his contact information, please call me).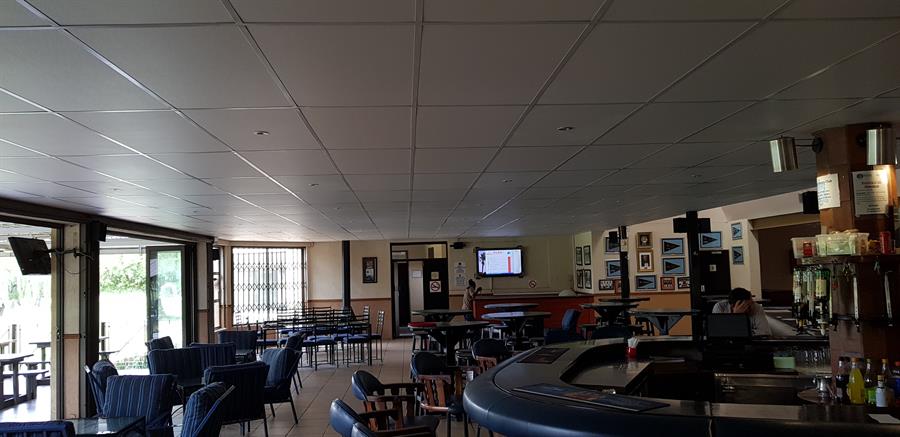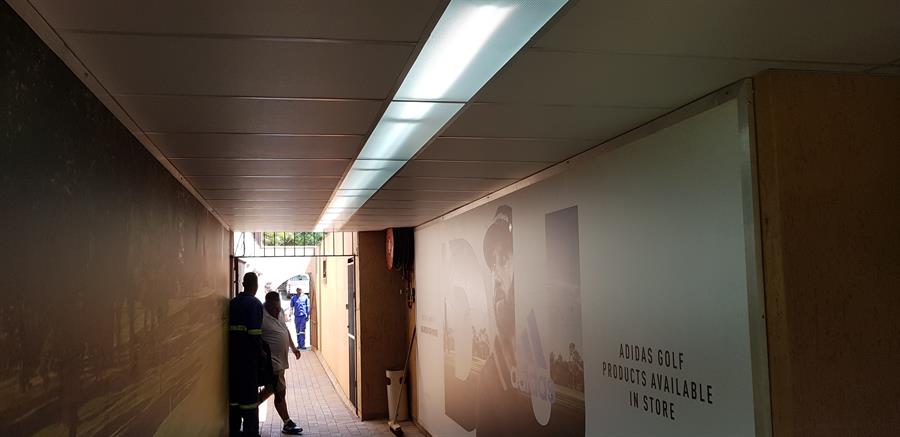 Very soon you will also see some glass table tops for the tables on the patio and this is kindly sponsored by Audi. They will also get involved with other sponsorship initiatives at the Club.

We also managed to get Golf Reef City on board with the Club and they have committed to spending a lot of money at the Club going forward as they want us to be their preferred golfing partner. They have already committed to print our scorecards for 2019, sponsoring new flags on the golf course, putting green and chipping green. In addition, they will sponsor a monthly competition which will be held on the last Wednesday of every month to the tune of R5 000 per month. My next challenge is to get them to do something significant for the bowlers!

This

Friday, 25th January

, is the Joker Jackpot Draw at 7pm. The jackpot is currently standing on R7 462, and with your support, we can hit the R10 000 mark on Friday evening. To those new members, you have to be at the draw which takes place at 7pm and you can buy numbers at R10 each or 11 numbers for R100.

This all from me for now but have a great golfing and bowling weekend !

Regards


The hollow-tining was done this week and the course closed from Monday to Thursday morning.
Friday was our "Desert Classic" IPS Nine-Hole Meat competition. On a count-out it was

Chris v Aardt

who finished in first place with 18pts, closely followed by Mike Wentzel in second place. Third place on 17pts, went to the young Tyler Phillips.
With the famous Pork Chop Draw it was

Rob v Rijssen

who picked the lonesome Pork Chop to get another entry into the main draw.
Jeremy Lumley
won the steaks and the leg of lamb went to Rob v Rijjssen once again! Well done guys!
Saturday morning was a

Combined Stableford

competition. It was

Gert Myburgh Jnr

and

Gert Myburgh Snr

who combined well to finish in first place with 79pts. Second place went to Shelley Daymond and Mariaan Vermeulen on a steady 65pts. No Jackpot winners for the morning field, holes: 7/ 8/ 17/ 18.
In the afternoon's Combined Stableford it was the experienced

Hennie Breed

and

Jan vd Merwe

who finished in first place with 68pts. Second place went to Tony Ribeiro and Frank Booth on a steady 65pts, followed by Russel Weanie and Chris Smith in third place with 62pts. No Jackpot winners for the morning field, holes: 7/ 8/ 17/ 18.

Sunday morning was an Individual Stableford competition. It was visitor, Ian Smith, who pulled ahead of the field, finishing in first place with 35pts. Not so far behind in second place was Paulus Pienaar on 35pts, and winning a count-out to finish third on 32pts was John Banks. No Jackpot winners for the morning field, holes: 2/9/16/18
What's on?
All quiet this coming week - things will get going again in February.
Seniors Comp Dates: 07:30 am
Tuesday - 29th of January 2019
Thursday - 31st of January 2019
Donovan Main
Golf Director

(011) 907- 3666

(Pro Shop)

Please note that League Teams will be announced straight after the first Golf Committee Meeting.

This coming weekend is Month-End Alliance. Good luck to all the players. We are looking forward to this year's competition.
The different Knock-Out Competitions are also up in the pub - please ensure your early entry.
Mixed Doubles is starting on Sunday. Please contact our Lady Captain if you are interested to participate.




Leave your Legacy



Close to 50 trees have been earmarked for removal within our beloved Reading Country Club. These trees are either dead or dying and may pose a potential danger if they are not removed.


In order to keep the balance on our lovely course, we will be giving you, the member, an opportunity to make your mark to leave a lasting legacy.

To see
an indication of the hole numbers with the trees we are intending to plant,

click here

. Here is a map of the 18 holes indicating with the red crosses where the trees will be planted.

Click here

.

Buy a tree sapling in your name, family's name or in remembrance of someone, and have it planted and specially tagged to show you have firmly established your roots in Reading for decades if not centuries to come.

Let's all try support this initiative so we can say, "I left a lasting Legacy on the course I love.... Reading."

Please contact Gavin Jackson

081 784 5694

for further information.



Please Note:

We will have trees on show soon and their prices - please watch out for more news in this regard.



Enjoy the golf
Jan Kruger

Club Captain

082 859 0774

Reading Trophy - 16 Feb - Be My Valentine.
Please remember to book for Reading Trophy -

16 February

. The format is Betterball, price is R270 per person, which includes lunch. This is an Open Competition, so all are welcome to join. List is up in the locker room.



Melody means business this year

Challenge Trophy – 19 Jan – IPS





1st -

M. Munton – 34


2nd -

S. Daymond - 34


3rd -

M. Vermeulen - 31
Knock-Out entries 2019
Please be sure to enter for Knock-Outs this year, entries close first week in February. The draw will be done 2nd week in February under the watchful eye of a few Committee Members. Price is R50 per player.

Mixed Open – 27 January
Please make sure you book for our first Mixed Open of the year at the Pro Shop on 011 907-3666. Our Mixed Opens have grown in popularity so book your 4-ball early. Any lady/ man combination is allowed & all visitors are welcome.
Club Champs – save the date
Please save the date for Club Champs weekend: 2-3 March. More details to follow.
Ladies Tee Boxes project
With the growing season well underway, we will be continuing with the Lady Tee Box project. Please be patient with the temporary tee boxes, it will be well worth it in the end. This will be an on-going project to get all the ladies tee boxes levelled & enlarged. Thanks for your understanding.
Trick Shot Corner

Ella & Mariaan having some tree trouble.

Please be careful of falling trees



Happy birthday to the January babies





Maggie Thomas

– 2 January


Melody Munton

– 4 January


Beverley Kroutz

– 18 January


Mariaan Vermeulen

– 24 January


Yvonne Cosgrove

– 27 January







Tuesday, 15th January 2018



No Senior Golf

Friday, 18th January 2018

Betterball Stableford was won by

Chris Spangenberg

and

W. Jacobs

with 45 points. In second place were Hike Hartman and Andre Crouse with 43 points, followed by Ben Botha and Johan Boshoff with 41 points. There was only one

2 Club

and Terry Munton and Ray Taylor were

Nearest The Pins

on the 5th and 15th holes respectively. Three players: Colin Tucker, Norman Glenister, and Jimmy Wood shared the best gross with 83's whilst Andre Crouse recorded the best net of 67.


Yours in golf,
Dave Ford.


We are really looking forward to an exciting

2019 Junior Golfing Calendar

! There has never been a better time to be in Junior Golf with lots of tournaments, leagues and Junior Comps for the Juniors to choose from:
• Firstly, we will be hosting Monthly Junior Golf Competitions. This is a great opportunity for our Juniors to play and compete together and to get some competitive golf under the belt.
Please book at the Pro Shop

011 907 3666

.
We will communicate the Sunday Tournament Schedule next week.

• Secondly, the Regional Ekurhuleni Junior Golf Tournaments are a great opportunity for our Juniors to develop their tournament skills and experience playing on all the different courses in Ekurhuleni!
The top players in these tournaments at the end of the year receive their Regional Ekurhuleni colours and get to compete in the Interprovincial Tournament.
They have to play at least 8 tournaments in the year to qualify and there are teams selected for u/13, u/15, u/17, u/18.
Contact Marlene Haig directly at

073 168 2029

/

jungolf@egu.co.za

. She is the Junior Golf Co-Ordinator at EGU.

Next tournament: 10th February 2019 – Reading C.C.

• The EGU Junior League will be happening in the 2nd part of the year. We will give more information closer to the time.
Junior Order of Merit
Our Junior Order of Merit can be seen on our Junior Notice Board at the Club. The Order of Merit gives our Juniors a chance to see where you currently rank at the Club and aims to motivate them to improve their game and their ranking.
Their average is calculated by taking their 6 best official scores in the last 6 months. We will also use the Order of Merit to assist us in choosing our Junior Teams to compete in the Junior League and Tournaments.

To all our Juniors and parents, we are here to help in any way we possibly can.
Feel free to come chat to us as we love to see our Junior golfers shine and enjoy playing this amazing game!
See you on the course!

Phillip –

083 468 0222


Rendum –
0722260046

Confirmed league results for the ladies are also good with our Premier side lying second to leaders, Kleinfontein. We are on equal points with them, but their shot aggregate is better than ours. Division 1 B are also lying in second place. Well done, ladies and gents. Let's hope that this Saturday brings more good news.

The Reading lady bowlers never need much of an excuse to have some fun. This past Tuesday saw birthday celebrations for our three "Crappycorns". To Joan Kissane, Wendy Fahrenhorst and Miranda Bertacco many happy returns of the day for the 17th and 18th. We love celebrating with you and hope to be doing it for many years to come.

Our competition convenors are forging ahead, so check that notice board for club comps.

See you in the sun,


Sandra

Wednesday, 16th January 2019

Course Closed
Friday. 18th January 2019
Meat Competition
1st
- Chris van Aardt 18 pts


2nd

- Mike Wentzel 18 pts


3rd

- Tyler Phillips 17 pts
Saturday, 19th January 2019
Combined Stableford
AM
1st
- Gert Myburgh (Snr) / Gert Myburgh (Jnr) 79 pts


2nd

- Shelley Daymond / Mariaan Vermeulen 65 pts
Saturday, 19th January 2019
Combined Stableford
`
PM
1st -
Hennie Breed / Jan van der Merwe 68 pts


2nd -

Tony Ribeiro / Frank Booth 65 pts


3rd -

Russel Weanie / Chris Smith 62 pts

Sunday, 20th January 2019
Individual Stableford
1st -
Ian Smith 35 pts


2nd -

Paulus Pienaar 34 pts


3rd -

John Banks 32 pts
Revealing the lie
Manufacturers try and solve problems

Most golfers lose the ball to the right. So, some manufacturers make, especially their game improvement irons, with more and more upright lies. They're trying to find a solution to what MIGHT be a problem you have.

Research shows that for some golfers who lose the ball right, a more upright lie does change average ball flight.
It does however show that for some it has entirely different results.

Each of you is different.


Your spine tilt; knee flex; and how low or high
you prefer the handle, will not only affect lie angle;

but potentially also shaft length.
And then there's your in-swing movement.
An inside path and outside path will probably
create different lie angle needs.
But the only way to tell is an assessment

That's why we want you to start your journey to a better golf experience with a proper assessment.
Is your lie angle correct? Are your clubs making it harder to hit good shots?
Why not find out?
Book an assessment >
The best for you
Don't settle for what you have

There's a famous saying from Dr. Bob Rotella: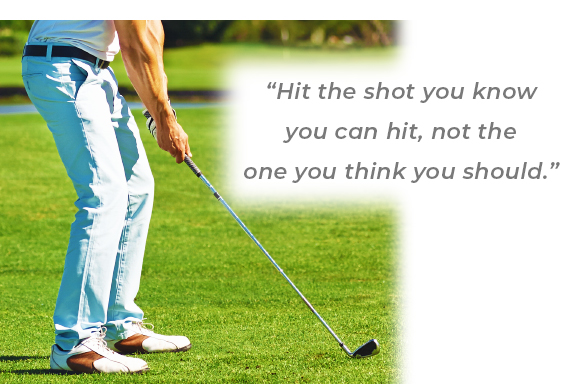 Great advice for when you're on the golf course in competition.
But for most golfers, the implication of that is "most longer clubs stay in the bag forever".
Most golfers struggle with consistency when using fairway woods, hybrids, longer irons,
and sometimes even mid-irons, so how do you apply this advice?
Do most of these clubs remain unused in the bag forever?

We have some sports psychology for you: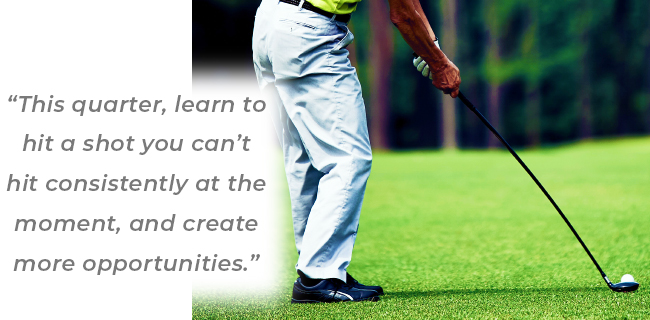 Get a better experience
By increasing the length of club that you can hit consistently from the fairway, you change your golf game.
Escape from difficult positions becomes easier. Setting up opportunity becomes easier.
Both of those lead to a better playing experience.

Contact us >

This mail was sent to {{contact.contact_email}} by General Manager Marinus Weiss and is provided as a service for the members and guests of Reading Country Club and the customers of the Reading Country Club Pro Shop and has been supported and sponsored by advertisers in this mail and my partner suppliers:


RetailTribe: Unit 8, Blaauwklip 1 | Blaauwklip Office Park | R44 | Stellenbosch | South Africa | +27 (0)21 880 2693