Kickstart your weekend on a high note
Leave the office a little bit earlier this Friday and join us for a round of golf!

R205

gets you 9 holes of golf, snacks and prizes. We'll also have some specials in the bar afterwards between

18:00 and 20:00.



Golf on the go!
New! 9-hole membership

For players on the go!



•

9-hole membership fee does not include SAGA affiliation and handicap fees.


•

9-hole membership does allow an official handicap.
• 9-hole membership does not allow entry to any 18-hole competitions (including Club Champs).


•

Debit orders are allowed.


•

All membership fees can be pro-rata (where applicable).


•

There will be a 9-hole Club Championship Event.


•

9-hole members can play 18 holes (except on a Saturday or on a Thursday afternoon which is reserved for 18-hole member competitions).


•

9-hole members will have to pay for the first 9-holes at members rate, and the second 9-holes at an affiliated guest rate.


•

There will be an order of merit for 9-hole members. This will be based on their aggregated 9-hole Stableford scores over a 6-month period.


Our ladies made us proud!

Congratulations to the Metropolitan Ladies Bronze League Team for winning their league match against Durbanville 2 – 1 on Tuesday @ Westlake! The league team consisted of

Michelle Hutcheson, Heather Stewart, Debbie Gibb, Lexi Swanepoel, Jill Rabie

, and
Sue Moubray.
Who's been winning at the club?
Monday - Monday School
4-Ball Alliance – 2 x scores to count
Craig Smith, Andrew Drysdale, Roelof de Villiers, and Adrian Vorster 85pts
Tuesday Ladies Day - No competition
Wednesday - Members Competition
Individual Stableford
Charles Copping 37pts
Thursday - Members Competition
Betterball Medal
Nico de Lange and Cacho Cabral 58
Saturday (AM) - Members Competition
4-Ball Alliance – 2 x scores to count


Dave Jacobs, Rian van der Merwe, Hein van der Merwe, and Dave Heron 90pts
Saturday (PM) - Members Competition
4-Ball Alliance – 2 x scores to count

Bill Cornish, Terry Carmichael, Kathy Blumberg, and Mickey Forge 89pts
Simplify your short game
Reap the rewards of great wedge play
Over the past three weeks, we have discussed the importance of great distance control in your wedge game and how it can help you lower your scores, improve your skills and get more from your golf.
Create a wedge chart.
There are many advantages:
- Greater distance control
- Improved accuracy
- Better shot execution under pressure
- Added confidence from a variety of distances
- Less technical swing thoughts
- Better game management.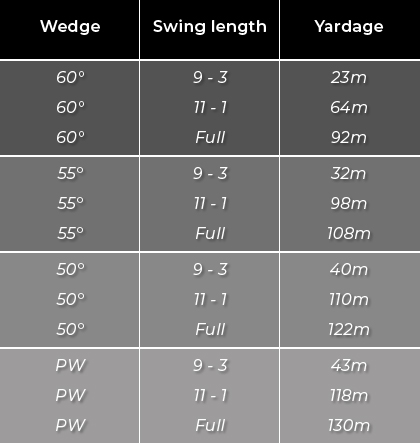 Armed with your wedge chart and your favourite distance with your favourite wedge, you'll know where to lay-up if you can't get to the green with your approach. That's better game management. Every golfer, whatever their handicap, should have a wedge chart.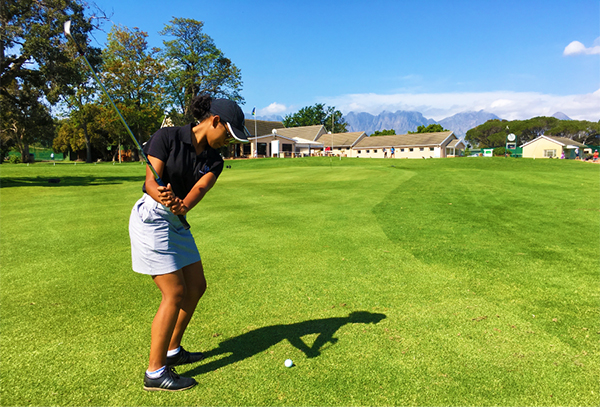 Fill your wedge chart
To gauge a distance for each of your swings for each wedge can be difficult without assistance. So why not book a session with us. Let's complete your wedge chart and at the same time, we can look over your three swings. Maybe there are other improvements.
Book a session >
Better ball striking
You know you want it.
Too many golfers make poor contact with the ball with their irons because the low point of their swing is BEFORE the ball, resulting in fat or thin contact.

In the search for solid, quality ball striking you want to make contact with the ball, and then the turf. That requires a slightly descending blow or angle of attack.

What if I told you that one of the simple ways to improve your angle of attack on the ball, and therefore your ball striking is...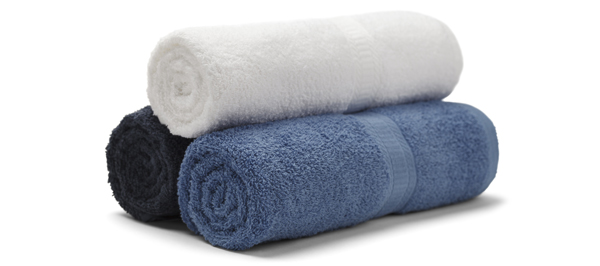 Yes, a towel!
Learn more >
| | |
| --- | --- |
| | You know your position at address and impact is different. The setup is exactly that. It's the correct setup to allow you to make a great swing, returning to what is sometimes referred to as the "stacked" position at impact. How do you look at impact? |
Improvement makes the game more fun
Whatever your level, a small improvement in ball striking quality, makes a BIG change in how much fun you have out on the golf course. It's time for better.

Contact us >


This mail was sent to {{contact.contact_email}} by Brad Forge and is provided as a service for the members and guests of Metropolitan Golf Club and the customers of the Metropolitan Golf Club Pro Shop and has been supported and sponsored by advertisers in this mail and my partner suppliers:

To ensure delivery, please add metropolitanproshop@greensidegolfer.retailtribenews.com to your contacts.

RetailTribe: Unit 8, Blaauwklip 1 | Blaauwklip Office Park | R44 | Stellenbosch | South Africa | +27 (0)21 880 2693