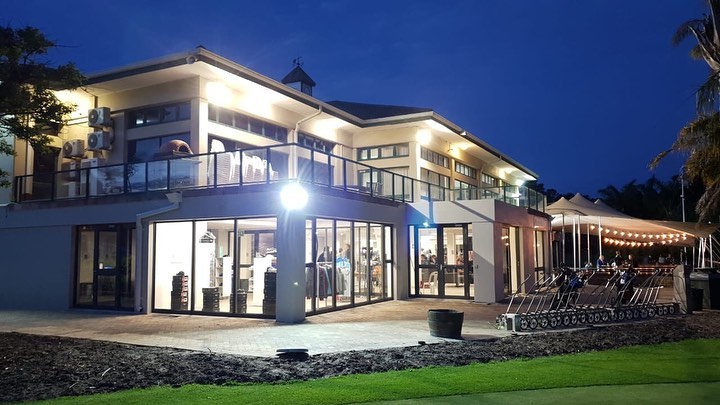 "It's not what your Club can do for you, but what can you do for your Club"
- John Hamilton
Jack of all trades
What services can you offer that could benefit the memebrship, the club and the community?
Dear members,

Please note that the Sunday Times last delivery will on the

08th of December 2019

and to restart on the

12th of January 2020

. The Sunday Times do not deliver during school holidays and we will ensure we have them from the 12th of January again.

We apologize for the inconvenience and we thank you for your understanding.

Yours in golf,
DGC Team and Pam Golding
Ladies' Society News
WP League Results November 2019
Congratulations to:
Bronze 1 for reaching the Finals:


[Road to the Finals]


Quarter Finals -

Beat Westlake 2 at King David Mowbray


Semi Finals –

Beat Somerset West at Clovelly


Finals – Runner-ups against Royal Cape at Rondebosch

Thank you to all for the good wishes and fantastic support. We had a great game but it was our opponents who played better on the day.
Well done to Royal Cape Ladies!

Nostalgic SA Women's Mid-Amateur

held at Selborne Golf Club 14 November 2019.

Congratulations to

Rosalinda Wessels

for coming in the top 10 in the C Division.

Well done!
PPK Rose Day Mixed
Thank you to all the members and visitors who played in the 2019 Rose Day. We hope you all had a wonderful day! Thank you to all our amazing sponsors: KWV, Bombay Gin, Persian Emporium, Ludwig's Roses, Whitestar Cruise & Travel, Realtors International, Haute Cabriere, Atlantic Fertilizers, Travel4Fun. Last but not least thank you to the Durbanvillle staff for all their assistance in make this day so special.



Congratulations to the winners:


1st – Paul & Mary-Ann Abbott [Visitors]
2nd – Sean Verdon & Kathy Clark – Winners of the Rose Day Trophy [awarded to DBV Winners]
3rd – Will Mostert & Maretha Coetzee
4th – Regardt van Rensburg & Yvette Negrine
5th – Jimmy Kilfoil & Heather Robertson
6th – Andre 7 Meg Neethling
7th – Dave & Marge Hierons
8th – Shawn & Samantha van Niekers
9th – Keith & Michelle Petty
10th – Marius & Estelle Smal



Ladies nearest the pins:


4th – Calet Villet
7th – Marius Smal
12th – Yvette Negrene
17th – Will Mostert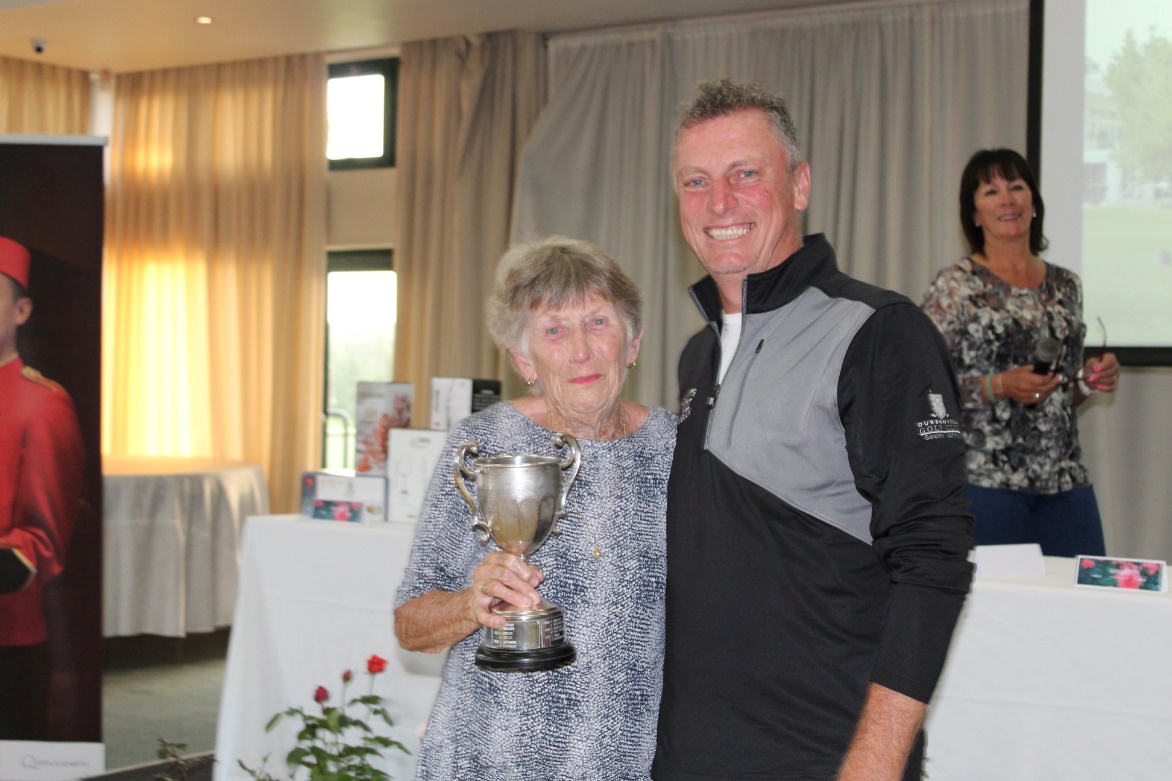 Sean Verdon & Kathy Clark – Winners of the Rose Day Trophy
Our monthly mixed was generously sponsored by Whitestar Cruise & Travel, they are the proud representatives of the Cunard Cruises. A lovely lunch on board the Queen Elizabeth was won by Mr & Mrs Abbott from Belville Golf Club. If you are interested in a Cruise holiday in 2020 please visit

www.whitestar.co.za

or contact our local member Leigh Mitchell at
leigh@travel4fun.co.za
Mike & Tracey Glasby

were winners of the 2019 Mixed Knockout

Well done to all the winners and we hope you all enjoyed your time with us!

We hope to see you all again next month for the KWV Mixed Open on 8 December 2019.
Upcoming Events for January/ February/ March 2020:
Until next time,
Yours in Golf,
Cheryl Murphy
DGC's Lady Society Captain
Seniors' Society


The Winelands Seniors League season has finally ended with Bellville succeeding Durbanville as champions. They were deserving winners having an unblemished record of nine wins from nine, four points clear of second placed Kuilsriver. In this final round, Durbanville used their home advantage to beat Kuilsriver comfortably 3 1/2 - 1 1/2. There were again excellent wins for Suat Palanduz and TJ Lee, along with Deon Minnaar and Neil Rix and Mike Rolfe and Gordon Simmons. Bob Rees and Bert Vos halved their match whilst Pieter van Wyk and Peter Seward's loss didn't affect the result.

Durbanville only lost one more match than last year when winning the League, but two halved matches earlier in the season meant they had too much ground to make up.

Last month at Devonvale, Durbanville beat Parow 3-2 with wins for Suat/TJ, Deon/Neil and Pieter van Wyk and Jan Horn. Congratulations to Suat and TJ who went through the entire season winning every match and who are unbeaten together since they first paired up some 18 months ago.

Thanks are due to all 15 players who represented the club throughout the season. We hope more will put their names forward to be considered for selection in 2020 with the first match at Somerset West on 28 January 2020.

Yours in golf,



Bob Rees



On Behalf of DGC's Senior Society
Juniors' News and Golf RSA News
Supported by Pure Motion Golf Academy
Men

Premier Amateur Tour - Final

Congrats to

Ayden Senger

for winning the overall Order of Merit for the Premier Amateur Tour for 2019. Well done on a great year and we look forward to a successful 2020.

Well done to

Adrian Ford

for winning the WP PAT Final yesterday at Durbanville. With a great score of 68!


Well done to all of our Durbanville players:
1st - Adrian Ford -4
2nd - Sean Cronje -2
T3 - Travis Procter Level Par
T3 - Ayden Senger Level Par
T12 - Sean Howell +3
23 - Joshua Wiese

Congrats to all of our Durbanville Players for a great year!

We can't wait to see how 2020 is going to go!


See the full results

here

.
Durbanville Open 2019

Huge Congratulations to Ayden Senger

for winning the 2019 Durbanville Open.
With great scores of 66, 70 to win by 1, over Ryk Van Schoor from Worcester Golf Club and Donovan Liddicoat from Strand Golf Club.

Well done to all of the Durbanville players for their great results!

1st - Ayden Senger - 8
T5 - Chris Wicks -3
T9 - Sean Cronje Level Par
T9 - Tyran Snyders Level Par
T13 - Travis Procter +3
T17 - Sean Howell +4
T21 - Christian Steenkamp +5
T26 - Joshua Wiese
T29 - Janco Maritz
T31 - Jean Gallienne
T40 - Louis Loubser Jnr
T42 - Warren Lake
T48 - Pieter Rademan
T53 - Nina Grey
T57 - Jacques Croome
T66 - Jordan Pillay
68 - Jemma Louw

Well done to all of the players for participating and representing Durbanville.

See the full results

here

.



Well played to all the players for a great month of results!



It's time to get golf fit and be golf ready for the New Year. Signup before 31 December and enjoy unlimited golf balls at our Driving Range PLUS a free lesson with one of our PGA accredited coaches to get your game back on track, the right way! It's a perfect way to get your family and friends into the game and by joining together you will enjoy a discounted rate to share the experience!



Click here

to sign up!


Contact us

to book a lesson.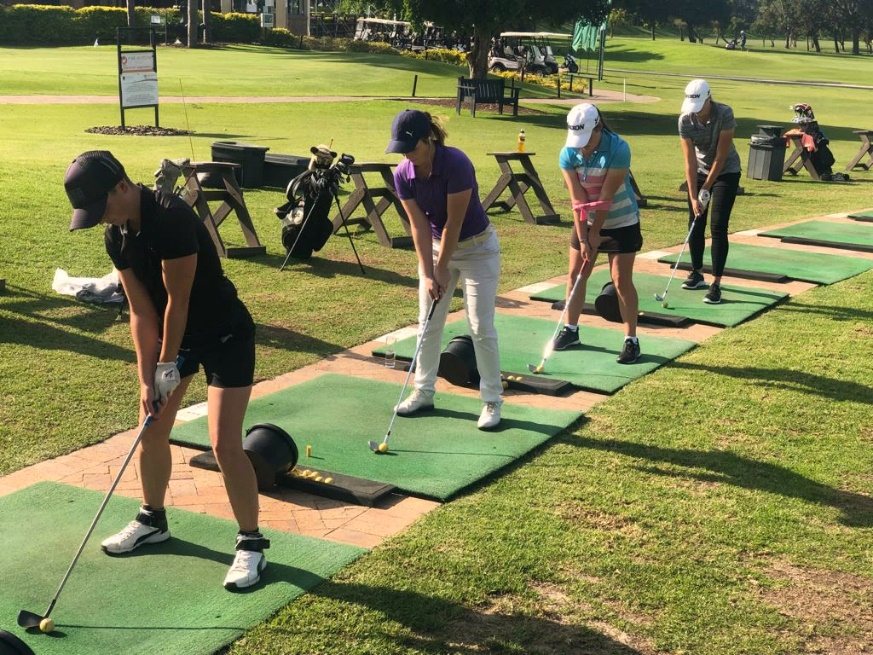 The Premier League season has come to a conclusion with DGC not delivering on their potential. The team unfortunately lost the last couple of games to Westlake and KD Mowbray to finish 5th on the log. The Club is looking for a better performance from our young stars in 2020! League season is now finished for the year with Mid Am and Senior leagues starting again in January.

Something else to look out for in January are the final changes for the World Handicapping System. This includes a Playing Condition Calculation that adjusts the course rating when adverse weather conditions or course set up affect the day's scores. Keep a look out for notices about these changes in the coming weeks.

Lastly, all members are encouraged to look out for the Turkey Day that will be played on the 14th Dec 2020. The competition has been enjoyed by the members in previous years and the committee would like to re-invigorate it for 2019. It should be good laugh and a bit of fun to end the year.

Enjoy the festive season and get some golf in where you can!


Yours in golf,


Mathew Herbert
DGC's Match & Handicap Committee Member
Member Competition News
We would like to congratulate all the winners of the Wednesday and Saturday Members Competitions. There has been some great golf played and we look forward to so many more competitions in the future.



Click here

for the November results.
Golf Rules 2019
With the changes to the Rules of Golf, the club has been required to update the Local Rules and the Conditions of Play. All members are urged to also familiarize themselves with the changes so that they can be taken into consideration for future rounds.

Click here

for the Conditions of Play and

click here

for the Local Rules.

It is now 2019 and there are no more days or excuses left for any of us to not know the new rules! Luckily, we have help from Helénè Marais who has so kindly supplied us with the information below!



Click here

to see the 20 must know rules of golf changes for 2019!


Click here

to see Golf Rules Explained.


Click here

to see the Oswald Academy Newsletter on Rules of Golf!
Other News
Member Competition Days

Durbanville Golf Club would like to make members and visitors aware that on Member Competition Days, Wednesday PM Field and Saturday AM & PM Field, anyone entering into the competition field has to take part in the competition. It is compulsory.

Any other day members and visitors are welcome to play social golf at our club.


Social Golf in New Zealand
Herewith my latest news from New Zealand.

Good golfing, and enjoy your weekend.

Please see the link below to read the

Letters from New Zealand

.

Cheers,

Johan
Birthdays

We wish a very happy birthday to all those members who celebrated their birthday this month. They are:

Helen Dai, Khanyisa Giyose, Richard Jones, Rian Kotze, Deirdre Poovan, Gessiona De Klerk, Raymond Gillyon, Charles Jooste, Francois Labuschachne, Hannes Swanepoel, Johan Boot, Filipe Das Neves, Zurina Moses, Norman Van Der Merwe, Ronelle Bester, Reece Brooks, Sean Howell, Derick Theron, Mark Fuller, Michael Glasby, Brett Hendricks, Kay Jochems, Brendon Bailes, Dean Barnard, Eric Engelbrecht, Tracey Glasby, Jaco-Chris Koorts, Kevin Sprately, Christo Wessels, Bianca Brown, Wilma Coerecuis, Hilton Houghton, Nathan Roos, Marquerite Schutte, Rikus Van Tubbergh, Gert Van Zyl, Hennie Wentzel, Jill Carolissen, Derrize Hoffman, Gian Koegelenberg, Ilse-Marie Krog, Kyle Van Der Boon, Roger William Warren, John Wrightson, Rosalind Faught, Felix Gnadinger, Ashton Harth, Donette Rabe, Jandre Steyn, Jeanetta Visagie, Chantelle Wallace, Rihan Botha, Jacoba Classens, Ebrahim Khan, Cindy Klassen, Jarrett Ludski, Jismene Burger, Juninho Classen, John Croucher, Margaret Croxford, Jim Garner, Jo Ludick, Kobus Otto, Nici Wynmaalen, Deon De Villiers, Lee-Anne Pienaar, Christelle De Jager, Riaan De Villiers, Lelani Joubert, Ian Slattery, Eghardt Swart, John Ekermans, Adi Fourie, Ian Jefferies, Lisa Niemand, Danel Rossouw, Joshua Wiese, Johannes Burger, Lorinda Niewoudt, Louwrens Van Schalkwyk, John Etchells, Jeanne Adonis, Belinda Badenhorst, Henry Nielsen, Cornel Stander, Willem Strydom, Riaan Ferreira, Petro Heckman, Mathew Herbert, Anelda Nieuwoudt, Lucinda Olsen, Juan Putter, Willie Rossouw, Alwyn Smit, Keegan Van Rensburg, Linda Coetzee, Marge Hierons, Logan Loughran-Mostert, Glanville Retief, Wikus Potgieter, Stephen Jibson, David Harfele, Dirkie Coetzee, Cayleigh Combrink, Graham Howell, Philip Noel, Chris Pollet, Paul Stubbs, Casper Uys, Annerie Basson, Nancy Grabham, Claire Phillips, Gerdus Carstens, Elna Coetzee, Sarita De Villiers, Michelle Kemp, Charles Lopion, Delton April, Christiaan Bellingan, Wayne De Kock, Florence Harding, Robert Krautkramer, Jill Pollock-Perks, Rikus De Beer, Jerome Francis, Craig Le Grange, Mornay Van Der Merwe, Neil Rix, Johanna Vermaak.

We hope you had a wonderful day!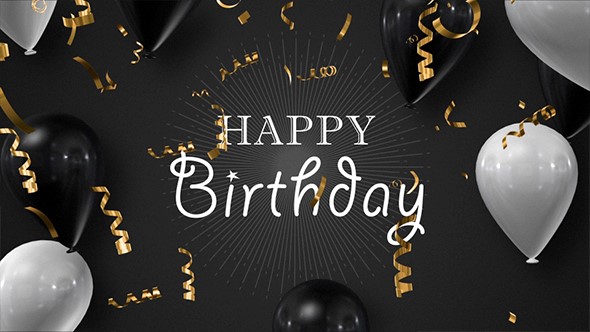 Welcome to our new members
Pieter Pretorius, Mark Roos, Kobus Jordaan Jnr, Loki Loubser, Gessina De Klerk, Bruckner De Villiers, Edward Louw, Sean Phillips, Trevor Oates, Daniel Steyn, Peter Phillips.
We look forward to seeing you on the course!
Global Golf News
Click here
for the latest Dale Hayes Golf Chat Newsletter!
Support your club
Srixon Brite Balls
going for

R100

per sleeve.


Mizuno JPX

for

R80

per sleeve.


Calling all social butterflies

Follow us on your favourite social media platforms!


Thank you to our generous sponsors
Click here
for more information about this property!
| | |
| --- | --- |
| | |
| | |
| | Caddy Uniforms proudly sponsored by Spiro's Mica Durbanville. |
| | |
| | |
...something to make you smile!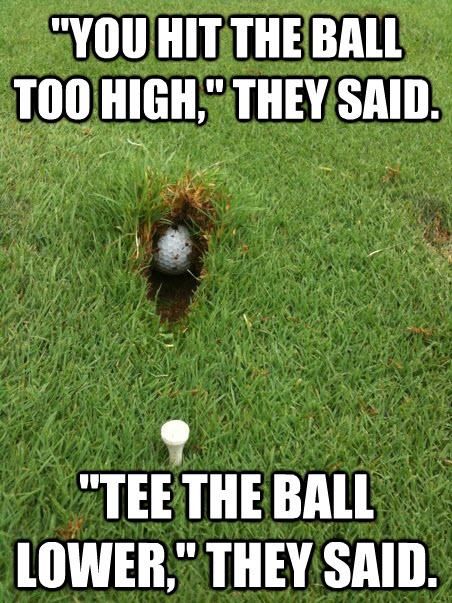 Yours in Golf,
The DGC Team
A career in golf
What matters most to you?
Last week we asked if you could answer one question. With the ability to be entirely anonymous. We wanted to know how you viewed your position on a simple continuum. Where do you see yourself on your golfing journey?

At one end there's space for the person who sees golf totally as a competitive sport, and on the other end there's those that see it as a social and recreational activity. We're asking golfers to position themselves. Next month we'll publish a SUMMARY of how our community of golfers see the game.
If you haven't already done so
So, if haven't given a response then please follow the link below. It's a very short and very private survey – no personal details required – so go on
Think about your golf

The second statistic we want you to collect over 4 rounds, is your average score on Par 3s that are within iron shot range. If you missed last week's article, and the first statistic click here.

If you're often under 90 but struggle to get below 85 regularly, then there's a good chance that becoming consistent on the Par 3s will get you there.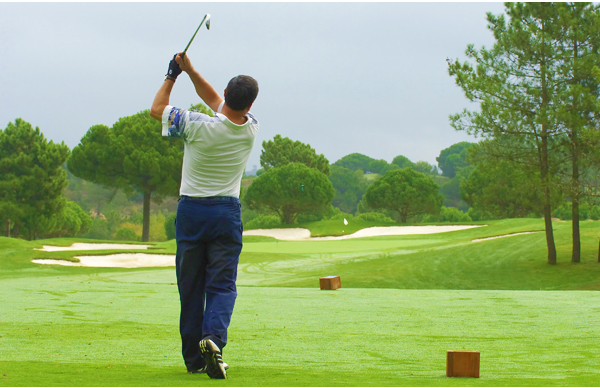 Two 3s and two 4s on your card and you're doing well. Three 3s and provided your steady elsewhere then you're likely to be below 85.
Improvements you can make that pay off on any approach shot:
| | |
| --- | --- |
| If we can make sure your rotation and ball striking is led by your large muscles and not your hands, then we can improve your consistency of contact and accuracy of result. | There're a number of consistent club and shot selection errors we see from less experienced or skilled golfers that often cost them a stroke per Par 3. It's an easy fix. |
| | |
| --- | --- |
| | "Improving your ball striking consistency, club selection, and shot selection on Par 3s will have a big impact on your approach shot performance on every hole." |
Book your skills assessment
Get an insight into your game. Discover what you could improve quickly. Let's plan an improvement journey together.
Contact us >
This mail was sent to {{contact.contact_email}} by Durbanville Golf Club and is provided as a service for the members and guests of Durbanville Golf Club and the customers of the Durbanville Golf Club Pro Shop and has been supported and sponsored by advertisers in this mail and my partner suppliers: