18 JANUARY 2021 | ISSUE 2
THE GOOD LIFE
On the Course | Off the Course
MEMBERS AND GUESTS
It is important to keep members and guests informed as we see the second wave of Covid-19 cases rising and impacting on all households and businesses. The Club has not been unaffected as we have received numerous reports from members about positive cases, after self-isolating. We have also seen positive cases amongst the staff during this last period, which was dealt with, as per the Covid-19 regulations, and Club policy. The Club will continue to put all measures in place to sanitize the Club, but we need each and every member, guest and staff member to do their part. Please wear masks at all times when walking through the Club, especially in halfway house before you dish up. Masks may only be removed once you are seated or on the tee.

Dear Member,



SATURDAY UNITY FUND GOLF DAY



We would like to thank all our members for the great support. Unfortunately, mother nature disrupted play, as we had lightning from 13h30 until 15h15. The competition was cancelled for the day, but we will carry over the prizes to this coming Saturday. Our members managed to raise over R15 000 and we cannot thank you enough for all the support. We would also like to take this opportunity to thank everyone who contributed with prizes for the Unity Fund Competition – we managed to secure prizes to the value of over R30 000. The prizes include Hotel accommodation, fourball vouchers from Eagle Canyon and Bryanston, Spa treatments, WellPutt Training Mat, PowerBlast vouchers, golf goodies from the Golf Shop, just to name a few.



LOAD SHEDDING



Over the last couple of days, we did experience load shedding in the Randpark area. The load shedding does affect each and every one and this includes certain areas and services throughout the Club. Our team will always do everything in our power to ensure we deliver the best possible experience at all times.



HISTORY IN THE MAKING



What are the chances … Angie Adams and Jeanne de Power made Randpark proud yesterday with two holes-in-one on the same course, same day, same league game (against Jackal Creek)! Congratulations, Angie and Jeanne!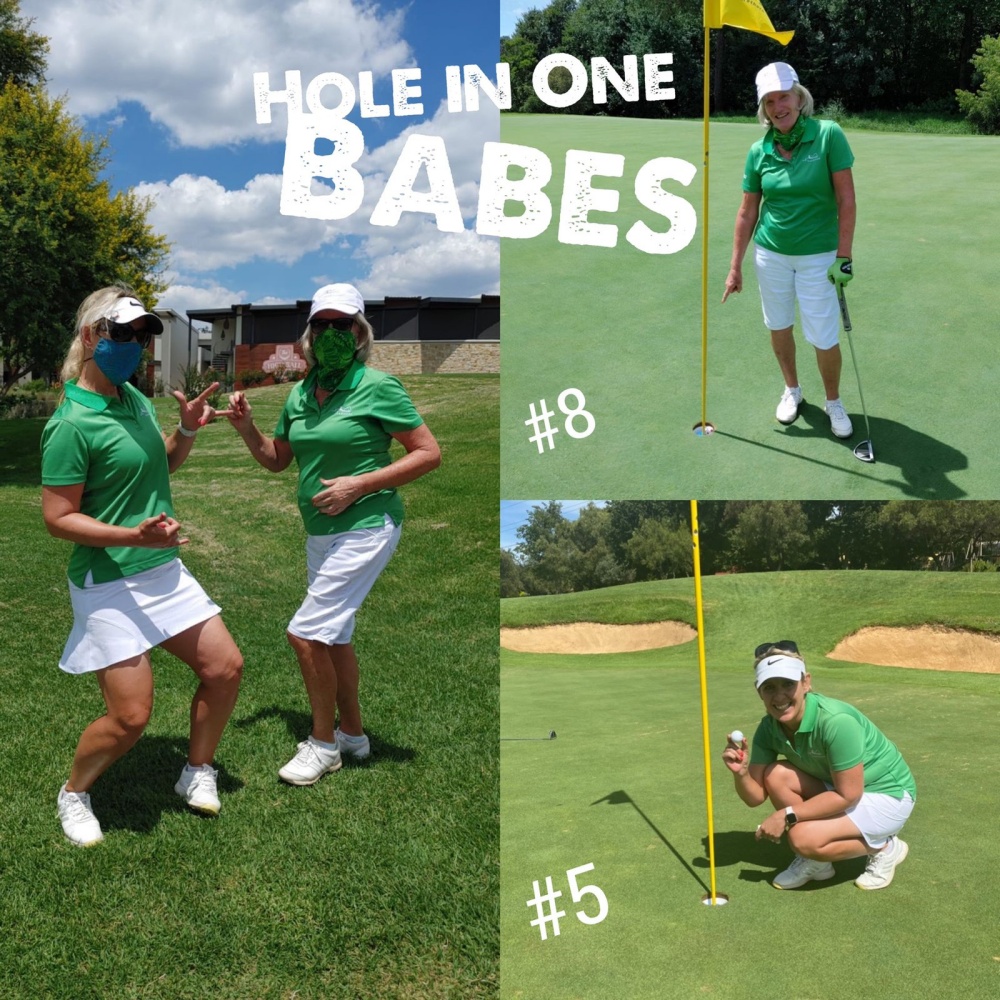 DRIVING RANGE OPERATIONAL HOURS
Please note the new operational hours for the driving range in effect from Monday, the 25th of January:


•

Mon: Open: 11h00 - 20h00 (Last bucket will be sold at 19h00)


•

Tue – Fri: Open: 06h30 - 20h00 (Last bucket will be sold at 19h00)


•

Sat & Sun: Open: 06h00 - 20h00 (Last bucket will be sold at 19h00)


PREFERRED LIES
Purpose:
When occasional local abnormal conditions might interfere with fair play, the affected parts of the course can be defined as ground under repair. But adverse conditions such as spring thaws, prolonged rains or extreme heat can sometimes damage the course or prevent use of heavy mowing equipment.
When such conditions are widespread on the course, the Committee can choose to adopt a Local Rule for "preferred lies" (also known as "winter rules") to allow fair play or help protect the fairway. Such a Local Rule should be withdrawn as soon as conditions allow.
*The use of this Local Rule outside the fairway in the general area is not recommended as it may result in a player receiving free relief from areas where a ball might otherwise be unplayable (such as in areas of bushes or trees).


*This rule has been modified due to current Covid-19 regulations. In an event of heavy rain on the day or the night before the Golf Manager on duty can apply a local rule to have preferred lies in the bunkers on the day. All information will be available on the day with the manager on duty and the starters on the courses.





2ND NEWBEE GOLF DAY



We would like to extend a special invitation to all our

new golfing Members

to join us for our Newbee Golf Day on Friday, the 26th of February.

Each fourball will comprise of one Committee or Staff Member and three Newbeez.
If you do not have a handicap, men will play off 18 and ladies off 24.
Should you require a cart, kindly email

events@randpark.co.za

before the event. Cart hire is R330.00 per cart.
You can pay for the cart on the day in the Golf Shop with your Member Card.
Please click the RSVP button below to complete all your details and confirm your participation.
We look forward to welcoming you all on the 26th of February.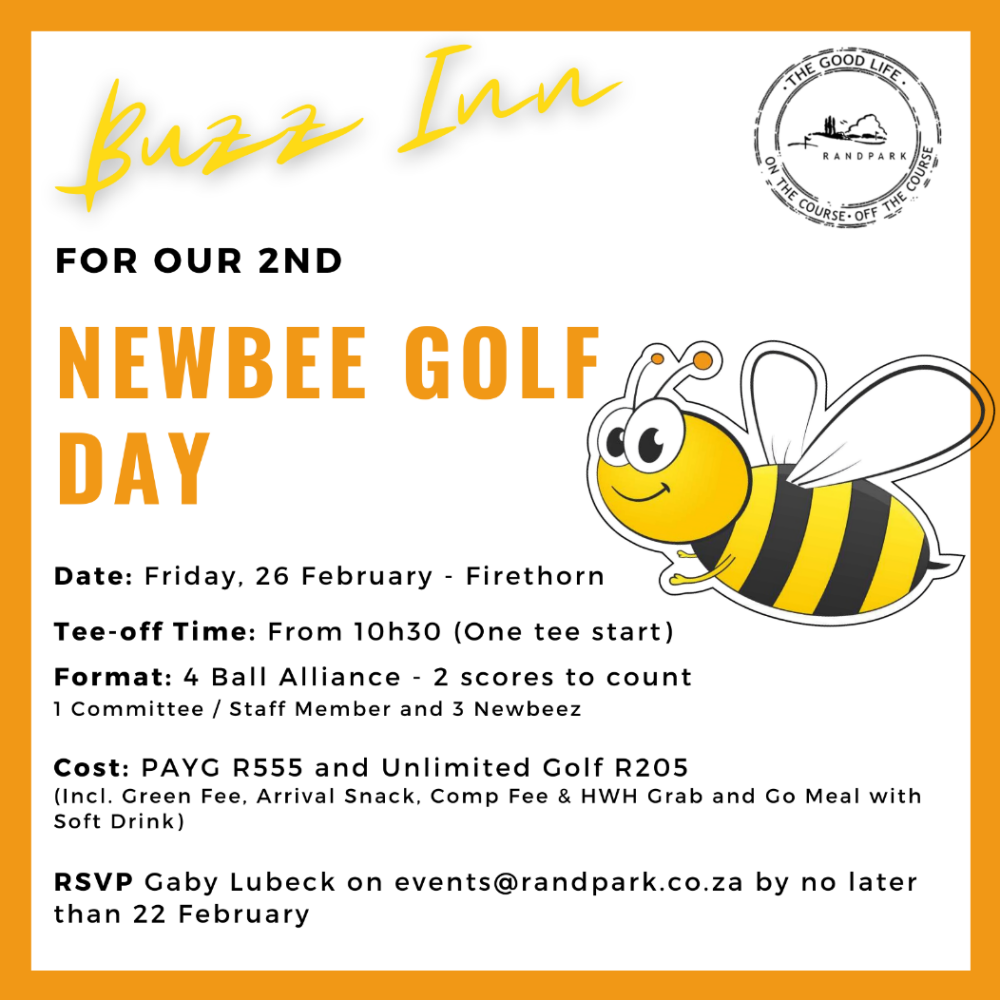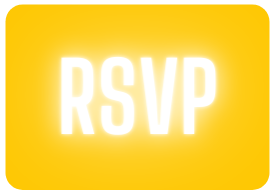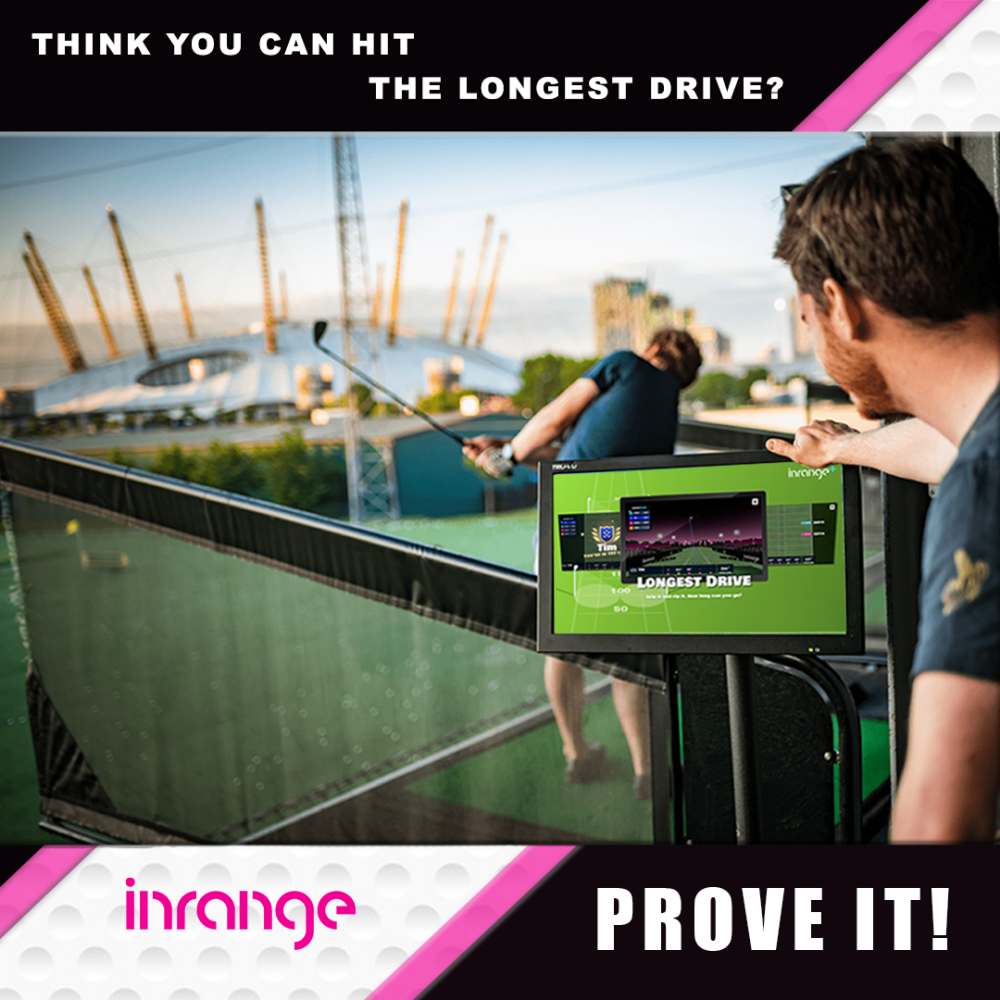 CURRENT LEADERBOARD - MEN:


1st: Andrej Skrbinsek - 357m
2nd: Conner Mack - 342m
3rd: Richard Tsai - 340m
4th: Darren Quirk - 337m
5th: Peter McDermott - 315m



CURRENT LEADERBOARD - LADIES:


1st: Caitlyn Lombard - 287m
2nd: Donnay Bowen - 239m
3rd: Cara Ford - 234m
4th: Charlene Miller - 231m
5th: Catherine Hammond - 230m

It's not too late to enter – The Competition runs for the month of January!


Click here

to book your bay!
Login or Register, Click Driving Range
For more info contact Patricia on 011 215 8600

or

sales@randpark.co.za


Support the Randpark Club Unity Fund and stand a chance to win an AMAZING PRIZE from The Fairway Hotel, Spa & Golf Resort
Purchase your Unity Fund Raffle Ticket(s) today!


Click here

> Login or Register, Click Events & Take-Aways, Click Randpark Club Unity Fund Raffle Draw




Please note the draw has been extended to the 31st of January 2021




Click here

to book a bay!


> Login or Register, Click Driving Range



Have a great week
Stay Safe, Healthy & Happy!
The Randpark Team