When will the Handicap Adjustment not apply?


The Handicap Allowance for all Individual Strokeplay formats of play is set at 95% and MUST be applied for Individual Handicap Competitions where the field size is equal to or greater than 30 to ensure fairness and equity.

For field size of fewer than 30 players, the recommendation would be that no HA is applied and the players would use their CH. Should a HA of 95% be applied for field sizes less than 30, it would make no difference to fairness and equity and if clubs are not sure whether the field size on the day will be less or more than 30 they should apply a HA of 95%.



Please note that the medium-sized field stipulation is only for Individual Strokeplay formats and does not apply to any other formats of play.





What handicap must be used to determine my total adjusted gross score for handicapping?


Players must score according to your Course Handicap as per below. The Playing Handicap must only be used for competition purposes.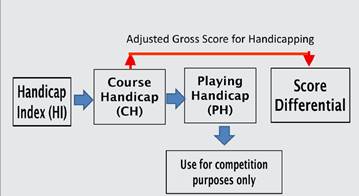 Getting Ready For Your Round
Over the last couple of weeks, our biggest focus has been around pace of play and providing some helpful tips to our members. We have mentioned in previous newsletters about the recommended pace of play per course, playing ready golf and just some tips to make your round more enjoyable. Getting ready before your round is just as important to ensure that your round doesn't start off on the back foot and feeling rushed before your tee off time is never enjoyable. Here are a few helpful tips to ensure you are prepared and ready before you start your round:
•
Arrive at least 30 minutes prior to your tee off time at the Clubhouse.
•
Ensure you have all golfing requirements before you tee off – balls, tees, gloves, pitchfork and ball marker.
•
Always check that you have all your golf clubs and that you don't have more than 14 clubs in your bag.
•
As we are doing pre-check ins ensure you have sufficient funds on your account.
•
Proceed to your tee box at least 10 minutes prior to your tee off time. This time can be used to get ready for your round by wetting your towel, verifying your partners handicaps and filling in the details on the scorecard.
•
Arriving early for your tee off time will also give the starters time to brief you on competition formats and additional local rules for the day.
•
Be ready to tee off when it is your turn to play.
Everyone that played in the
Newbee Golf Day
on the 26th of February must please re-book.
Have a great week