29 MARCH 2021 | ISSUE 25

THE GOOD LIFE
On the Course | Off the Course
THE CLUB
Dear Member,
COMPETITION WINNERS
Congratulations to Madelyn Swanepoel, who won the Titleist Tour Bag draw.
On Saturday 27 March, we hosted our first Fishing Competition, with 40 competitors fishing in three dams on Firethorn. The event was a great success and everyone enjoyed a night out with family and friends. Thank you to Guiding 101, The World of Fishing and Tackle Cabin for the amazing prizes. Well done to all our winners:
| | | |
| --- | --- | --- |
| Category | Winners | |
| 1st Individual Total Length - Adult | Tony Bonett | 228cm with 3 Fish |
| 2nd Individual Total Length - Adult | Peter Newell | 212cm with 7 Fish |
| 1st Individual Total Length - Under 16 | Jack Lotter | 104cm with 6 Fish |
| 2nd Individual Total Length - Under 16 | Bradley Butcher | 29cm with 1 Fish |
| 1st Individual Total Length - Under 12 | Matthew Newell | 25cm with 1 fish |
| Biggest Barbel | Tony Bonett | 79cm |
| Biggest Carp | Peter Newell | 35cm |
| Smallest Fish | Jack Lotter | 5cm Kurper |
THE GOLF DEPARTMENT


We sure had a very busy weekend on the golf courses. Saturday, we had just over 400 players in the fields, and Sunday was also fully booked. We had five league games over the weekend and it is always great to host other Club's League players here on our beautiful courses.

We are moving closer to winter and this will have a big impact on our tee off times. We will be starting our winter tee off times from the 1st of May until the end of August. The tee off times will be as follows:
AM Fields: 06h46 – 08h30
PM Fields: 11h22 – 12h50

Please note that no sunrise golf will be allowed during the winter months, but sunset golf will continue as per normal.



Course Care



Over the last couple of weeks, we have been receiving a lot of feedback from our members with regards to course care. The two biggest concerns are pitch marks and bunkers not being raked. It is still up to us to ensure we look after the courses. Rakes are available and there is sanitiser at every tee box. Fixing your pitch mark and two others on the greens will not only assist with the recovery time of the pitch mark, but will leave a smoother putting surface to play on. We would like to remind all our members of the following course care tips that are attached to the scorecards:


•
Full up your divots – sandbags are compulsory


•

Repair your pitch mark and two other pitch marks as well


•

Do not litter


•

Dispose of your cigarette buds either in the disposable cans provided or in the dustbins on the course – do not leave them on the courses


•

Rake the bunkers by either using the sanitised rakes or by using your own Eazi-Rake



League Results



We hosted five league games over the weekend and thank you to all league players for your time and efforts so far this year. It is always great to see visiting teams enjoying our courses and the Randpark "Gees" on the 19th hole.
Well done to all our teams and the results were as follows:


Mid-Am



•

Firethorn vs Glenvista (HOME): Won 4.5 – 3.5


•

Bushwillow vs Modderfontein (AWAY): Won 5.5 – 2.5


Betterball League




•

Firethorn vs Glenvista B: Won 5 – 3


•

Bushwillow vs Killarney: Won 6.5 – 1.5


•

Creek 9 vs CMR: Lost 3.5 – 4.5


Junior League


Due to a lightning delay, the game was called after 9 holes, but the result will stand.

Our Bushwillow side had a bye and our Firethorn side hosted Dainfern. The Firethorn side managed to win 2.5 – 1.5. Well done! The Junior Section is really growing and it is great to see how the youngsters are developing into elite golfers.



Scratch League 2021



The scratch league is scheduled to start on Sunday the 30th of May. The entry list will be available from next week on the notice board down stairs.
Click on image to enlarge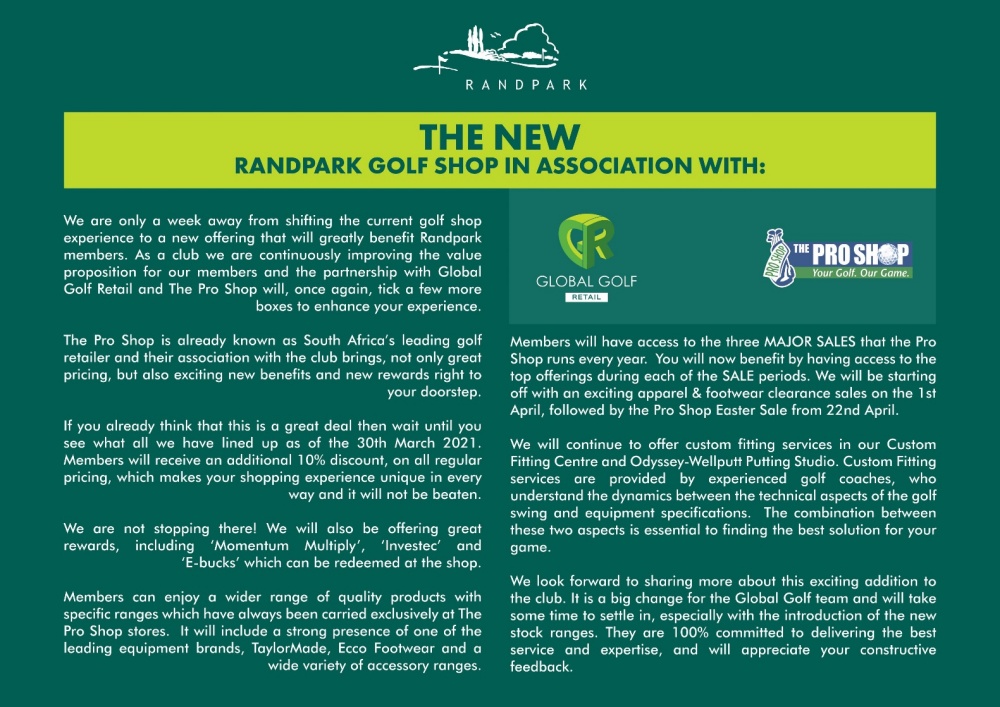 RANGE CAFÉ
Ignition GT did a TV shoot at the driving range a few weeks ago. Look out for the broadcast on Wednesday 31 March at 20h30 on DStv channel 189.
Our new In Range Snack Menu will be available at the Range Café from Tuesday to Sunday 11am – 7pm.
Click on image to enlarge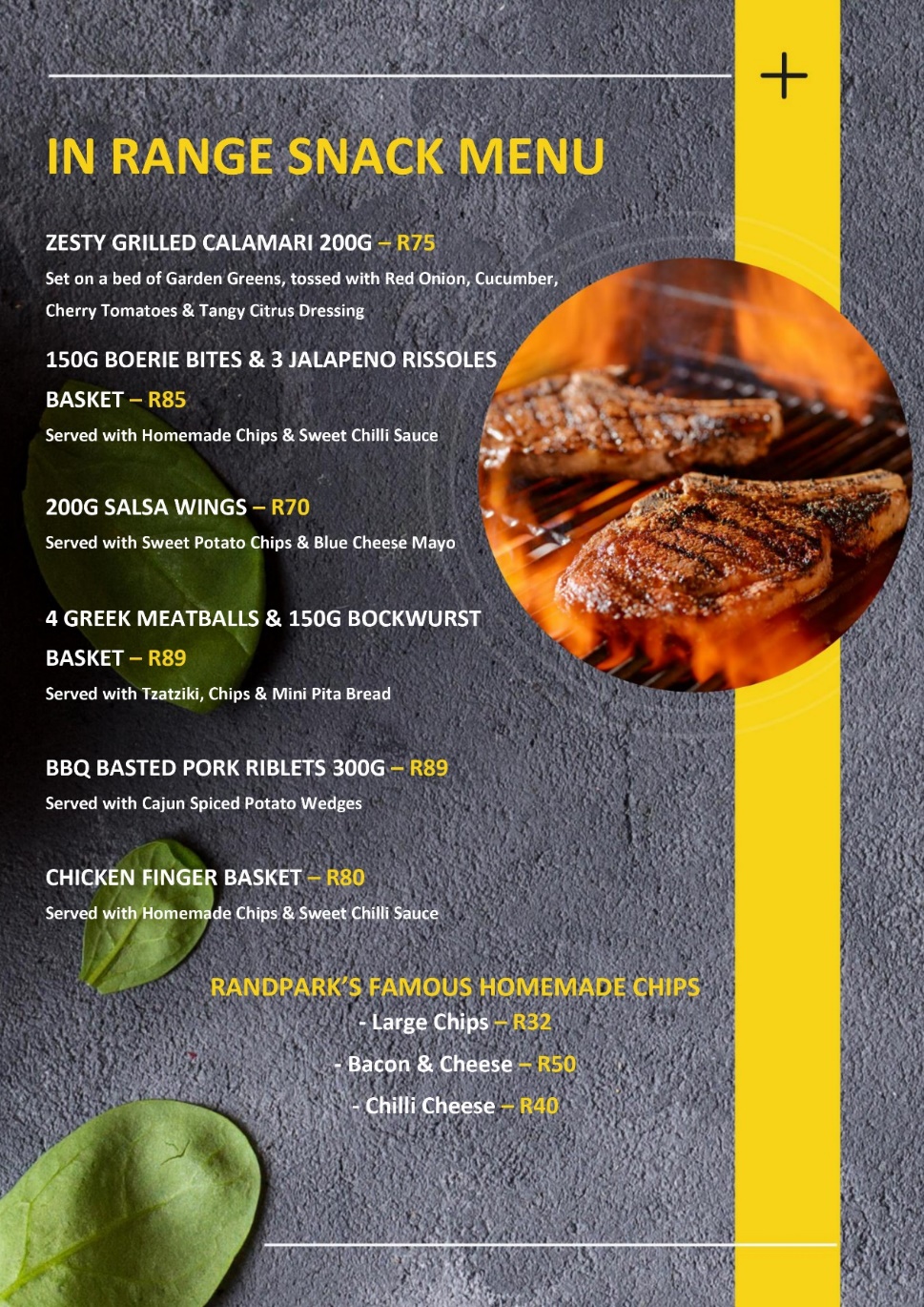 Have a great week
Stay Safe, Healthy & Happy!
The Randpark Team
This mail was sent to {{contact.contact_email}} by Randpark Club and is provided as a service for the members and guests of Randpark Club and has been supported and sponsored by advertisers in this email and our partner suppliers. For any queries contact us on 011 215 8600.

Sent on behalf of Randpark Club by
RetailTribe: Unit 8 | Blaauwklip Office Park | Stellenbosch | 7600 | 021 880 2693