MEMBERS AND GUESTS

THE CLUB


Dear Member,

It has been a goal of ours to play more frequently with members, on different days, and this past weekend, I was fortunate enough to play with the Ratpack. If you don't know who the Ratpack group is, they occupy the seats around the main bar, every Saturday, and it is always someone's birthday! I would like to thank Arries, as the captain and my playing partners Lodi, Bruce and Jim. I thoroughly enjoyed the spirit and comradery within the group. I also wanted to make special mention of Mike Burt, in the photo below, who we see walking with the Ratpack, on most Saturdays, and he assists with filling divots, fixing pitch marks and raking bunkers. As an interesting fact, Mike emptied about seven sandbags on just one nine and raked a lot of bunkers, which was left unraked by players. It was great to see his enjoyment of the game, despite not playing, and I wanted to thank Mike for his efforts.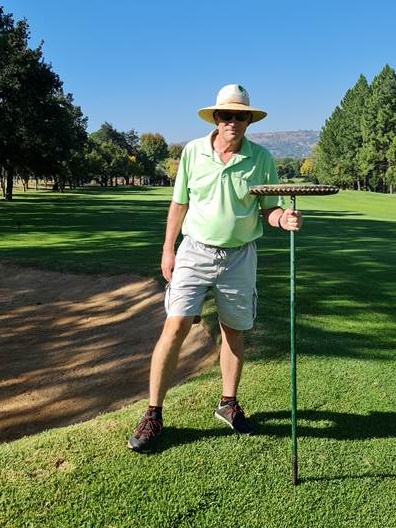 With over 2 400 members in the Club, it is difficult to get to know everyone, especially new members. A game of golf is a great way to get to know our members, hear feedback and share information about the club. If you would like to invite the Captain, myself, Albert or Rikert for a game, please let us know.

Happy golfing
Francois

MASTERS WEEKEND


The Masters weekend was again well supported by all players. This is really a big highlight for all members and we had a total of 394 players in the field. The scoring made it very interesting, some Par 5's were played as Par 3's on the scorecard, but some Par 3's were played as Par 5's, so on some holes it was very difficult to make points, but there were opportunities to make up for those tough holes. Here are a few fun stats from the weekend's Masters:
•

0 pointers: 1104


•

5 pointers: 235


•

6 pointers: 24


•

7 pointers: 3
Well done to all our winners on the day and thank you for your support.
Congratulations to Jonathan Bell for winning the 2021 Masters. A great score of 45 points on Firethorn.
MEET THE COURSE TEAM
Join Roger and his team this Friday, 16 April between 15:30 and 18:00 in front of Baobab Lounge. You will have the opportunity to meet the faces behind course maintenance, have a look at the fleet of machinery on display and get to know the ins and outs of Randpark's daily maintenance routine.
The course team looks forward to answering all your questions and meeting you!
GRADUATE & JUNIOR CLUB CHAMPIONSHIPS
The Draw for the 2021 Junior and Graduate Club Champs will be published on Thursday morning. The entry fee will be R245 per player. The entry fee will include:
•
Refreshments on the tee boxes
•
Competition fees
•
Prizegiving dinner
•
Some great prizes to be won
The 36-hole tournament will start on Firethorn in the morning and will finish on Bushwillow in the afternoon.
Breakdown of the event as follows:
•
06h00 – check-in and registration – Baobab Lounge
•
06h30 – First tee-off times - Firethorn
•
After the first 18-holes – submit your scorecard at the scoring desk in the Member's bar – next to the Captain's bell
•
Players will receive a second round scorecard after submitting their scorecards
•
The second round is set to start at 11h38 on Bushwillow
•
After completion of the second round, scorecards must be submitted immediately
•
Prizegiving will follow after all scorecards have been submitted and results finalised
RULE OF THE WEEK
Rule 9 of golf is probably the most important and well-known rule in golf and covers a central principle of the game:
Play the ball as it lies
. We are all familiar with the saying as it is normally the first thing someone will mention to a fellow player on the course when they ask for a ruling. Rule 9 of the R&A Rules of golf covers the whole rule, from the ball moving during your backswing all the way to lifting or moving a ball during a round. The Rule is broken down into seven points:
Ball played as it lies
Deciding whether the ball moved and what caused it to move
Ball moved by natural forces
Ball lifted or moved by a player
Ball lifted or moved by an opponent in Matchplay
Ball lifted or moved by outside influence
Ball-marker lifted or moved
Below is a short summary of the rule:
•
If the player's ball comes to rest and is then moved by natural forces such as wind or water, the player normally must play it from its new spot
•
If a ball at rest is lifted or moved by anyone or any outside influence before the stroke is made, the ball must be replaced on its original spot
•
Players should take care when near any ball at rest, and a player who causes his or her own ball or an opponent's ball to move will normally get a penalty (except on the putting green)
For full clarity on Rule 9, please
click here
.
In the past, we have asked our members to do a quick quiz on the R&A website and provide us with some feedback. These quizzes are loads of fun, and there are three difficulty levels: Beginner, Intermediate and Advance.
Click here
to give it a go and see how well you score. The results might surprise you.
INRANGE & THE RANGE CAFÉ
If you haven't experienced Inrange and Inrange+, it is easily remedied, just head over
here
and get your session booked. You can now also enjoy our new Inrange Snack Menu available Tuesday to Sunday from 11am to 7pm at the Range before, during or after your game.
Have a great week
Stay Safe, Healthy & Happy!
The Randpark Team