21 JANUARY 2021 | ISSUE 2

THE GOOD LIFE
On the Course | Off the Course
Dear Member,

It is important to keep members and guests informed as we continue to adjust and improve on our response to the Covid-19 pandemic. The Club will continue to put all measures in place to sanitise the Club, but we need each and every member, guest and staff member to do their part. Please wear masks at all times when walking through the Club, especially in the halfway house before you dish up. Masks may only be removed once you are seated or are on the tee.



The following Covid-19 procedures have been updated:



- Screening procedures will now include a sticker to confirm that you have been screened, as we did before. Once you arrive at the Club make your way to the screening station for a temperature check and your sticker. If you go to the range, please ensure you follow the screening process, where you will also be issued with a sticker, before receiving your golf balls.
- A tee sheet will be issued to security with player details. If you have a tee time, you will not be required to sign in, as the Club already captured your contact details. Just do your temperature check and sign on your name.
- We request that you adhere to the rules and please wear your mask in the halfway house until you are seated. A dedicated staff member will make sure tables are sanitised before the next fourball sits down.
- Additional sanitisers have been placed in all areas.
- A reminder that the locker rooms are open, but showers will remain closed for the time being.
- The Club provides sanitiser on each tee box. Unfortunately, we are having issues with theft of the sanitiser and also the bottles. The course team will do their best to ensure they are refilled when course setup is done and throughout the day.
- A high-pressure hose will be purchased to speed up the cleaning of golf carts, between rounds, but will also be filled with a disinfectant, which will also ensure the whole cart is sanitised.
- It is important to note that all range balls are sanitised with a disinfectant when being washed.
- Masks must be worn at all times, at the driving range, unless you are hitting balls.

We are investigating a new product called ZOONO, which is a silicone-based sanitiser, which can be used on rakes and pins, and last for 28 days. The same product was used during the Joburg Open and will allow us to put rakes back on the course and should members want to pull pins, it would be safer to do so. We will keep members posted.

COURSE CARE



As golfers, we should always be doing our part to help care for the courses we play on, but contributing to course care is especially important this year. We have seen a big increase in rounds being played and we are operating with reduced budgets and fewer staff members due to the Covid-19 pandemic. We have also been playing catch up for a while, due to the amount of rain days, and trying to work in between full courses.

A little extra effort on our part might also make a big impact on playing conditions. Here are a few ways golfers can help care for the course during this challenging season:

1. Repair your pitch mark and please fix other pitch marks if you see them
2. Repair your divots
3. Follow the cart rules
4. Smooth out the bunkers as best possible by using your Eazi-Rake, your club or foot
5. Don't litter including cigarettes butts
6. Don't take your frustration out on course furniture and tee markers

Happy golfing,
Francois

We always encourage communication between our members and the Club. If you have any comments or questions, please don't hesitate to either contact our CEO, Francois Swart at

ceo@randpark.co.za

or our Club Captain, Derek McGowan at

captainslog@randpark.co.za

.

80TH BIRTHDAY CELEBRATION WEEK
(Festival of Golf)
In the run up to our 80th Birthday Celebration Week (Festival of Golf – see details below), we would like to display a few memorabilia items in the trophy cabinets at reception (these will be locked at all times). If you have any item(s) that you would like us to add to the collection, please drop them off with Leanne or Patricia.
UNITY FUND
Support a very worthy cause, our Unity Fund and stand a chance to win an amazing prize worth R3 000.
Purchase your raffle ticket today through MyClubAccount.
Click here
> Members: Login or register > Click Events & Take-Aways > Scroll to Randpark Club Unity Fund Raffle Draw. The Draw will take place on the 31st of January.
SMS - UPDATE OF MEMBER INFORMATION
Communication is really important and we would appreciate if members can please support our calls/SMS for information, which will in turn assist us in communicating better with you. Please add
randpark@greensidegolfer.retailtribenews.com
to your email contacts. Retailtribe is our service provider that sends out the weekly newsletters. The reason for this request is to ensure you receive these newsletters and they are not blocked by your company's firewall.

Please

click here

to update your details.



JUNIOR GOLF CLUBS



Do you have any second-hand junior clubs that are lying around the house that you would like to get rid of? Please kindly donate them to the Club - contact Leanne on

clubevents@randpark.co.za

or

011 215 8600

.

SUNRISE GOLF
Over the last couple of weeks, we have noticed a big increase in sunrise golf being played early in the mornings and there is no better way to start your day off with a quick 9-holes out on our courses. Our sunrise golfers are the first golfers out on the course and we would like to remind our members about the procedure when playing sunrise golf as well as a few guidelines to make the 9-holes more enjoyable for everyone:
•

On arrival, security will ask for your membership card before proceeding to play. The cards will be handed to either Bax or Greg and they will record the round on the system. All member's rounds must be recorded even if you are on unlimited rounds. The two main reasons are that all rounds need to be recorded on our systems and all 9-holes scores must be entered as per the HNA regulations.


•

All golfers must proceed to the screening area before start of play.


•

Players may start off either on the 1st or 10th tee, as long as the players tee off before 06h10 – weekdays only. Sunset golf during the week will be played off the 1st tee box and over the weekend will start off both tees once the field has turned.


•

Please repair pitch marks, fill your divots and smooth out the bunkers as best possible by using your Eazi-Rake, your club or foot before leaving the area.


•

Always be mindful of the course staff prepping the course for the day.


•

No more than four people per group at any time – no fiveballs will be allowed and this includes Sunset 9-holes as well.


•

Members are encouraged to join up and play as a fourball.


•

There is no booking for 9-holes and carts are only available for sunset subject to availability.


•

Please adhere to course closure. Specific maintenance is planned when a course is closed.

HOLLOW-TINING DATES



Please note the dates on Firethorn are scheduled as follow:
Monday, 8th of February until Wednesday, 10th of February 2021. The course will be open on Thursday, the 11th of February.
We will not be hollow-tining Bushwillow this year, but Roger and his team are planning to do a verti-drain on the greens within the next couple of weeks.



TWO OLD-TIMERS AND TWO YOUNG STARS




(Written by Randpark member Grant Winter)



WE were two old codgers – Jeremy and me – in our seventies playing in one of Randpark's mid-week Senior Competitions. We were supposed to be a fourball, but one of the players couldn't make it and another cried off ill just before teeing off. So, we were only a twosome and over the first nine on Firethorn we noticed that a couple of young boys playing behind us were hitting some darn good shots.

There was a wait on the tenth tee, which allowed enough time for the boys, both slightly built, to catch us up. "Can we join you?" they said. We didn't see any reason why not, figuring that it might do us old hackers some good to play alongside a couple of youngsters. After all, golf is a game for young and old.

We asked them their names, how old they were and what handicaps they played off. "We're both called Jean," said Jean du Toit. "And he's Jean Taljaard," he added, pointing to his buddy. "And we're both 13 years old, just about to start high school." And handicaps? "He's off 16 and I'm a two."

What, we thought, a two handicap at age 13! Jean du Toit, playing off the white markers, then bombed a huge drive up the middle at Firethorn's long par-4 followed by a high, beautiful four-iron approach, which found the heart of the green. It's not surprising that he represents Central Gauteng at age-group level and indeed he was wearing his Central Gauteng golf shirt. And young Taljaard wasn't far off the mark. So, over the next nine holes, these two young lads gave us a lesson on how golf should be played. The 16-handicap Jean recently joined Randpark and has a superb, natural swing which is seriously not unlike Louis Oosthuizen's … [

Read more

]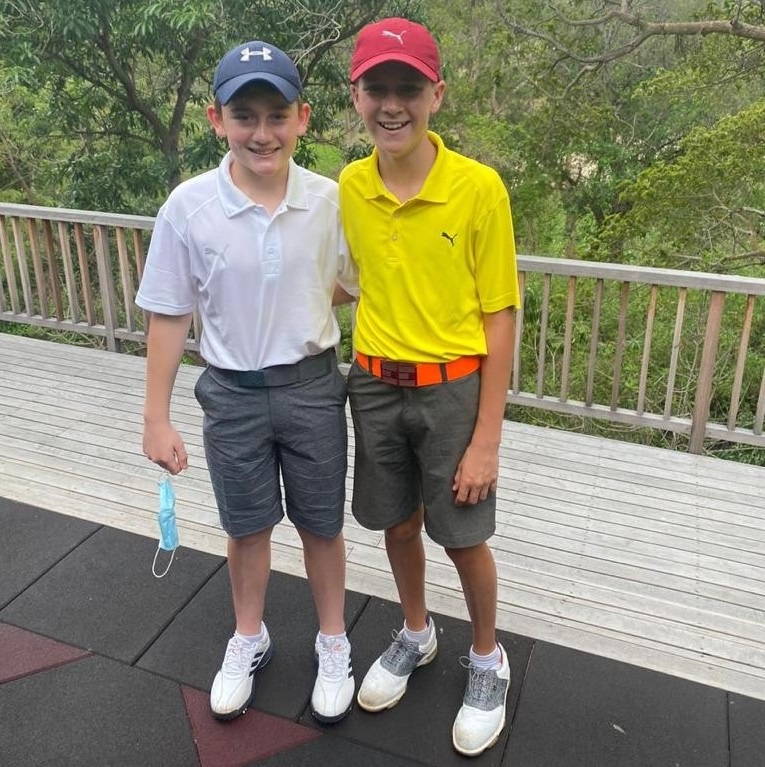 Jean Taljaard & Jean du Toit
WEEKLY CALENDAR

We are heading into the final week of our Long Drive Competition - The Competition runs until 31 January!
It's not too late to enter –
Click here
to book your bay!
Login or Register, Click Driving Range
For more info contact Patricia on
011 215 8600
or
sales@randpark.co.za
NIKE AIR MAX G90 GOLF SHOE 2021 UNBOXING
Pop-in to the Golf Shop, have a chat with Jacobus or Andrew and try on a pair of the new Nike Air Max G90 Golf Shoes.
It's been a hot dry week with the only meaningful rain falling last week Monday. The good weather has helped us catch up on mowing, especially in the rough, which helps reduce the unsightly clippings. We have also been using a plant growth regulator in the heavy rough to slow the growth down and thus reduce clippings. We have also sprayed a fertiliser and iron mix on Firethorn's fairways in preparation for the SA Strokeplay tournament in February.
We have been repairing various sinkholes on the golf course. They are caused by storm water pipes that have shifted apart and the water erodes the soil around the pipe.
While the excavator was here, we removed the old tree stumps on the left of Firethorn's 9th fairway.
The pump house on the 2nd hole was cleared to make it easier to find any stray balls.
| | |
| --- | --- |
| | |
| | |
| Before | After |
| | |
VALENTINE'S DAY
We've planned the perfect oh-so-romantic Valentine's Day for you, with amazing options to choose from.
Pre-paid bookings are essential. Contact Leanne on 011 215 8600 or clubevents@randpark.co.za. Bookings close Friday, 12 February at 2pm.
Click here
for more menu information.
THE RANGE PLUS SO MUCH MORE
You might think the range is only about working on that grip, adding 10 metres to your driving distance or honing in that short game - but think again!
The pro golfer, the newbie, the
"I've only ever tried golf once"
person and everyone in between can now visit the range and try Inrange+, a unique golf experience that merges the real driving range with entertaining golf games. There are four different games you can play against friends or family and at the end, the winner will be crowned. It is also perfect for team building.
You can get up to four people per bay, so invite a few friends/colleagues down to the range and have a bit of a golf party. Inrange+ is an experience for every person, not just golfers. Come play!
Contact Leanne on
011 215 8600
or
clubevents@randpark.co.za
– she has some fun packages available for you.
Have a great weekend
Stay Safe, Healthy & Happy!
The Randpark Team