11 FEBRUARY 2021 | ISSUE 10

THE GOOD LIFE
On the Course | Off the Course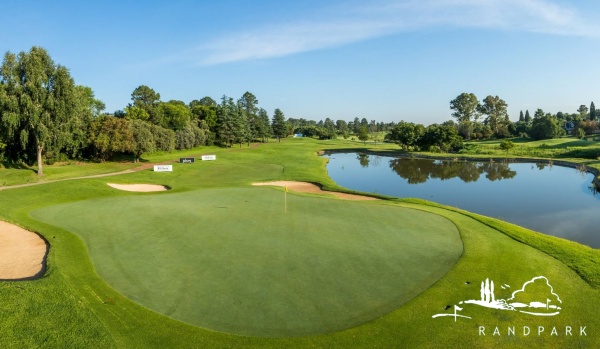 Dear Member,

As you can imagine, we are on the back foot with getting the courses cut and still the rain keeps on coming. It is vitally important that we manage rounds and especially carts during this time, as it could lead to long term damage. The weather forecast looks promising over the next few days, which will allow us to catch-up and be ready for great golf!

We will continue with our pace of play campaign, which will include ready golf information and videos. We urge all members to please take the time to learn about ready golf to help improve your game and that of all players in the field. I am going to start with debunking a myth about ladies being slower than men. We are fortunate to have a strong ladies section at Randpark and as premium members, they have the same privileges as all other members in the Club.

However, there is a general perception that ladies are slower than men, which I can assure you is not the case, well most of the time. I am saying most of the time because there are very few members who think they play slow, but in fact could pick up the pace a bit, by changing a few small habits.



TAGMARSHAL – DEBUNKING THE MYTHS ABOUT WOMEN ARE SLOWER THAN MEN



On June 1st, golf facilities around the world will come together for a four-hour experience where women and girls will participate in golf for the first time. The day will also serve as a platform for current players to play and engage with women interested in golf.

Participation in sport is one of the most important socio-cultural learning experiences for many people, and this is a great initiative which aims to future proof the game, make it inclusive and tackle golf's perceived diversity challenges.

One of the many common misconceptions about women in golf is that they are slow around the course. In support of Women's Golf Day, we would like to debunk the myth that females are slower golfers than men.

Here are a few facts:

Women are more likely to play appropriate tees.
Women are more likely to be mindful of etiquette and pace awareness.
According to USGA Golf Innovation Symposium research, gender is NOT a typical attribute of pace variations.

Women are no slower than men and generally more mindful of playing appropriate tees. As leaders in golf course intelligence and pace of play management, Tagmarshal has tracked the pace and field flow at golf course facilities and tournaments worldwide. One of Tagmarshal's leading partner courses dedicates Thursdays to women's golf, and so we decided to compare Thursday to an alternative regular club day.

The data showed that there was no significant difference in the average round time. Using Tagmarshal's pace of play management system, the women playing groups average round time was 04:32:02, while on a regular club day, players averaged 04:34:41 while the goal time is 04:35:00.

However, a deeper look at the data using the pace distribution feature shows that on the regular day, 31% of the field is on pace and 76% within 10 minutes of the goal time. On Thursdays, however, 51% of the field is on pace and 100% of the field is moving within 10 minutes of the goal time, which shows that women are more mindful of golf etiquette and pace awareness.

Let's all work together to understand what we can do to manage pace of play. It is for the enjoyment of everyone.

Happy golfing,
Francois

We always encourage communication between our members and the Club. If you have any comments or questions, please don't hesitate to either contact our CEO, Francois Swart at

ceo@randpark.co.za

or our Club Captain, Derek McGowan at

captainslog@randpark.co.za

.

A MESSAGE FROM RANDPARK CADDIES SOCIETY
"We would like to say thank you very much for everything that you have done for us. It is very tough during these days. As Randpark caddies, we appreciate everything that you are doing for us and also what you have done for us during hard lockdown. We want to say thank you for the reimbursement that you giving to us. Thank you very much."
CARA CLOSE TO THE TOP IN PE
(Written by Randpark member Grant Winter)


Cara Ford did Randpark proud this past weekend by finishing tied for third in Women's Golf SA's Eastern Province and Border Championship at windswept Port Elizabeth Golf Club.
The 19-year-old had rounds of 73, 76 and 76 for a 225 aggregate, four shots back of winner Larissa du Preez from Silver Lakes. "Port Elizabeth," says Cara, "was so different from Randpark because it was very dry so the greens were super fast, not like here at home where it's been so wet and we've been putting on much slower surfaces. And the wind was really strong. I felt I hit the ball well from tee to green but my putting let me down a bit." … [

Read more

]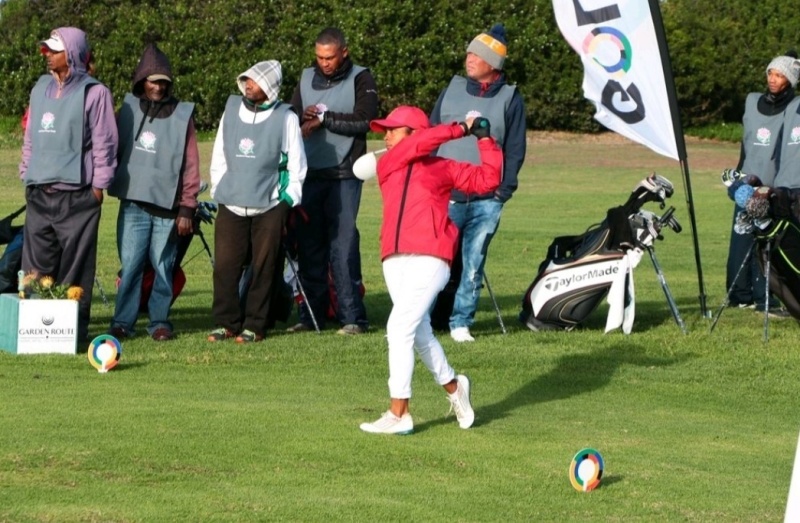 After a couple of weeks of rain and cloudy conditions, it is great to have the sun out. We still require a few more days of warm temperatures and sunlight to dry out the courses and get them back to mint condition for our members to enjoy.

Due to the wet conditions the planned

hollow-tining on Firethorn

could not take place and, therefore, it has been moved to the following dates:

Monday, 1st of March until Wednesday, 3rd of March



Roger and his team will be doing a verti-drain on Bushwillow on Monday, 15th of February and we will apply a bit more sand than normal.



BOS 2021



Our teams are all ready for the first round of BOS, scheduled to start on Saturday, 27th of February on Bushwillow.

The matches and tee off times will be as follow:
| | | | | | | |
| --- | --- | --- | --- | --- | --- | --- |
| BYES | Round 1 - 27 FEB | | | | | |
| Mixed Crabs | Ruff Ryders | | vs | | Legs | 11:38 & 11:46 |
| King Crabs | Future Dad Bods | | vs | | Musketeers | 08:22 & 08:30 |
| | Kwaggas | | vs | | The Divas | 08:06 & 08:14 |
| | | | | | | |
| | Snakepit | | vs | | Shags 1 | 11:54 & 12:02 |
| | Swart Mambas | | vs | | SADS | 12:26 & 12:34 |
| | | | | | | |
| | LGA | | vs | | Kianga | 07:50 & 07:58 |
| | BAGS | | vs | | Tiger Crabs | 12:10 & 12:18 |
| | Ratpack | | vs | | Shags 2 | 11:22 & 11:30 |
| | | | | | | |
| | Trojans | | vs | | Cheethas | 07:34 & 07:42 |
| | Klein Vuisies | | vs | | Nags | 07:18 & 07:26 |
We wish all our teams the best of luck for the year and may the best School win.



KNOCKOUT DRAWS 2021



The draws for the 2021 Knockouts were finalised on Saturday and published on the member's notice board. We would like to remind our members about the rules and procedures when participating in a Club Matchplay or Knockout event:


•

All results for K/O fixtures need to be submitted by the proceeding Monday at 12:00, thus allowing players to play their match on either the Saturday, as per the fixture date, or the Sunday of that weekend.


•

Extensions will be granted to players who are selected to represent the Club at Club level, i.e., League, Provincial or National level. Furthermore, should the league fall on a Sunday, the player will be granted an extension, even if the knockout fixture is scheduled for the Saturday, and he / she so wishes to withdraw from golf on the Saturday because he / she is representing the Club, Province or Country on the Sunday.


•

The Director of Golf will exercise his discretion to avoid misuse of this policy.


•

Should a player be found playing on the deemed Saturday when an extension had been requested, the player will automatically be disqualified from the tournament and the opponent will advance to the following round.


•

Players may by mutual agreement play on the alternate golf course, i.e., Bushwillow instead of Firethorn, if it is not possible to play on the stipulated course, for a match being played either before or after the stipulated date.


•

Opponents may not unreasonably disagree to play a fixture earlier and wherever possible such requests are to be made at least two weeks beforehand.


•

It is the player's responsibility whose name appears on top of each match tie to confirm the match and tee-time.


•

Matches finishing tied after 18 holes must continue on a sudden-death basis from the hole at which the match originally commenced, with players taking their strokes as they did at the start of the match. These players will have right of way and will be squeezed in between the field.


•

In handicap knockout events, the lowest handicapped player should play off scratch and the other player/s to play off the difference between that person's handicap and their own.


•

Each event's match may be played on different courses.

The first rounds are scheduled to be played on the following dates:
•
Men's Betterball Knockout: 20th of February
•
Men's Individual Knockout: 28th of February
•
Ladies Betterball Knockout: 6th of March
•
Mixed Knockout: 7th of March
•
Ladies Individual Knockout: 27th of March
We have simplified the way to clean and disinfect our golf carts after every round by making use of a high-pressure cleaner. This is to ensure that we follow all Covid-19 protocols and ease up this process for the team.
Each cart will be disinfected after every use and then cleaned by using the high-pressure attachment on the machine. This will make the turnaround time much quicker and ensure all carts are ready for our members to use.

In an event that a cart will go out for 36-holes, the cart will be quickly cleaned after 18-holes and be ready for use for the next player. Normal sanitising procedures will still be followed at all times.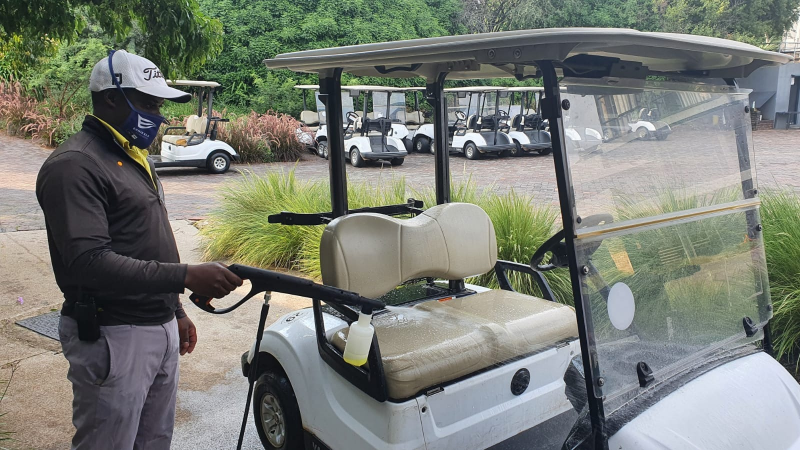 Sheppard spraying the Cart with disinfectant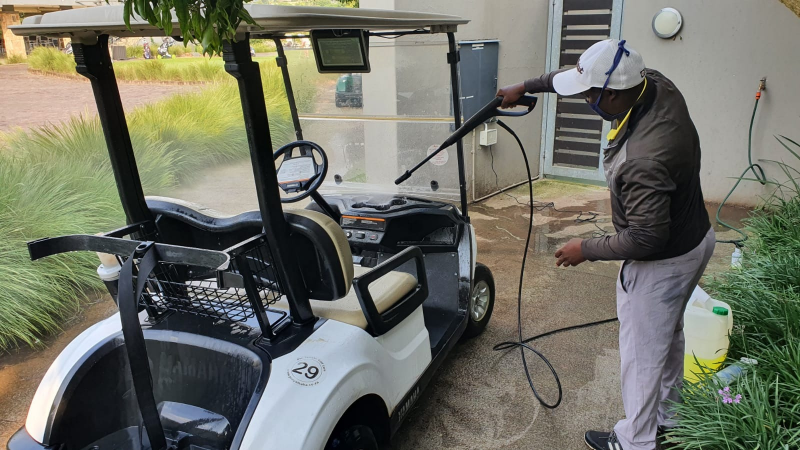 After a few minutes the disinfectant is washed off by making use of the high-pressure attachment on the pressure cleaner
LIGHTNING
We would like to remind our members that we are moving into our rainy season, and with our rainy season comes lightning. As per the current Bye-Laws, we would like to remind our members about the procedures when the siren goes off:
1. Play is immediately suspended when the lightning siren sounds (one long sound set at 15km). Players are advised to return to the clubhouse immediately. All clear is two short blasts on the siren (done automatically).
2. If the Saturday AM or Sunday AM Competitions are cancelled and play is weather delayed long enough that it will prevent the PM players from teeing off on time, AM players will not be allowed to proceed with their round. If play resumes, the Club reserves the right to cancel the competition if there is not enough light for all players to complete their rounds.
3. If a Club Competition is cancelled, a rain voucher will be issued and will appear on the member's profile. This may be redeemed at the next Club Competition. No cash refunds will be given. If all players complete nine holes and the lightning siren sounds, the competition will be held over nine holes. Prizes will be divided equally between the two nines.
4. Green fees will not be refunded, unless players have paid and have played less than 3 holes and a decision has been made by the manager on duty that the conditions would not allow play to continue at a later stage.
•

We would like to remind our members to please ensure that you keep your position in the field as best as possible.


•

Always mark your ball clearly before leaving the course.


•

Our shelters on the course are there to provide shelter to our golfers in case of bad weather; they are not there to protect you from lightning.


•

The driving range will close immediately if the siren goes off for lightning.

Join us on Friday, 12th of February for the first Odyssey sponsored Putting Competition of the year. The format is a Round Robin, Individual Knockout, with the winner receiving a sponsored prize. The top two players of each event will get to battle it out in the final event in December. You can enter with Greg and Bax in the Golf Shop. See you on the putting green.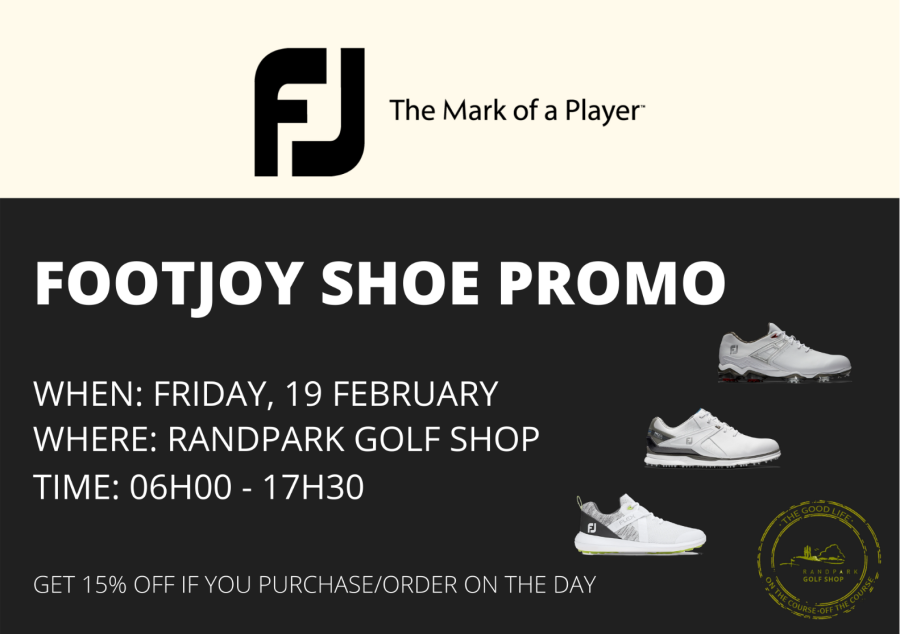 If you purchase or order a pair of FJ Shoes on Friday, 19th of February, you automatically qualify for a 15% discount off the pair of shoes. Ask one of the shop staff for assistance on the day.
After nine days of rain, the sun is finally shining. We are desperately trying to catch up with mowing as areas start to dry out. We have got through most fairways and most of the rough on Firethorn, except for the really muddy areas. Not being able to mow for such a long time has resulted in excess grass clippings; these will improve after we get the next mow in and conditions dry out.

The heavy rain and wet soil have resulted in numerous trees falling over and a few big broken branches. We have also focused on sodding some bare areas on the course, with the extra water in the soil the grass has a much better chance of taking.
Have a great weekend
Stay Safe, Healthy & Happy!
The Randpark Team