25 FEBRUARY 2021 | ISSUE 17

THE GOOD LIFE
On the Course | Off the Course
THE CLUB


Dear Member,

"The CEO Golf Podcast" - Click the image above to listen to Francois' 2021 Randpark Club Member Update.



Happy golfing,
Francois

We always encourage communication between our members and the Club. If you have any comments or questions, please don't hesitate to either contact our CEO, Francois Swart at

ceo@randpark.co.za

or our Club Captain, Derek McGowan at

captainslog@randpark.co.za

.

JACK BRILLARD – MEMORIAL SERVICE
There will be a live streaming memorial service for Jack on Friday, 26th March at 17h15. We will put the link in the Club newsletter as soon as it is available.
TWO TEE START ON WEDNESDAYS AND FRIDAYS
Please note that from the first week of March, the Wednesday and Friday timesheet will be changed to a two-tee start.
•

Mondays, Tuesdays and Thursdays will remain on a one tee start


•

Wednesdays, Fridays, Saturdays and Sundays will be set as a two tee start

This will have an effect on 9-hole golf in the afternoon, so please take note of the starting times for nine holes on these specific days:

•

One Tee Start: Starts from 13h45 onwards off the 1st tee box


•

Two Tee Start: Only once the field has turned – approximately 15h30 off both tee boxes. The starters and gentlemen in the Golf Shop will inform all our players wishing to play 9-holes on these days when they can tee off – remember 18-hole golfers do have the right of way and 9-holes can only start once the field has turned.


As we mentioned before, we encourage members to join up and form 4-balls when playing 9-holes and no 5-balls will be allowed.



SATURDAY BOOKING PROCEDURES




The current demand for Saturday morning golf is overwhelming. This is a problem all clubs are experiencing due to the current restrictions. This is a great problem, but it does pose a challenge for the team to manage the expectations of members. We have already made changes to the morning times by adding the 06h14 and 06h22 time. We are at maximum capacity of 260 members on both courses, but we still have capacity in the afternoons and also Sunday mornings and afternoons. We have communicated to members that no visitors or guests will be allowed, to ensure that we give members first option, but it is still not possible to accommodate everyone during the limited times in the morning.

We continue to look at ways to improve our interaction with members and find that emails are a preferred way of booking tee times. We have three ladies managing the bookings, Gugu Sikhosana, Nokuthula Dlamini and Simphiwe Simango. Unfortunately, they do work on a rotational basis, which means that they will not be able to deal with your booking if they are off on a weekend. To ensure that this process is managed properly, we would like to request that all three ladies be included in the mail, as well as the Golf Director. This will ensure that the person on duty is able to assist, on time.
•

All booking emails must be sent to all three booking ladies:

enquiries@randpark.co.za

;

admin@randpark.co.za

;

golfadmin@randpark.co.za

and

golf@randpark.co.za

.


• Emails for bookings will only be considered on Fridays from 17h00, two weeks prior to the requested Saturday.


•

We cannot always guarantee that your requested time will be honoured as we are limited to tee off times available and we must accommodate all members, on a rotational basis.


•

Please also understand that the ladies do their best at all times to accommodate members and they deal with a lot of bookings each week. We therefore request that you finalise your players, as best possible, to avoid a lot of changes.

COURSE CLOSURE FOR THE MONTH OF MARCH





Monday Closure


1st – 3rd : Firethorn (hollow-tining)
8th: Bushwillow
15th: Firethorn
22nd: Bushwillow
29th: Firethorn



Tuesday Morning Closure 06h30 – 11h00


9th: Firethorn
16th: Bushwillow
23rd: Firethorn
30th: Bushwillow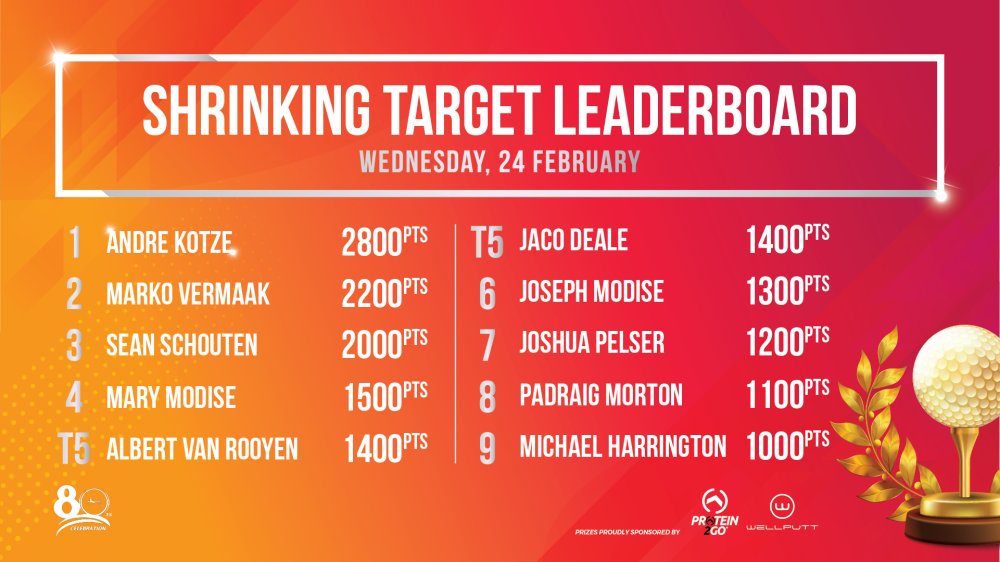 We are halfway with our Shrinking Target Challenge and things are heating up!
A big shout-out to Mary in 4th - showing the boys who's boss!

It's not too late to enter - the Competition runs until Sunday!
Click here to book your bay!
Login or Register, Click Driving Range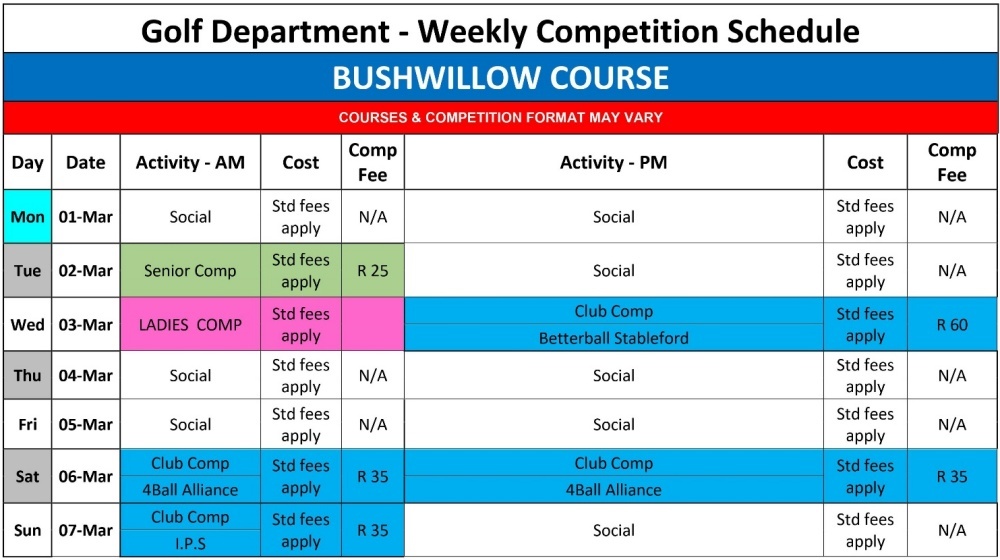 Roger and his team have attended to the following course maintenance issues:
•

New walkways from tee to fairways have been cut


•

Tree stumps have been removed


•

Six new divot mix points, three per course have been placed at strategic intersections for easy access


•

Sodding of bare areas are now complete


•

Loose broken bricks on kerbing, steps and paving have been replaced


•

New fairway lay-up area has been cut next to the dam on the 17th Bushwillow


•

Trees have been cut in front of the 16th green on Bushwillow