What a special golfing weekend! After the rain during the week, we could not have asked for better playing conditions. Our courses were fully booked, and it is always great to see everyone unwind after a long week.

Congratulations is definitely in order.

The last Betterball League was played on Sunday, and Randpark's Bushwillow team came out on top! Congratulations!
Our Juniors did very well at the SA Kids Golf U15 Silver Lakes Tournament. Congratulations to Zidaan Jeena, with a third-place finish, shooting 84. It was a hard-fought battle, with some gusty conditions on a very difficult course. This is Zidaan's highest finish yet – we are hoping for more good things to come! Our other junior members, Jan-Hendrik Olivier and Caleb Hennene, also did very well with 8th and 7th finishes respectively – well done guys!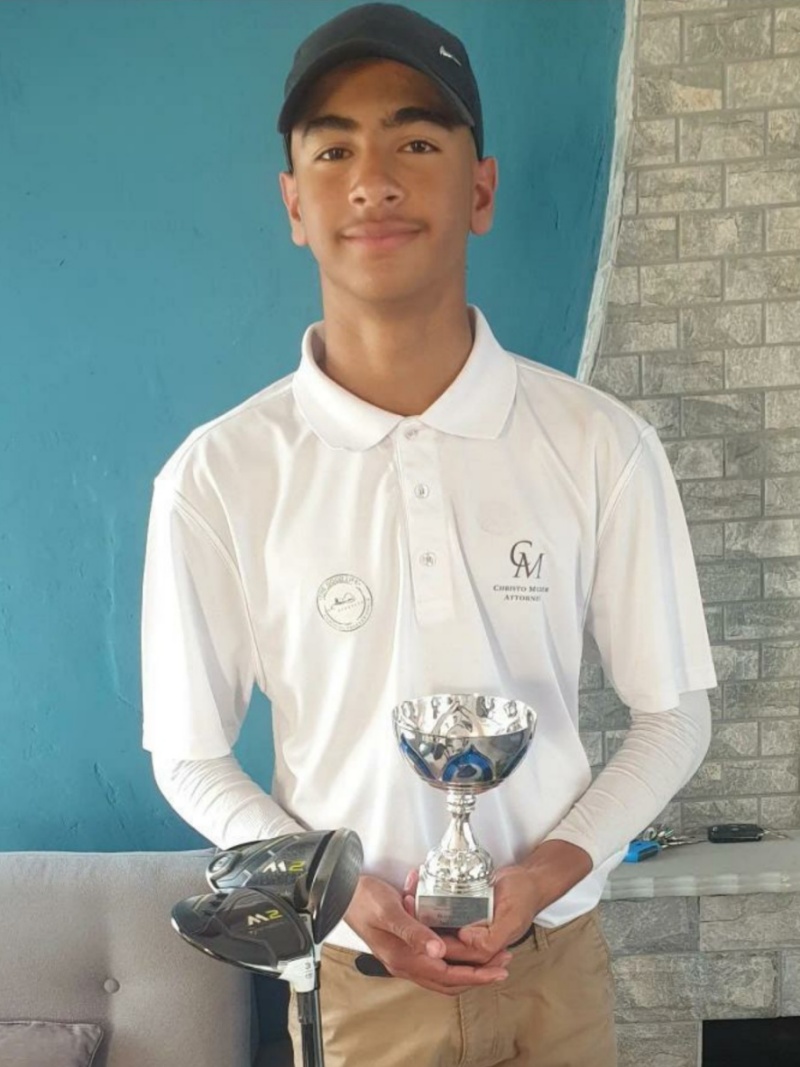 Zidaan Jeena
Geoff Lipman, a member of Randpark for 25 years, played his last game on Firethorn on Saturday afternoon. Geoff will be moving down to the South Coast next week, and could not have asked for a better going away present. Geoff made a hole-in-one on Firethorn's 5th hole, and what a way to say farewell to Randpark. Well done Geoff, we hope to see you back at the Club in the future.
The Joker Draw got some momentum this past weekend. Jo Brown's lucky ticket was drawn for the AM field. She was very excited, but unfortunately did not manage to select the Joker, but she didn't walk away empty handed and R300 was loaded onto her membership account.
The afternoon draw was also very well-supported. Our Captain, with the assistants of all waiters on the floor, did a huge drive to get tickets sold before the 6 pm cut off. After prize-giving, Andries Human's ticket was drawn, and this was going to be a difficult one, as the odds were stacked against him, with only one card previously drawn. After the rules were explained, Andries made his decision and the card was turned around … and believe it or not – the one selected was indeed the JOKER. Andries was delighted, and shouldn't he be. Well done Andries.
Please click here to register for this once in a lifetime opportunity to WIN TWO TICKETS TO THE MASTERS!
SAVE THE DATE
Please diarise the below date for the Club AGM:
Monday, 25th October 2021

Please click here to view the Annual report, including the Annual Financial Statements for the financial year ending 2021.

We look forward to seeing you there.
Have a great week
We look forward to seeing you at the Club
Stay Safe, Healthy & Happy!
The Randpark Team
This mail was sent to {{contact.contact_email}} by Randpark Club and is provided as a service for the members and guests of Randpark Club and has been supported and sponsored by advertisers in this email and our partner suppliers. For any queries contact us on 011 215 8600.

Sent on behalf of Randpark Club by
RetailTribe: Unit 8 | Blaauwklip Office Park | Stellenbosch | 7600 | 021 880 2693