It is with great sadness that we inform you of the passing of Lucio Ciccotelli, who was a member of Randpark Club for 42 years. We extend our sincere condolences and sympathies to his family and friends.
In last week's newsletter, we communicated all the important information for the Joburg Open. We would like to highlight a few important points again:
We extended a few extra playing days for our members on Firethorn, but we would like to remind everyone that NO CARTS will be allowed on Firethorn from Monday, the 15th of November. There will be no exception to this rule, and if you cannot play without making use of a golf cart, we would recommend playing Bushwillow for that week.
Booking Procedures at other Clubs during Joburg Open Week:
A few Clubs will be assisting us during the week of the Joburg Open. The important thing to remember is to ensure we adhere to the booking procedures of the Clubs that will be assisting:

• All bookings must be done with our booking ladies.
• Randpark must follow each Club's booking procedure at all times.
• Requested tee off times are not guaranteed, and subject to availability.
• No show fees for any bookings will be for the member's account.
• All additional fees for carts, comps, caddie foundation, etc. will be for the member's account.
Roger and his team will be working extra hard over the next couple of weeks to ensure we deliver a world-class golf course. We kindly request all members to be mindful of the course staff when playing.
Our Newbee Golf Day took place on Friday, and everybody had a great afternoon. Congratulations to the winning teams, and all players who took part.
POS
ALLIANCE PRIZES
RESULT
1st
Alan McGowan, Joanne McGowan, Harnus Groenewald & Tiaan Ludick
87
2nd
Thiruven Naidoo, Greg Page, Seeton Reddy & Huanbo Lin
86
3rd
Lee-Gene Kleu, Rene Koch, Nikki Murray
82
I.P.S. PRIZES
1st
Johan Van Wyk
38
2nd
Harnus Groenewald - OCO
34
NEAREST TO THE PIN
6th
Thiruven Naidoo
15th
Arthur Heinrich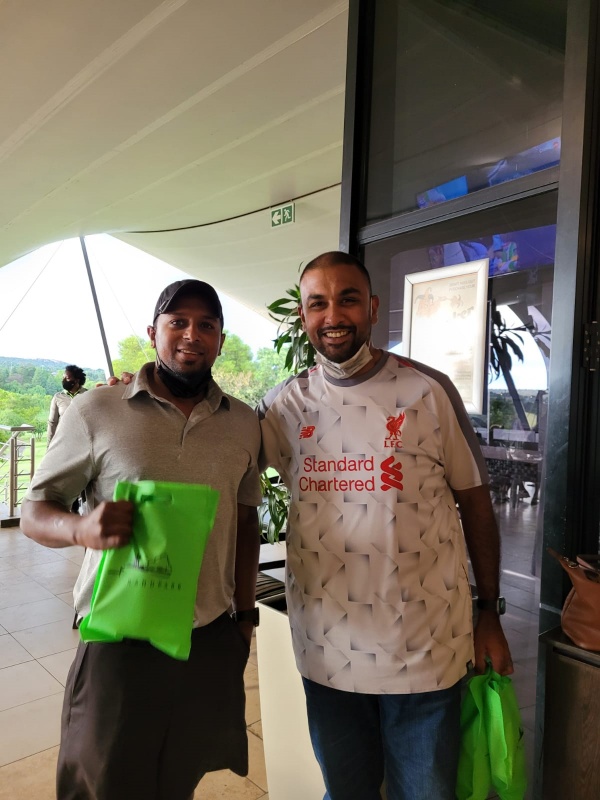 Seeton Reddy & Thiruven Naidoo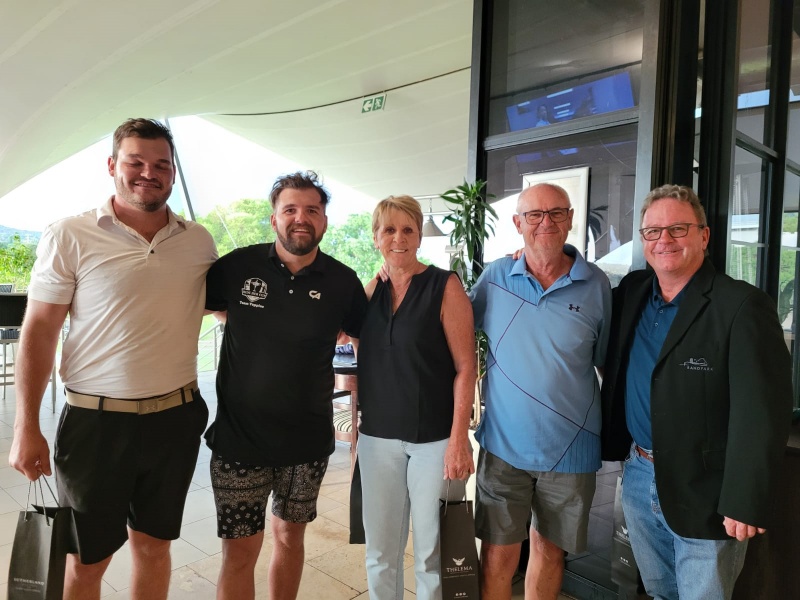 Harnus Groenewald, Tiaan Ludick, Joanne McGowan, Alan McGowan & Arthur Heinrich (Club Captain)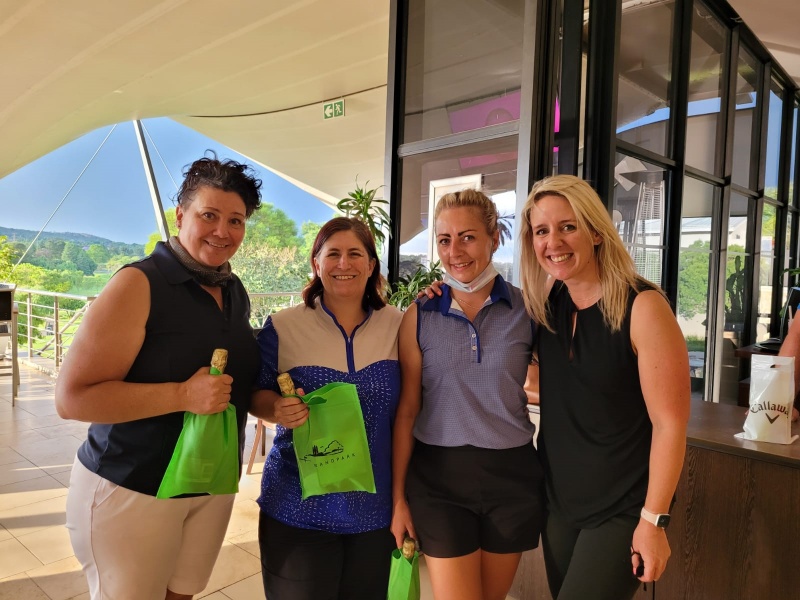 Rene Koch, Nikki Murray, Lee-Gene Kleu & Jeanne de Power (Lady Captain)
The Doug Bain Memorial Trophy event was moved a little bit earlier this year due to the Joburg Open that will be played over the last weekend of November. The day was very well-supported, with just over 380 players in the field. Congratulations to the 2021 winners; Thiruven Naidoo, Jayce Reddy, Kayle Ramathan, and Selwyn Freese. They carded 89 points in the morning field on Bushwillow. Well done gents, and we would like to thank all our members for a great event.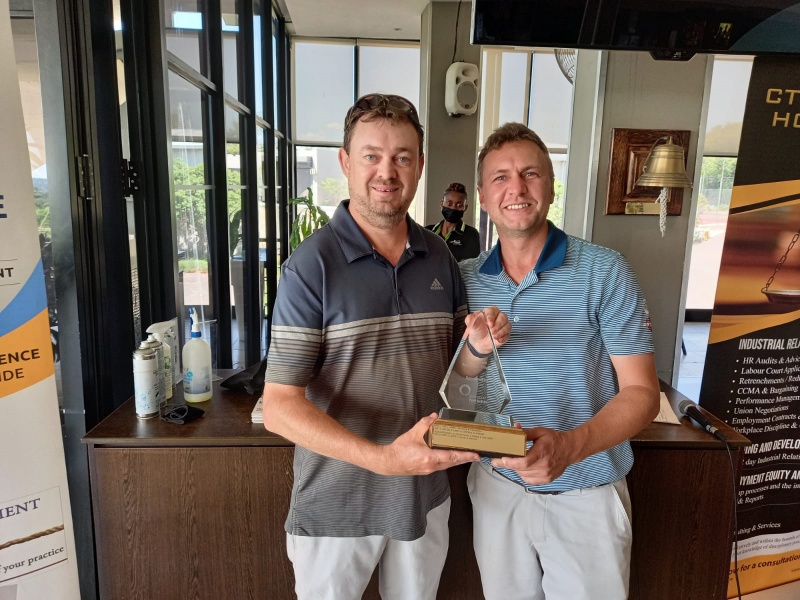 Selwyn Freese received the trophy from Erwee Botha on behalf of the team
International Day – 13th of November:
The entries are closed for the International Day that will be played this coming Saturday. The draw will be done on Tuesday, and tee off times will be in the afternoon. The Draw will be posted on the members' notice-board downstairs.
The 5th round of the Scratch League took place on Sunday.
Our A-Side played away against Ruimsig, and managed a great 6.5 – 1.5 win to move into third position on the log.
Our B-Side hosted a very strong Maccauvlei on Firethorn; it was a great result for the team and they ended up winning 6.5 – 1.5, and with that win, the team moved to the top of the log.
The C & D Sides played against each other, unfortunately we could not fill both teams due to players not being available, but everyone still had great fun out on the courses.
Well done to all players. The next game will be on the 21st of November; all venues will be confirmed within this week.

Please click on the links below for the current leader-boards:
A-Division
B-Division
D-Division
There was no AM Joker Draw as the member was not in attendance. The PM Joker Draw lucky winner was David Caine. Unfortunately, David was unsuccessful, but walked away with R300 credit loaded onto his membership card. Well done!
Members are reminded that you can buy your tickets during the week, you just have to be present when the draw takes place. The AM draw will take place after the morning field prize-giving (14h00), and the PM draw will take place after the afternoon field prize-giving (18h00).
Member Attendance Lucky Draw
Congratulations to Mike Irwin, who was the lucky winner of a bottle of Johnny Walker Black in Saturday's AM Member Attendance Lucky Draw.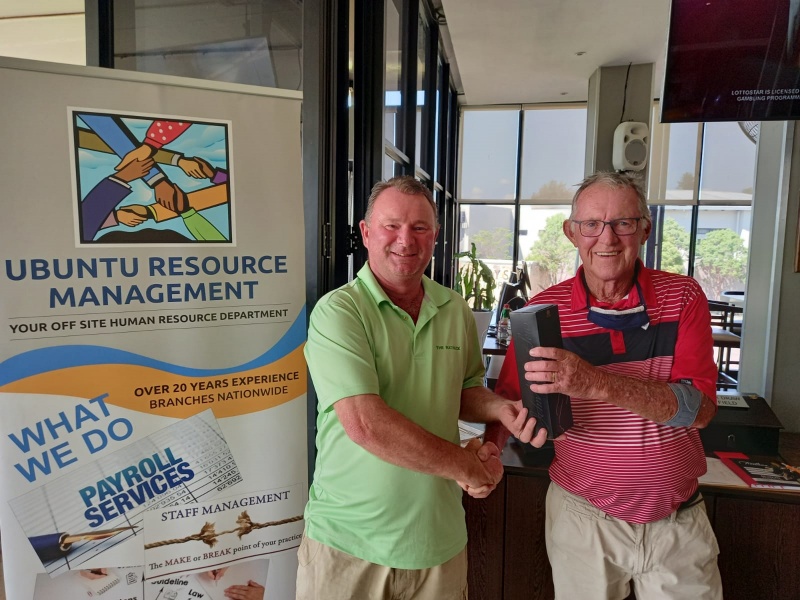 Sean Ledden & Mike Irwin
BOOK your multiplayer bay today!
Members:
Adults at R382.50 | Children under 12 at R191.25 | Children under 5 FREE

Non Members:
Adults at R425.00 | Children under 12 at R212.50 | Children under 5 FREE

For bookings, please call 011 215 8600 or email enquiries@randpark.co.za.
Have a great week
We look forward to seeing you at the Club
Stay Safe, Healthy & Happy!
The Randpark Team
This mail was sent to {{contact.contact_email}} by Randpark Club and is provided as a service for the members and guests of Randpark Club and has been supported and sponsored by advertisers in this email and our partner suppliers. For any queries contact us on 011 215 8600.

Sent on behalf of Randpark Club by
RetailTribe: Unit 8 | Blaauwklip Office Park | Stellenbosch | 7600 | 021 880 2693