From the golf manager
Joe Sepesy
Happy spring to everyone!
Over the past month, we have successfully finished installing our new Dave Pelz Syn Lawn Tee Strike and Syntipede golf mats. The shorter mat is the "Tee Strike," which allows you to put a tee in anywhere and practice that drive or long iron shot as well as get a real feel for fairway experience, and the longer style, similar to the rough, lets you practice those annoying lies where the grass catches the club first. Soon to arrive are 800 dozen Low Impact range balls and our new Wittek range ball washer to enhance the driving range experience.

We have purchased 10 sets of rental clubs from TaylorMade. There will be 6 sets of men's and 4 sets of ladies'.

They will consist of both right-handed and left-handed clubs.

These are the latest in technology in shafts, club heads, and irons.

Looking ahead, the longer and warmer days will soon be the norm, and our Saturday and Sunday events, as well as the Sundowners, will be right on schedule over the balance of the year. We are very fortunate to have a tournament-style course and encourage everyone, no matter what their skill level, to come out and enjoy a beautiful day of practicing, playing a round, or just enjoying a drink on the patio.
Message from the Grounds Superintendent
Andre Cannonier
Dear Members, I hope you are enjoying this wonderful golf weather!

Firstly, a message from my team to say a HUGE thank you to all the members for their annual donation. They are most appreciative and wanted to make sure I shared this directly with you. "We want to let them know that we are moving forward with making their golfing experience the best it can be, and we thank them for their patience and understanding."

Secondly, here are some bullet points of the project work to be started this month.

• Cart path root remediation. Tree roots will be removed from crossing under the cart paths, making for a smoother ride for carts.
• Work will be started on the 12th fairway to fix a major leak in the irrigation pipe.
• Steps on #4 will be opened up for use and the road fixed below.


That is what we will be working on this month, in addition to regular maintenance.

And finally, we wish all the best to Llewellyn Smith, who has retired after over 20 years of working at the property.

Thank you, and happy golfing.
| | |
| --- | --- |
| | Tee Sheet Advanced Booking now in place |
Starting March 9, 2022, when going online to book a tee time, your advance booking will be limited to 5 days out from the current calendar day.

We hope that this will offer more flexibility to accommodate all our golfing members.

As always, please feel free to contact me with any questions you may have.
What's better than a hole-in-one?
Two holes-in-one!
Holes-in-one are a rare event!

However, at Tuckers Point we have seen a few lately and would like to acknowledge those skilled golfers who have beat the odds.


Chris Conroy from Madison NJ, got a hole-in-one at Tuckers Point on hole #14 using a 6 iron. With a distance of 175 yards on October 30, 2021.


Nathaniel Holder from Bermuda, got a hole-in-one at Tuckers Point on hole 8, with a distance of 170 yards on January 21,2022.

Congratulations again! If you've had a hole-in-one, let us know!
In the past month, we have seen the resumption of our golf tournaments with the regulations relaxing and with our first tournament of the year, what better than to start off than New Year's Day.

The Bloody Mary Tournament, which we had on January 1, 2022, included 48 players and a Bloody Mary bar before play. The 4-man teams slugged it out in a captain's choice format.

Our 1st place winners for the day were:
Joe Fassler, Kourtney Fassler, Summer Sipes and Matt Gorrell with a net score of 52.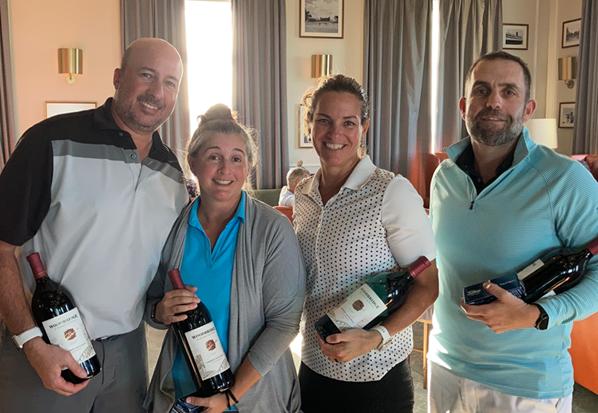 Winning score of 52: Joe Fassler, Kourtney Fassler, Summer sipes and Matt Gorrell


Our second event in February was the Member / Guest tournament which is an alternate shot event that requires a strategy of skill to finish off your partners shot no matter where it lies. This included 32 players of mixed skill sets to play as one.

Our 1st place winners for the day were:
John Turner, Jan Reeves with a net score of 64 * By match of cards.



Winning score of 64: John Turner and Jane Reeves


Our next event feature below. The Four Club Clover.

All our tournaments are featured on the Member Events page on Tucker's Point website. Registration opens six weeks prior.

Click here for the full tournament list.


On Saturday March 19th the spirit of the Irish will come alive at the Annual Four Club Clover. Starting at 12:00pm, your team of four has a choice of only four clubs per player.
Registration is open.

12:00pm Shotgun 18-Holes Teams of Four | Captain's Choice with a twist
Your choice of 4 Clubs per player | 75% Handicap
Following: Prizegiving in Sul Verde Grille Room
Price: Golf/Full Members $95 | Resort Members/Guests $125
Prize for Best Dressed Team!

Click here for the full details.
The Rosewood Cup dates have been moved to November 25th to 27th. The three-night two-day event boasts multiple prizes so start practicing!

Click here for the Annual Rosewood Cup Full Details.

Welcome Event | Friday, November 25th 6:30pm
Welcome Cocktail Party and Registration

Tournament Day 1 | Saturday, November 26th
9:30am Breakfast | Sul Verde Restaurant
11:00am Shotgun start Format: 2 Ball – Shambles – 50% Hcp 6:00pm
Cocktail Party and Casual Bermuda Style BBQ
Live Entertainment Tournament.

Day 2 | Sunday, November 27th
9:00am Buffet brunch | Sul Verde Restaurant 11:00am Shotgun start Format: 2 Ball – Best ball – 50% Hcp
Followed by 6:00pm Cocktails, dinner and prizegiving and live entertainment.

* Spouse will gain entry to all three evening events,
Pricing per teams of two: $ 1 150, per non-golfing spouse: $ 300 pp
The Driving Range will be closed from Thursday, April 14th to Monday April 18th for the Easter Events
We will be hosting the annual Kite Flying on Good Friday from 1pm, Family BBQ on Easter Saturday from 11:30am and Easter Sunday Brunch at 11am or 3:30pm.

Click here for the full details.
Our specialized teaching methods allow the children to be instructed on all aspects of proper play in a fun and creative manner.

Students are grouped by a combination of factors that include age, maturity and ability.

Our goal is to create enthusiastic, well-mannered junior Golfers who will leave camp with a love of the game and a solid foundation of skills to build upon.

Date: April 4th to 8th
Time: 8:30am to 1:00pm
Weekly Camp Fee $400
Includes lunch.

Click here to see more details.
We are excited to showcase our extended retail in the Pro Shop, to start with we will be featuring a new kid's clothing line, Garb.

Garb is the original junior golf apparel brand that offers great styling and unrivaled quality.
Our Sundown series is moving to Friday evenings once again from March 25th. Registration opens one week prior. To reserve your spot, send an email to Dwayne.pearman@rosewoodhotels.com.

See the Sundown Series 2022 Calendar by clicking here.

Congratulations to our winners from the last Sundown series.

1st:
Winners score 27 by match of cards
Kimberly Hughes
Maria Harris

2nd:
Score 27
Nathan Clarke
Charlotte McNealy

3rd:
Score 27
Henry Banks
Izzy Pugh

Closest to the pin
Men #2: Julian Fletcher
Ladies #4: Kathryn Wetherhill
Kimberly Hughes - Maria Harris
Stretch for a better game
Your hips don't lie
Strong, flexible muscles can change your game. Tight muscles can ruin it.
When your hip muscles are tight, they limit the rotational force you need for a full, powerful swing. Flexibility in your hip flexors and quads allow for your hips and pelvis to hold the correct posture and proper rotation of your spine and hips.
To identify where your strengths and weaknesses are, you need to come for a swing assessment. Once we've established a baseline, we can work on strengthening you and improving your game.
If you engage in these exercises, you agree that you do so at your own risk and assume all risk of injury to yourself.
The role of the hips
How much do your hips rotate
in the golf swing?
According to research conducted by the Titleist Performance Institute (TPI), tour players will rotate their hips clockwise at least 45°, and up to 60° on the backswing, and the same amount anti-clockwise up the point of impact.

How much do your hips rotate clockwise on the backswing, and where are they at impact? Here's an exercise to
| | | |
| --- | --- | --- |
| | "Good hip rotation is critical to your ability to keep the club on plane. That improves not just clubhead and ball speed, it improves your consistency and accuracy." | |
But what matters is your golf swing and the constraints of you body. Then how much we can improve your consistency and accuracy by improving your hip action. Looking at your setup and then how the shoulders and hips work together is a great place to start an assessment.
If you engage in these exercises, you agree that you do so at your own risk and assume all risk of injury to yourself.
This mail was sent to {{contact.contact_email}} by Joe Sepesy and is provided as a service for the members and guests of Tucker's Point and has been supported and sponsored by advertisers in this email and our partner suppliers. For any queries contact us on +1 441-298-6970.

Sent on behalf of Tucker's Point by
RetailTribe: 15851 Dallas Parkway | Suite 600 | Addison | TX 75001 | +1 214 561 8681