From the Golf Manager
Joe Sepesy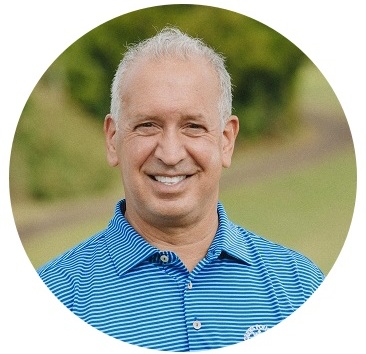 We are in the midst of a seasonal change, there's definitely an uptick in golf and practicing taking place. And with the longer days after work, golf is common either among friends or work colleagues. Playing till sunset and sharing a drink or a story is a great way to end the day. Please use the online system to reserve a time or call the Pro Shop, we will be glad to accommodate you.

The Driving Range is open Tuesday through Sunday from 7:00 am until 6:00 pm, and Monday from 11:00 am until 6:00 pm. The morning hours are to clear the range to be mowed. Thank you for your understanding.

We are also implementing a No Driver policy on the range starting immediately. We are fortunate to have a beautiful Driving Range but it does have its limits, even when using low impact balls. We are losing range balls in the tree line behind #2 tee and range balls are straying left on #1 and especially on #3 fairways. We invite you to practice, but this policy will help us keep more balls in the range area and keep the playing holes safer.

There have been many changes over the past few months that we hope will enhance your overall experience as our guest. The Driving Range has had a complete facelift, including new Dave Pelz T strike mats of two different lengths for a complete practice experience. The Range Bag stands as well as the outside furniture cart podium and ice chest have been repainted. The Outside Range house roof and Club Storage roof at the practice green have also been repainted. There are new tables and chairs on the Pro Shop patio with cushions to relax on after golf. We also have a new cooler in the Pro Shop to expand on our existing inventory of liquid refreshments. There is an additional inventory of snacks for the salty and sweet in all of us. The gym area connected to the Pro Shop has been transformed into a new Retail area that will feature children's and women's apparel as well as shoes and accessories – more details to follow. There will also be regular security patrols on the golf course, conducted by Rosewood Security from 6:00 am. And finally, we have 12 new golf carts on order as well as new batteries for those that need them, so we will have a complete fleet of carts up and running.

Please, as always, if there are any ideas, thoughts or concerns you may have, give us a call or email the Pro Shop. We are here for you!
From the Golf Pro
Dwayne Pearman
Four Club Clover Tournament
We enjoyed this tournament in March and congratulations to the winners!

Winners for this event:
1st: Philip Hagen, Graham Redford, Mark Stearns, Christopher Montgomery – 56
2nd: James Morgan, Adrian Beasley, Shane Beasley, Ben Beasley – 56
3rd: Sean Durkin, Michael Terceira, Seamus Durkin, Sean Adams – 57
Check out the best dressed!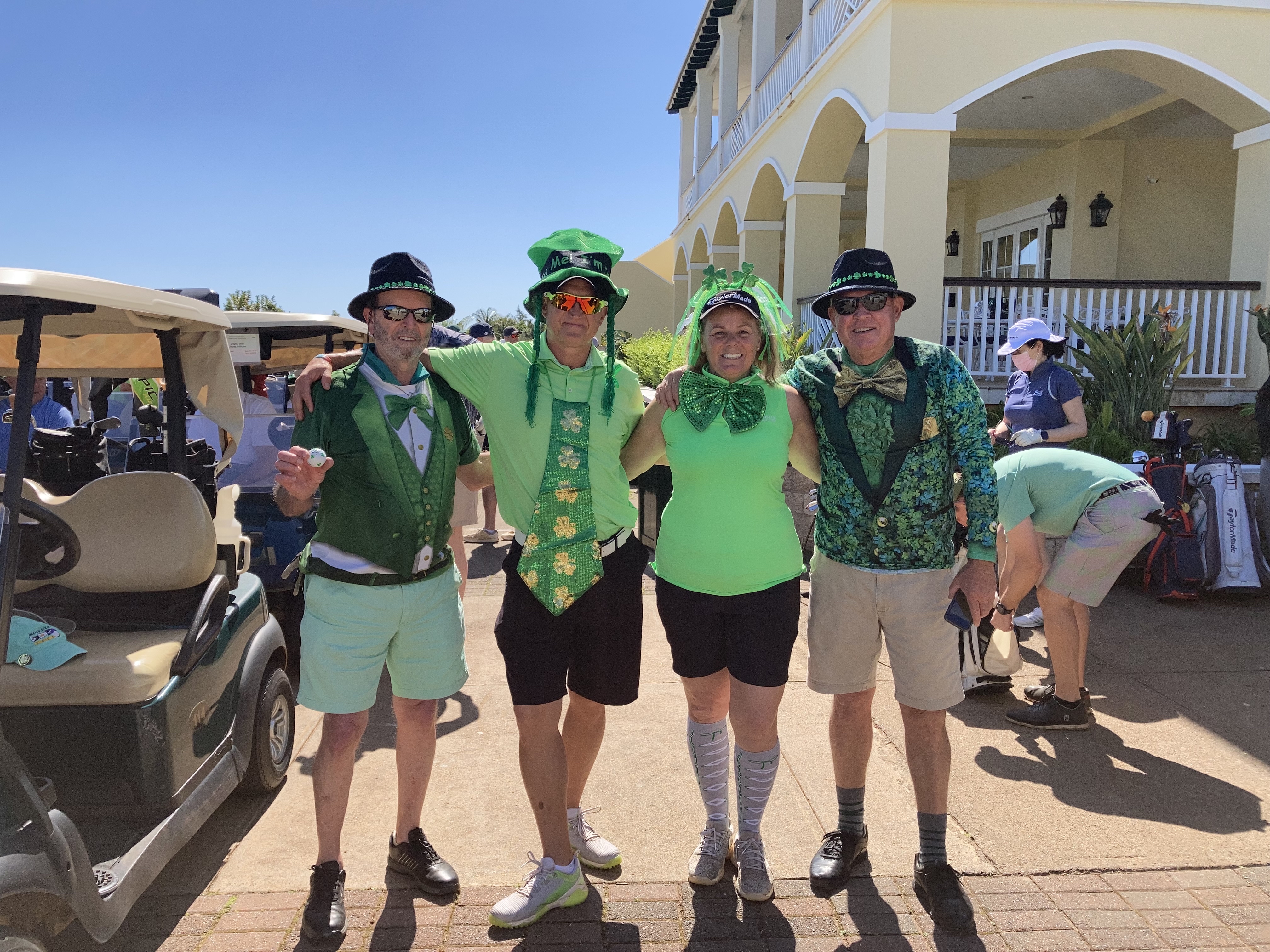 Trevor Madeira, Edwin Faries, Tracy Burgess and Richard Marriot
Skill prizes:
Closest to the pin – Ladies
#2 Michelle Stone

Closest to the post – Ladies
#12 Tracy Burgess

Closest to the pin – Men
#2 Mitch Blaser

Closest to the post – Men
#12 Bill Doyle
Your chance for glory
TPC Masters Tournament
Join us for the Tucker's Point Club Masters on Saturday, April 9th.
11:00 am shotgun
18 holes
Teams of two, Best Ball
75% handicap
If you'd like to compete, please RSVP by contacting Dwayne.pearman@rosewoodhotels.com.
Attention all Ladies! Join us for 9 holes of fun, non-competitive golf every Thursday evening. Each week, there will be tee times set aside from 5:06 to 5:42. The evenings will run for 15 weeks, from May 26th to August 25th. The cost is $25 pp to include the golf cart equipped with snacks, beverages, and water.

If you would like to register your interest, please email dwayne.pearman@rosewoodhotels.com.
The Rosewood Cup dates have been moved to November 25th to 27th. The three-night two-day event boasts multiple prizes so start practicing!

Click here for the Annual Rosewood Cup Full Details.

Welcome Event | Friday, November 25th 6:30pm
Welcome Cocktail Party and Registration

Tournament Day 1 | Saturday, November 26th
9:30am Breakfast | Sul Verde Restaurant
11:00am Shotgun start Format: 2 Ball – Shambles – 50% Hcp 6:00pm
Cocktail Party and Casual Bermuda Style BBQ
Live Entertainment Tournament.

Day 2 | Sunday, November 27th
9:00am Buffet brunch | Sul Verde Restaurant 11:00am Shotgun start Format: 2 Ball – Best ball – 50% Hcp
Followed by 6:00pm Cocktails, dinner and prizegiving and live entertainment.

* Spouse will gain entry to all three evening events,
Pricing per teams of two: $ 1 150, per non-golfing spouse: $ 300 pp
The Driving Range will be closed from Thursday, April 14th to Monday April 18th for the Easter Events
We will be hosting the annual Kite Flying on Good Friday from 1pm, Family BBQ on Easter Saturday from 11:30am and Easter Sunday Brunch at 11am or 3:30pm.

Click here for the full details.
| | |
| --- | --- |
| | Tee Sheet Advanced Booking is in place |
When going online to book a tee time, your advance booking will be limited to 5 days out from the current calendar day.

We hope that this will offer more flexibility to accommodate all our golfing members.

As always, please feel free to contact me with any questions you may have.
Our Sundown series is happening again on April 8th. Registration opens one week prior. To reserve your spot, send an email to Dwayne.pearman@rosewoodhotels.com.

See the Sundown Series 2022 Calendar by clicking here.

Congratulations to our winners from the last Sundown series.

1st: Marc Wetherhill and Kathryn Wetherhill – 26
2nd: Gary Knight and Jane Knight – 26 by match of cards
3rd: Kirsty Henderson and Hugh Stanton – 26 by match of cards
| | |
| --- | --- |
| | Sharpen your short game |
| | More fun on the greens |
If you've ever chipped in from greenside or holed a 30-foot putt, you'll know it's a moment of exhilaration that can make an entire round, regardless of your score. Playing with fitted equipment makes moments like these more likely to happen.
| | | |
| --- | --- | --- |
| | | The arc of your putting stroke plays a big part in whether you need a face- or toe-balanced putter. This will help you to square the face at impact, for more accurate putts. |
| | | |
| | | To generate more spin and control with your wedges, you need to make clean contact. That's why it's so important to play with a wedge bounce angle that matches your swing attack angle. |
| | | |
| --- | --- | --- |
| | | No one-size-fits-all solution |
There's a reason that every major putter and wedge release comes in a wide variety of options. Your swing and dimensions are unique, so we need to find the option that fits you best.
| | |
| --- | --- |
| | Transform your experience |
| | Where's your greatest opportunity? |
We believe every golfer – regardless of skill level – can improve their playing experience. The trick to helping you play better golf in the future, is having as clear a picture as possible of where you are right now.
| | | |
| --- | --- | --- |
| | | If you're finding fewer than half of the fairways over 18 holes, we'll want to have a look at your setup, swing mechanics and game management. |
| | | |
| | | Are you confident that you can find the green with every iron and wedge in your bag? We can help ensure that you are. |
| | | |
| | | Three-putting bloats your score and can be really demoralizing. Let's remove 3-putts from your game. |
We see problems as opportunities for improvement. Let's spend some time finding your improvement opportunities and turning them into strengths.
This mail was sent to {{contact.contact_email}} by Joe Sepesy and is provided as a service for the members and guests of Tucker's Point and has been supported and sponsored by advertisers in this email and our partner suppliers. For any queries contact us on +1 441-298-6970.

Sent on behalf of Tucker's Point by
RetailTribe: 15851 Dallas Parkway | Suite 600 | Addison | TX 75001 | +1 214 561 8681