Seek a workable solution for all
Saturday Morning Bookings
We would like to remind Premium, Executive and Professional category members to join Dewald, Rikert and Albert on 25 January at 17h30 in the Jacaranda Room to discuss concerns raised regarding Tee Time bookings for Saturday mornings. We would appreciate it if only the booking administrators of the various schools / 4-balls represent their respective groups, as well as any individual member who would like to contribute.
Tips to help you speed up play
Pace of Play
Currently, the conditions on both courses are very challenging. The amount of rain we've had since the start of the year has made the rough a little bit thicker, less roll on the fairways, and generally the weather (wind) is making scoring difficult. With the courses playing on average 2 strokes more difficult due to all these factors, members are reminded to please ensure we keep a good pace of play to make the round enjoyable for yourself and the other players in the field.

Here are a few tips to help you speed up play:
• Always arrive on time at the tee.
• Play ready golf at all times.
• If you are in doubt if your tee shot is in play, play a provisional ball off the tee box, to avoid going back to the tee if you do lose your first ball.
• Limit your time to search for balls to three minutes, as per the Rules of Golf.
• When in doubt about a rule, play two balls, and get the correct ruling after your round.
• Plan your next shot in advance; read your putt while the other players are busy putting out.
• Go straight to your ball, and play when ready. If a player in your group is looking for a ball, only assist after you have played your shot.
• It is your responsibility to keep up with the group in front of you, and marshals have strict instructions to ensure all players keep up with the pace of play.

In general, we would like to remind all our members to look after the courses:
• Repair your pitch mark. If you can't find your pitch mark, ensure you fix one on the green.
• Please fill your divots with the sandbags provided.
• Bunkers must be raked – this is probably the biggest concern at the moment.
• Please do not litter on the courses.
Who's got bragging rights?
Golf Results
Thank you to everyone who took part in our competitions, and congratulations to our winners. You have all played some fantastic golf! Click on the link below to view our latest results.
Look who got lucky!
Joker & Member Attendance
Draws
Congratulations to our winners of this week's Joker and Member Attendance Draws:
Ukesk Reewith
& Albert Clack
AM Member Attendance Draw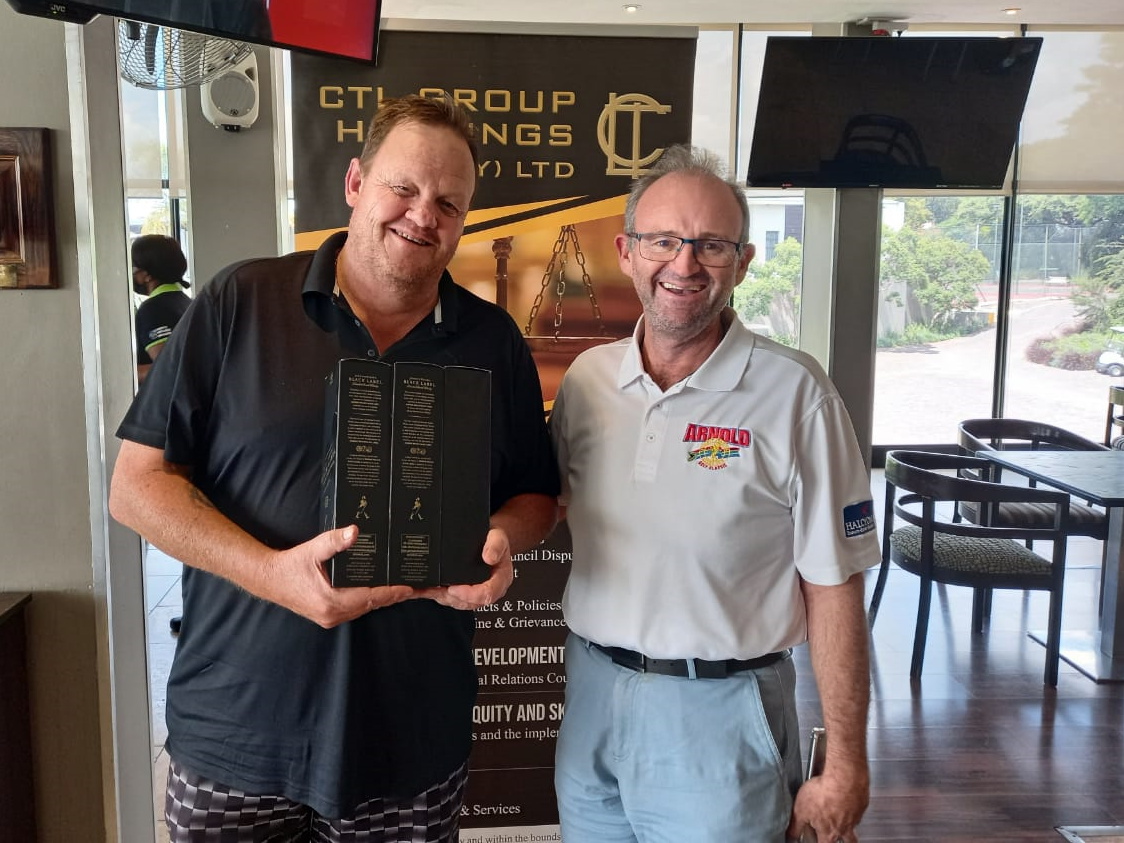 Grant Harding
& Chris Ledden
PM Member Attendance Draw
Grant Gebhardt
& Arthur Heinrich
Members are reminded to buy your tickets (either AM or PM draw) from the waiters on the floor or the Golf Shop, and drop them in the allocated draw boxes at the stage in the members' bar.

Don't forget to hand in your scorecards on Saturday, and stand a chance to be one of the lucky Johnny Walker Black winners!

Draws will take place as follows:
• AM Draw: 14h00 Saturday
• PM Draw: 18h00 Saturday

Please note you must be in attendance to qualify for the draws.

We look forward to seeing you there!
Thank you to our sponsors:
sponsor of the Joker Draw

Ubuntu Resource Management and CTL Group Holdings (Pty) Ltd – sponsor of the Member Attendance Draw
Plan your week ahead
Upcoming Club Competitions
View this week's Competition Schedule for both Bushwillow and Firethorn in the link below.
Satisfy your pasta cravings
Join us for our Thursday
Specials
Join us by sitting down or grabbing a take-away from 5 to 8 pm. Take-aways must be ordered with your service host. Take a look at this Thursday's options below:

Creamy Chicken & Pesto Pasta – grilled chicken fillet set on fettuccine pasta, tossed in a basil pesto cream sauce and rocket – R115
Calamari & Chorizo Napolitano served on al dente penne pasta – R140
Spinach & Feta Ravioli tossed in a creamy tomato sauce – R80

Pasta dishes served with grated parmesan, crushed garlic, and fresh chopped chillies.
Enjoy the good life with us
Make the most of the Randpark
experience
Romantic picnic on the golf course
Join us from 15h30, and bring your own blanket.
Includes a luxury picnic box and bottle of Ken Forrester Petit Wine (crackers, crostinis, nuts, pretzels, biltong, preserve, large Camembert heart and three other cheeses, seasonal fruit, sugar heart cookies, brownies, caramel shortbread cookies, peanut brittle and chocolate truffles).
Cost per couple: R800
4-Course dinner for two on our terrace
Join us from 17h00
Cost per couple: R750
(Menu available on request)

10% Discount for members.
Bookings close at 4pm on 9 February.

Only pre-bookings with payment accepted.
Have a great week
Stay Safe, Healthy & Happy!
The Randpark Team
This mail was sent to {{contact.contact_email}} by Randpark Club and is provided as a service for the members and guests of Randpark Club and has been supported and sponsored by advertisers in this email and our partner suppliers. For any queries contact us on 011 215 8600.

Sent on behalf of Randpark Club by
RetailTribe: Unit 8 | Blaauwklip Office Park | Stellenbosch | 7600 | 021 880 2693